Smartphones can do just about anything – and as they've gotten better and better, they've largely replaced DSLR cameras for non-professional photography. Smartphone photography dominates casual photography, and phone manufacturers like Apple and Samsung have worked hard to turn these tiny cameras into quality components.
While today's smartphone cameras are pretty impressive, they still lack a few professional qualities. So, if you want to take the best photos while traveling, you'll need a few accessories.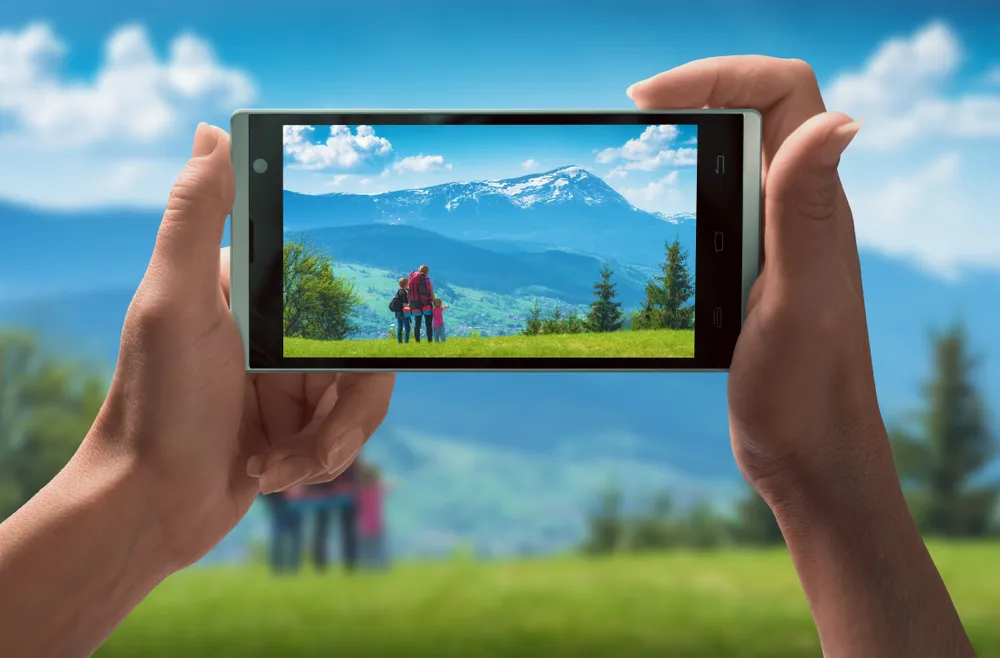 If you want to take your photography game to another level and capture amazing, high-quality images of your adventures with your smartphone, it's possible. But you'll want to have these phone accessories on hand to take stunning travel photos.
1. Moment Lenses
Price: $89.99
Moment creates some of the most highly reviewed smartphone lenses for iPhones and select Android phones. And users love them for plenty of reasons.
Moment offers many lenses to choose from. If you're taking photos from a distance, you'll like the Tele Portrait Lens. If you want to take a high-quality photo of an epic landscape, the Superfish Lens will do the trick. You can switch between different lenses for every setting or destination.
2. Olloclip Core Lens Set
Price: $99.99
Olloclip is another company that creates landmark add-on lenses just for smartphones. They've continued to refine add-on lenses, setting the bar higher and higher for competitors.
The Olloclip Core Lens Set is one of the best choices available. It's compatible with the iPhone 7/7+ and 8/8+, it and works with both the front and back cameras. The lens set includes a wide-angle, fisheye, and macro lens for just about any photo opportunity.
3. Joby GripTight GorillaPod Stand
Price: $29.95
While your smartphone can replace a DSLR camera, a tripod is something you can't do without. How can you get incredible photos – with you present – without a tripod?
The Joby GripTight GorillaPod solves this problem. It's a stand that turns your smartphone into a tripod, and it's considered the ideal smartphone tripod for travelers. It's available in both large and small sizes, depending on the smartphone you use.
The Joby GripTight GorillaPod stand allows you to take steady photos absolutely any angle. In the middle of the forest? No problem. The stand can even grip onto a tree branch.
4. Shoulderpod S1 Professional Smartphone Rig
Price: $39.99
Here's one of the best accessories to take with you on absolutely any trip: the Shoulderpod.
The Shoulderpod S1 Professional Smartphone Rig is a 3-in-1 product. It serves as a tripod mount, a filmmaker grip, and a traveler stand. If you're taking videos, the filmmaker grip gives that added comfort and security you need when holding your phone. The traveler stand also enables you to take steady photos or mount your phone to easily watch videos.
This accessory is compatible with most smartphones, including every version of the iPhone.
5. Cliquefie
Price: $49.99 for full size, $29.99 for mini
When you think of a selfie stick, you likely picture something bulky and obtrusive – but the Cliquefie is anything but that. It's a modern, lightweight, and portable selfie stick designed for the future.
Cliquefie is a selfie stick that easily fits into your backpack. It's durable, which makes it perfect for hiking. There's also wireless Bluetooth support, and, with the included remote, you can set up the tripod and get in front of the camera.
6. Chest Mount for iPhone
Price: $49.99
If you want to capture footage of your hikes or of you and your friends snowboarding down mountains, a chest mount is what you need. It'll keep your phone in place, without sacrificing quality footage.
The Chest Mount for iPhone available from HitCase allows you to film hands-free while focusing on what you're doing. It's durable, waterproof, and comfortable to wear, adding just a little bulk. The chest mount also features a rail slide system that you can use to rotate your iPhone 360 degrees – meaning you can get any shot you want.
7. iOgrapher Filmmaking Case
Price: starts at $59.99
If you have shaky hands, you need to try the iOgrapher case. It replaces bulky tripods and other photography equipment without sacrificing quality – in fact, it'll enhance your smartphone photos.
This case is made of polycarbonate, is stylish, and will protect your phone from falls. But its main features are how it enhances your photos. It easily attaches to your phone and supports all of iOgrapher's lenses. The case has two handles for extra stability, and it's more affordable than other similar products.
8. Megaverse Anti-Gravity iPhone Case
Price: $39.99
Thanks to Kickstarter, everyone can get their hands on this awesome iPhone case. The Megaverse Anti-Gravity case is truly unlike other cases. It allows you to mount your phone just about anywhere with a wall.
On the back of this case, you'll find a nano-suction surface. This unique surface means the phone secures itself onto any flat surface. If you're traveling solo, this is the best no-fuss selfie option, no matter where you're traveling.
9. Aukey Ora lens kit
Price: $29.99
For a more affordable lens kit, the Aukey Ora offers quality without cutting any corners. It's a 2-in-1 lens set that includes a 120-degree wide angle lens and a 15x macro lens.
Whether you're looking to take a really close-up, highly-detailed photo or capture a landscape, this lens set has you covered. It's crafted with aluminum alloy, and the glass is coated to reduce glare and keep scratches at bay. It works with most modern smartphones.
10. iblazr 2
Price: $50.00
Another Kickstarter success story, the iblazr 2 is the second generation of a flash accessory made for smartphone cameras. While modern phones have stellar cameras, their flash usually isn't up to par. And if you're shooting in the dark, you'll want a bright light.
The iblazr 2 has exactly what you need: four LED lights that attach to your phone and last for 300 flashes on a single charge. It's also sleek and won't add much bulk to your phone.
11. Zhiyun Smooth 4
Price: $149
For the professional videographer, the Zhiyun Smooth 4 is a necessity. It turns your smartphone into a powerful camera, allowing you to take stable photos from angles that wouldn't be possible without it.
It's lightweight, made of high-quality metal, and supports phones up to 7 inches. Aside from that, it's jam-packed with features including the PhoneGo mode, which allows for instant scene transitions, and the side wheel that lets you focus and zoom efficiently.