If you're over the age of 50, it definitely pays to shop around for discounts on your cable package. Many organizations like AARP aggregate discounts for their members, but some cable companies are still wary of broadcasting their discounts too widely. However, this doesn't mean that they don't exist. It just means that you'll need to do some research and talk to a sales associate in order to get the discount applied to your account.
To save you a bit of time, here are four of the best senior discounts available from cable companies today.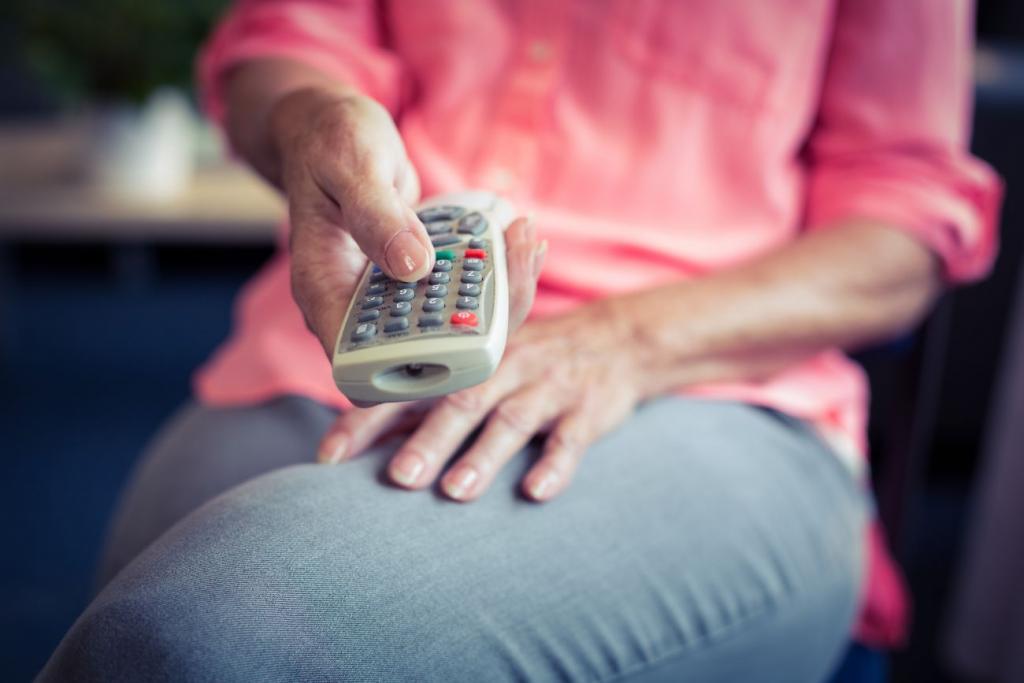 1. Spectrum
Spectrum (which was formerly known as Time Warner Cable before it was acquired by Charter Communications in 2016) is one of the only cable companies that advertise their discount on the AARP website.1 They don't make the details very clear, instead, they invite senior customers to call their service center and ask how the discount would apply to their account. In some situations, people have reported getting one month of free cable TV every 12 months if they register as a senior customer.2 In some states, Spectrum offers a discount program through LifeLine, a government-assistance program.3
Spectrum cable TV packages start at $44.99 per month, which includes 200+ channels and free HD. They're eager for new customers, so they created a perk that offers potential customers up to $500 which they can use to buy out of an existing contract. This is a great option for people who are unhappy with their current cable TV service.
2. AT&T
If you're an existing customer with AT&T, you can see that they've made an effort to attract and retain senior customers through various targeted programs and plans. For example, their Senior Nation cell plan is one of the cheapest plans they offer. For only $29.99 per month, they offer 200 anytime minutes and unlimited mobile to mobile calling. As for their cable TV plans, there isn't a specific senior discount, but they do offer a $10 discount if you're bundling a lower-speed Internet package with TV services.5
Even though there's no specific senior discount offered, AT&T offers a huge variety of TV and Internet plans, so you can choose how to watch your favorite programs. Their DirecTV includes a DVR, as well as live TV and movies starting at just $35 per month. If your household uses both the Internet and TV, you can sign up for U-verse TV, which combines fiber Internet and 190+ channels of TV for just $75 per month.6
AT&T prides itself on offering simple, uncomplicated service including all the equipment, free activation, and no sneaky hidden fees.
3. Mediacom
Mediacom is a smaller company, offering cable TV and Internet across the Midwest and South. Despite bouncing between being the fifth largest and seventh largest media company in the United States, they don't have a great reputation for service or speed. They're working hard to change that as they've received several national awards for their cable operation and ISP in the last two years.
Their limited space in the marketplace has allowed Mediacom to offer packages at a much lower rate than some of their competitors. In fact, they offer a bundle of FamilyTV and Internet for only $99.98 per month. This package includes more than 170 channels, 75 of which are HD. This package includes all On Demand programming.7
In general, Mediacom is a good deal if you're looking to bundle cable TV and Internet for a low price. If you'd like to negotiate a specific senior's discount, you may have more luck calling your local retailer and working out a price with them.
4. Comcast
Comcast offers a learning program called Internet Essentials specifically for their senior customers. It's available in areas where Comcast internet services are currently offered. After your application is accepted, you could receive internet in just five to seven business days.
To qualify, you need to be eligible for some type of public assistance. Enrolling in the Internet Essentials program includes low-cost Internet for $9.95 per month, as well as the opportunity to purchase a laptop or desktop computer for only $149.99. You'll get 50/5 Mbps of internet and new customers could be eligible for two months of free service.8
In some markets, Comcast offers a discount of 10 percent on their basic cable package if you're a senior citizen.9 This basic tier cable package includes channels like CBS, Telemundo, Fox, NBC, and local cable news. The cost doesn't include a cable box or any addition channels since you would need to add all of these on to your package. However, 10 percent of the basic package is the best discount we've found online so far.
Since their partnership with Xfinity was finalized, Comcast owns large swathes of the American cable TV market, so the onus is on their customers to price shop around and look for deals that they can use to improve their existing service.10
5. Vast Broadband
You could save money on internet service with Vast Broadband. Seniors can sign up for a federal program called LifeLine, which provides low-income households with internet. This could allow you to stream media available online.
Internet plans start at $46.99 per month and voice plans start at $24.99 per month. The good news is that Vast Broadband offers a discount on certain Lifeline services. You could save $5.25 for voice-only service or $9.25 on broadband.11
Seniors must meet certain qualifications in order to receive LifeLine internet. You can apply if you're enrolled in one of the following programs:
Medicaid
Supplemental Nutrition Assistance Program
Supplemental Security Income
Federal Public Housing Assistance (Section 8)
Veterans and Survivors Pension Benefit
To get started, search online to apply for Lifeline. This program doesn't have any age requirements, so seniors of all ages are free to apply.
Conclusion
If you're eligible for your AARP discount card, it's tempting to assume that every business is eager to offer you discounts.
With cable TV providers, your ability to get discounts really depends on whether you're able to shop around and convince the sales associate on the phone that giving you a discount is the only way to retain your business. It also never hurts to pick up the phone and just ask — especially if you're a long-time customer who is paying for multiple services.