Mother's Day is a special time to celebrate the moms in your family, but getting the right gift gets harder every year. Jewelry, flowers, and chocolates are among the most popular gifts during this season. In fact, sales of flowers and other favorite gifts jump 1200 percent in the two weeks before the holiday.1
Traditional gifts are nice, but you want to do something different for the special moms in your life this year. Here are five spins on the bouquet that are perfect for Mother's Day.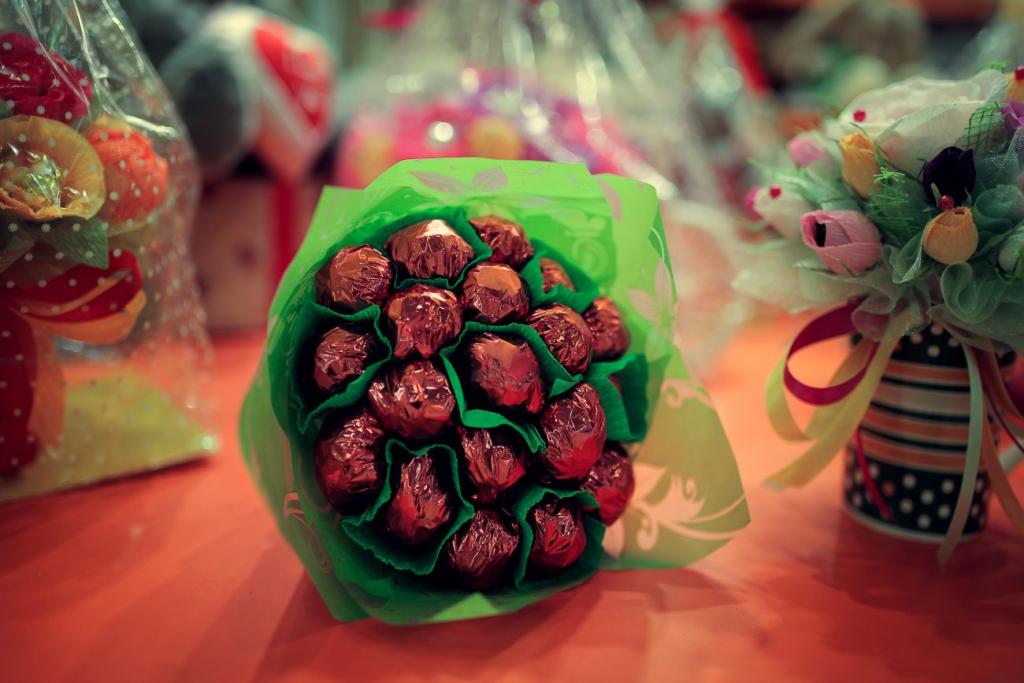 1. Candy Bouquet
Sweets are a popular gift for Mother's Day. Chocolates, gummies, caramels, and other candies can be found at a wide variety of price points.
As the holiday approaches, you'll likely see special candy baskets designed for moms. Take this concept up a notch with a candy bouquet. Any mom would love to receive a bouquet bursting with her favorite sweets. There are no limits when it comes to candy bouquets. Be creative and make sure to incorporate the candies that your Mom really loves.
You can buy a pre-made candy bouquet or you can make your own. A candy bouquet is relatively easy to make, which means it's a great option if you're shopping on a budget. If you buy a candy bouquet, expect to spend between $30 and $50. You can make your own candy bouquet for as little as $15. You'll need to buy candies, a presentation box or basket, and ribbon.2
2. Animal Flower Bouquet
If you're shopping for a mom who loves flowers but you want to find something really unique, consider a floral animal bouquet. Available in a variety of sizes and designs, these bouquets are crafted from live flowers that have been arranged to look like real animals. These adorable flower dogs are a great example of the exciting possibilities for animal flower bouquets.3 An animal-themed floral bouquet is perfect for the mom who loves animals and has a sense of whimsy about her too.
Many local and national florists now offer animal flower bouquets. Expect to pay between $40 and $60 if you buy from a florist.
If you have a knack for designing floral arrangements, you might be able to make one of these animals on your own. The cost to do it yourself will vary greatly based on the flowers you choose. Expect to spend at least $40 for flowers, floral foam, and a box or vase to hold your arrangement. Be sure that you practice before Mother's Day if you plan to attempt your own animal flower bouquet.
3. Fruit Bouquet
Fruit bouquets have become incredibly popular over the past decade. You're likely familiar with these edible designs.
A fruit bouquet makes a great gift for Mom because it's both beautiful and tasty. Arrangements are available in dozens of different designs. Consider customizing a fruit bouquet that features the special mom's favorite fruits.
Creating an edible bouquet yourself might sound like fun, but this one is best left to the professionals. Fruit that isn't handled properly may brown or shrivel before you've had the chance to give the bouquet to Mom. Check to see if local businesses carry edible bouquets. If they don't, you can order from a national company such as Edible Arrangements. Edible bouquets run from $25 to well over $100.4
4. Living Bouquet
Flowers remain an incredibly popular gift for Mother's Day. While a bouquet might be beautiful, it won't last long. Unlike standard floral bouquets, living bouquets won't die a few days after they're given to Mom. These bouquets are made up of living plants arranged in a pot, basket, or another container to look like a bouquet. Succulents make a great choice for a living bouquet thanks to their unique shapes and beautiful coloring.5
If you have a knack for floral design, you can likely craft a living bouquet yourself using plants purchased from a nursery. Expect to pay $25 or more for live plants and a container to put them in.
Of course, you can also buy a living bouquet from a florist in your area or order one from an online florist. Most florists charge $40 or more for a living bouquet.
5. Box Bouquet
Maybe you've heard of subscription box services, which deliver a box of curated products to your doorstep. The idea of a box bouquet is similar.
This unique bouquet is a collection of gifts presented in a beautiful box. No matter what the special mom in your life loves, you'll be able to find small gifts to fill a bouquet box. If you'd like to give a more substantial present, consider splurging on a monthly or quarterly subscription box for Mom instead.
You can build a bouquet box by using a service such as Bouquet Bar, which allows you to design a custom gift that Mom is sure to love. Using a service such as Bouquet Bar will cost at least $50.6
Of course, you can also do it yourself and put together your own box bouquet at home. Choose a box that Mom can use over and over, such as a storage box or hat box. The price to do it yourself can be as little or as much as you'd like to spend.
The Perfect Gift
Giving a gift that impresses your mom means thinking about what she really loves. Consider your mom's hobbies, interests, and favorite things as you browse for the perfect gift.
Remember that it really is the thought that counts when it comes to Mom. Take the time to select or create a unique bouquet that lets her know that you love and appreciate her.