Think seniors aren't tech savvy? Think again – of the more than 47 million American adults over the age of 65, three-quarters have a cellphone according to WeForum.com. Nearly 50 percent of seniors use Facebook, and over 70 percent use the Internet at least once a day, the Pew Research Center reports. As the internet becomes increasingly more important to seniors, this special age group needs tech designed to suit their needs.
Because of their small design, many seniors are unable to successfully use devices like tablets and smartphones. The good news is these devices are starting to be designed with seniors in mind. A variety of features is making it easier for elderly Americans to be online and take full advantage of everything the Internet has offer.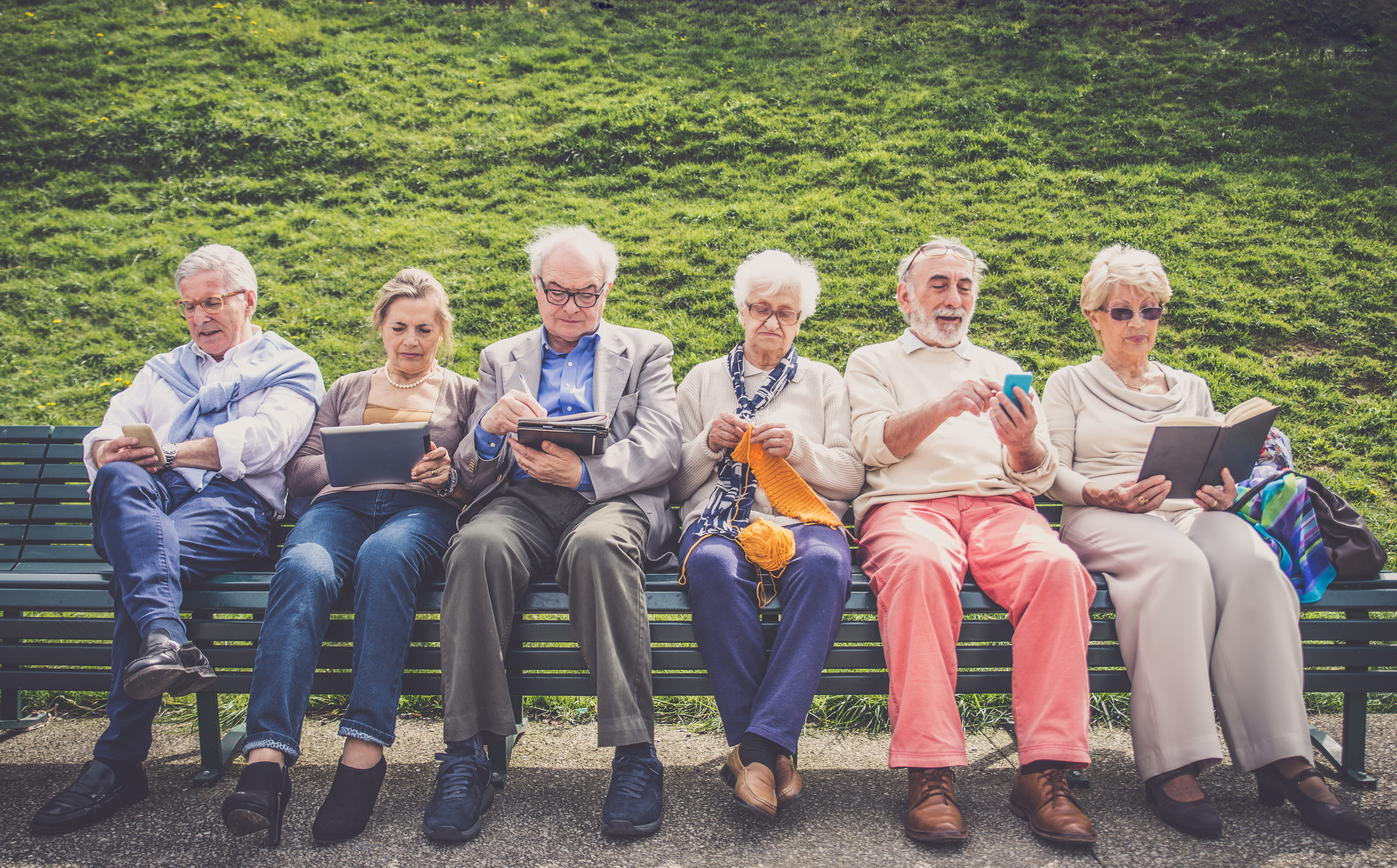 Here are just a few of the top features that are making tech gadgets better and more accessible for seniors.
1. Adjustable Built-in Magnifiers
One of the factors holding seniors back from buying and using tech gadgets is struggling to read on a smaller screen. Even when seniors are comfortable using a desktop or laptop computer, the idea of focusing on a screen a quarter of the size of a typical computer can be overwhelming and impossible. Fortunately, adjustable built-in magnifiers make gadgets far more approachable to users of all ages.
Most seniors need font in at least 16 pixels, but not all the text found on websites and apps is that size. With a built-in magnifier, seniors can see larger font without a hassle. New smartphones allow seniors to set their preferred text size and zoom in using their fingers. This allows users to quickly zoom in and see content too small for them to read.
2. Big, Clear Icons
Whether you have an Android or an iPhone, your home screen displays a variety of apps in very small images. The same is true if you have a tablet. If these icons are small and hard to spot, seniors can have trouble identifying which app is which. Recognition can be challenging, and it can discourage use altogether.
The solution is to look for devices that feature big, clear and simple icons. Certain brands, like senior-friendly Jitterbug, and different devices, like tablets, are either designed with bigger icons or allow users to zoom in and choose a larger screen view. Rather than a complex icon with too many design features, a clear and easy-to-understand icon is best. This way, seniors can quickly identify the app they want to use. They can also avoid opening apps they don't want to use, which is a similar and equally frustrating concern for some users.
3. Voice-Activated Features
Another feature that makes tech gadgets better for seniors is voice activation, which is growing in popularity across a range of tech devices. Within the home, many seniors now rely on devices like the Amazon Echo or Google Home, devices that work exclusively through voice activation.
These in-home devices allow seniors to complete a range of tasks and functions without needing to fiddle with buttons or read small print on a screen. Once up and running, they can be used to order items online, check the weather or even read books to users. This is a tremendous benefit to seniors, and it can even become a form of companionship. Thanks to voice-activated devices, seniors can dictate emails and text messages – or even call – their friends and families. Seniors can use these devices to ask questions, set reminders for appointments and medications, and even schedule their days, all without having to deal with the frustration of touchscreens and cell phones.
4. Easy-to-Use Social Features
Many seniors want to use technology to stay in touch with friends and loved ones. Unfortunately, that can sometimes be tricky – Skype can be difficult to set up, and few young people actually want to chat on the phone anymore. Luckily, seniors can use built-in social and video features to stay in touch without difficulty.
FaceTime is one example of an app with social features that are easy to use. FaceTime is a fantastic way to chat with friends and family in real time, and a call or a video is often preferred by older users. To use FaceTime, seniors just need to click the clear icon and pick a person to call. Already installed on every Apple device, FaceTime connects seniors to video calls in seconds.
5. The Ability to Connect Health Devices
Many tech gadgets today are doing double duty as fitness devices. Seniors are often encouraged to stay healthy and active, and many tech devices can help.
As one example, seniors can connect their wearable activity trackers to their smartphones. At the end of each day, they can determine how many steps they took and how well they slept the night before. Users with heart problems may need to wear heart rate monitors around the clock or for scheduled tests. There are apps that can sync that collected data and send it straight to a local physician, making healthcare easier for everyone involved. Additionally, devices like blood pressure and insulin monitors are getting smarter, using Bluetooth to sync seniors' readings and data with different apps.
6. Location Monitoring
Location monitoring is a growing feature in tech, and it can be advantageous for senior citizens and their loved ones. With location monitoring trackers and apps, you can locate a person using GPS technology.
Beyond that, seniors can benefit from having location monitoring features in their everyday items. Everything from your keys to your phone can be tracked, helping seniors find missing items easily. This can be synced to a standalone device in the home, or it can be monitored using an app on a smartphone. Location monitoring is fantastic for seniors and offers peace of mind to their caregivers and family members.
Tech gadgets can and should be used by every generation. With the right features, tech gadgets can improve the lives of seniors by increasing safety, communication and enjoyment in everyday life.