Automated home security is more impressive than ever. Monitoring for trespassers is the least of their capabilities. With some gadgets, you can control every component in your system using smart devices or even your voice.
If you can't unlock the door for the housekeeper while you're out getting a haircut, you're way behind.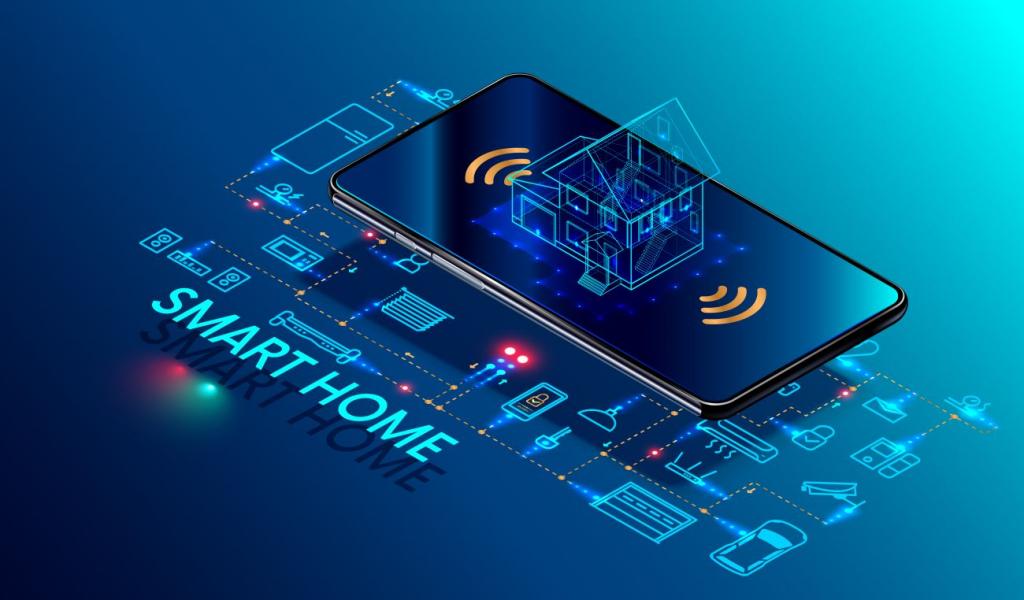 1. Smart Cameras
Modern cameras are easy to set up, monitor, and integrate with your lighting system. They are sleek and inconspicuous. Outdoor models are weatherproof. From anywhere in the world that has cell service, you can get alerts and live video feeds.
How much you pay depends on whether you choose do-it-yourself monitoring or hire a security company to do it for you. Spending more will ensure 24/7 response to suspicious activity, which is certainly an advantage. According to Consumer Reports, however, high-definition quality in all conditions is rare. Also, extra features like facial recognition and cloud storage may not be included in the price.1
Costs vary widely depending on system type, the number of cameras, and difficulty of installation. HomeAdvisor reports a cost of $1,342 on average.2
2. Smart Doorbells
These Internet-connected products are really security cameras that double as doorbells.
Features include alerts when someone is approaching and the ability to see a video feed on your smartphone. Two-way audio makes it possible to converse with visitors before opening the door. You can even answer the door, so to speak, from your office or the grocery store.
For long-term video cloud storage, you may have to buy a subscription. Another disadvantage is that thick walls sometimes interfere with Wi-Fi connection.
Smart doorbells recently reviewed by Wirecutter ranged in price from $100 to $250.3
3. Smart Locks
If you often obsess about whether you locked up or tend to forget that your maid comes on Fridays, invest in a smart lock. With one, you can lock and unlock your door remotely from your phone, tablet, or computer. You can even issue entrance codes to family members and friends.
Connected smart locks have features like programmable access coding, fingerprint scanning, and built-in video monitoring. Voice activation is nice to have when you're struggling with a crying toddler or hyperactive dog.
While you can't beat the convenience, there are some disadvantages. With a keyless lock, you could lock yourself out if a power outage shuts down your Wi-Fi. Smart locks are also significantly more expensive than conventional deadbolts. Plus, you may have to hire an expert to install these locks and sync them to your Wi-Fi.
PC Magazine's 2019 recommendations cost from $149 to $349.4
4. Smart Lights
Costing less than $15 each, lighting your property using smart lights is fairly affordable.5 Since the technology is built into the bulbs themselves, there is no need to hire anybody for installation.
Cloud-connected outdoor bulbs sync with your in-home network. Some connect to a smartphone, while others use Bluetooth or Wi-Fi to connect with a router. The latest bulbs can be programmed and controlled remotely. Some can switch to a variety of colors — 16 million shades, in fact.
Smart switches are another approach. Some have dimming capabilities, built-in voice assistants, and motion sensors. The most basic models start at around $50. Switches have one advantage over bulbs. Automation and remote-control work whether a switch is in the on or off position.
If you have more to spend, consider a fixture that pairs motion-activated lights with a night-vision camera. They cost about $250 to $280.
5. Smart Thermostats
Although most modern thermostats do a bang-up job of controlling temperature, what if they could learn your habits and preferences in order to adjust the temperature accordingly? That's where smart thermostats come in handy.
These automated thermostats work with Wi-Fi, smartphone apps, and any virtual assistants you have to make sure the temperature is always at a comfortable level. Some features include app control, alerts, and geofencing, which adjusts temperatures when your smartphone leaves the house.
While they're expensive, but they're designed to pay for themselves in lower energy costs.
Consumer Reports recently tested smart thermostats according to three criteria: automation, smart-home features, and wireless setup. Its recommended products ranged in price from $130 to $170.6 While these thermostats are expensive, they're designed to pay for themselves in lower energy costs.
6. Smart Smoke Alarms
Internet-connected smoke alarms send alerts to your smartphone or other devices if something goes wrong while you're away. You'll also be notified when the batteries are running low. With some models, you can silence false alarms from an app.
The two most basic types of smoke alarms are ionized detectors and photoelectric detectors. The first is good at detecting flaming fires that start quickly. The second is better at detecting slow, smoldering, smoky fires.
You need both types as well as a carbon monoxide detector. You can buy them separately or in combination. However, as of June 2018, the product testers at Consumer Reports were dissatisfied with every combination detector they tried.7
If you have to purchase three separate devices for detecting smoldering fires, flaming fires, and carbon dioxide, so be it. Quality products save lives. According to HomeAdvisor, complete fire alarm systems run from $650 to $950 on average.8
How to Find Deals on Home Automated Security Systems
Finding deals is usually a matter of simply visiting security companies' websites. The market is competitive, so many offer limited-time promo codes, discounts on bundled products and services, risk-free trial periods, free equipment with installation, rebates, and other deals. Considering this competitive marketplace, try negotiating for free shipping and locked-in rates or ask if there are senior or military discounts.
For those willing to wait, Black Friday and Cyber Monday are the best days to shop for automated security systems.
Another good resource is SafeHome.org. It has plenty of comparisons, reviews, and articles on current promotions to help you determine what system is best for you.9