Bouquets of beautiful flowers are the go-gift for your loved one on Valentine's Day. Whether you've ordered a stunning arrangement of roses or a handcrafted bouquet of your date's favorite flowers, there's no way you can go wrong with flowers as a Valentine's Day gift.
But sometimes, this romantic holiday gets forgotten – and if you've completely blanked on ordering flowers, don't panic. You can still get a bouquet delivered to your other half; you just need to order from a last-minute flower delivery service like these.
1. 1-800-Flowers
1-800-Flowers¹ has long been the go-to website for speedy flower delivery, especially on holidays thanks to free shipping and same-day delivery services. 1-800 Flowers offers a ton of gorgeous bouquet options for same-day delivery, including Valentine's Day favorites like a dozen red roses, but if you've got a bit more time, you can shop by flower type, or purchase a bonsai tree, succulent garden, or even a live-root sapling for delivery. They also offer gift baskets, food gifts, and other delicious edibles to add to your bouquet.
2. The Bouqs
The Bouqs is a newer flower delivery company that specializes in sustainable bouquets, which means you and your loved one can feel good about the social impact of your choices this Valentine's Day. And The Bouqs bouquets are all gorgeously modern. Their sculptural designs feature interesting plants with unusual textures like succulents, kale, and eucalyptus, and are a delight to hold. Basic bouquets start at $36, while a bouquet of classic red roses is only $52, and they offer a huge variety of bouquets for same-day delivery starting at $72².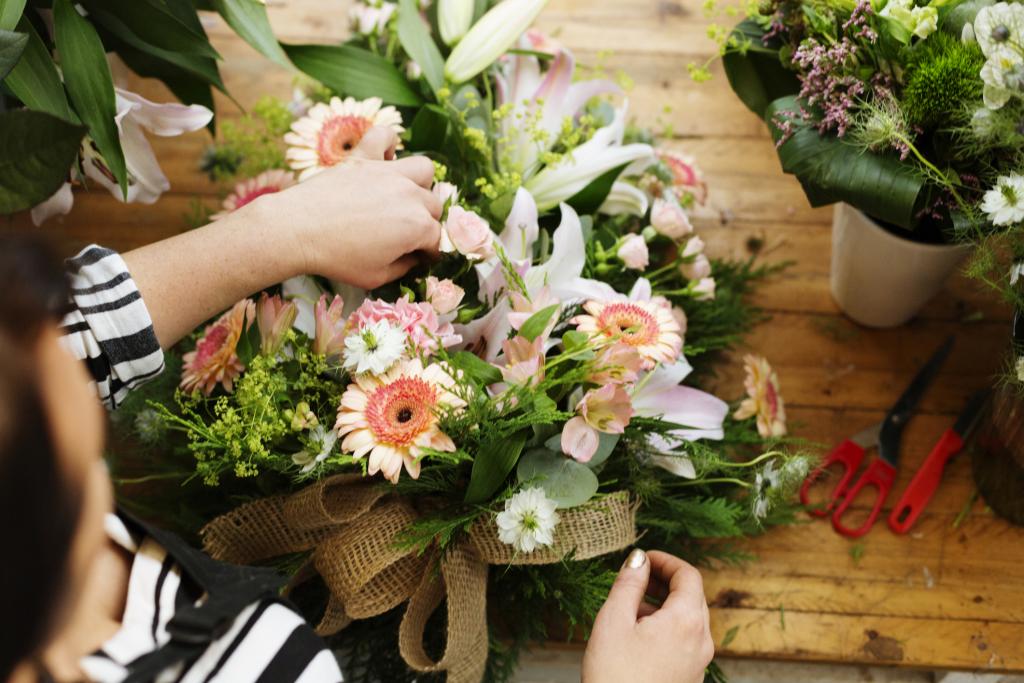 3. From You Flowers
There's a wide variety of flowers in every price point at From You Flowers. This florist even offers same-day delivery service for bouquets priced at $35 and under³. Compared to most other services, this is a really affordable option. You can even customize last-minute orders with a box of chocolates, a teddy bear, or balloons. If your love doesn't adore flowers, you can spring for a fun gift basket of sweet or salty snacks (a great movie-night treat!), fruit, or baked goods.
4. Edible Arrangements
If your partner prefers eating an edible bouquet instead of a floral one, Edible Arrangements offers a wide variety of gifts made with delicious fresh fruit. A basic bouquet starts at $39.99 for a potted arrangement with cantaloupe, honeydew, strawberries, and grapes, or you can splurge for a party-sized 'Incredible Edible Spectacular' for $1499.99⁴. Edible Arrangements also offers chocolate-covered strawberries, chocolate-dipped fruit arrangements, and Edible Donuts, which are really Granny Smith apple rings dipped in chocolate. Same-day delivery is available, depending on your location.
5. Teleflora
If you want to ensure same-day delivery while also supporting a local business, Teleflora acts as a broker between customers and local florists. On the Teleflora website, you'll find a wide variety of bouquets, including several options for under $40, but their stock varies by location⁵. They offer a regular deal of the day promotion, if you're willing to leave the contents of the bouquet up to chance. You can specify your price range, and trust your local florist to arrange their stock into a winning showpiece. You can add a box of chocolates, balloons, or a stuffed animal to any order. Same-day delivery ends at 3pm.
6. Florists.com
Florists.com offers a huge variety of flowers, gifts, and other artistic arrangements to suit any budget this Valentine's Day, and their prices for same-day delivery are extremely reasonable- most of their bouquets cost between $40 and $60⁶. It's worth noting that while Florists.com does offer tons of different same-day delivery bouquets, if you want a classic arrangement of red roses, you'll need to order in advance. If your partner prefers flowers that will last longer than a week, they offer potted plants like succulents, orchids, or even a bonsai tree.
7. ProFlowers
ProFlowers handles the sale of flowers directly from growers and suppliers, ensuring that your bouquets are always fresh and ready to bloom. If your flowers of choice are roses, they offer a ton of different varieties including multicolored Unicorn roses, black-dyed Nightfall roses, and frilly Garden roses in a variety of colors. One dozen red roses is only $29.99, or you can get 24 for $49.99⁷.
8. Send Flowers
At Send Flowers, you'll find a ton of options for same-day delivery. You just need your delivery zip code, and as long as you order by 3pm, they'll be delivered the same day⁸. If you're on a budget, you can opt for their florist-designed bouquet at a lower price point. Many of their same-day delivery options include roses, but if you want classic long-stemmed red roses, you'll need to order them the night before the day you'd like them delivered. They also deliver fruit baskets, balloon bouquets, centerpieces, and delicious chocolates.
9. Kremp Florist
Although they're based in Philadelphia, Kremp Florist offers same-day flower delivery nationwide. This family-owned business is unlike other florists who limit your choices for same-day delivery – Kremp Florist can deliver most of their bouquets on the same day, if you order by 12:30pm local time⁹. They also offer the largest selection of gifts of any company we've profiled- in addition to flowers, you can order jewelry, candles, wind chimes, cocktail kits- if you need it, they can deliver it. If you'd prefer to stick to the classics, one dozen red roses arranged with babies breath and greenery is a popular choice.