Just like all other women, you deserve to feel great in the outfits you wear every day. Just because you shop in the plus-size department, you should not have to feel as if you have fewer choices in style, fit, pattern, or color.
While it may initially seem difficult to dress your body shape, you can use a few simple tricks to find the right silhouette for your body frame and to learn exactly what looks best on you.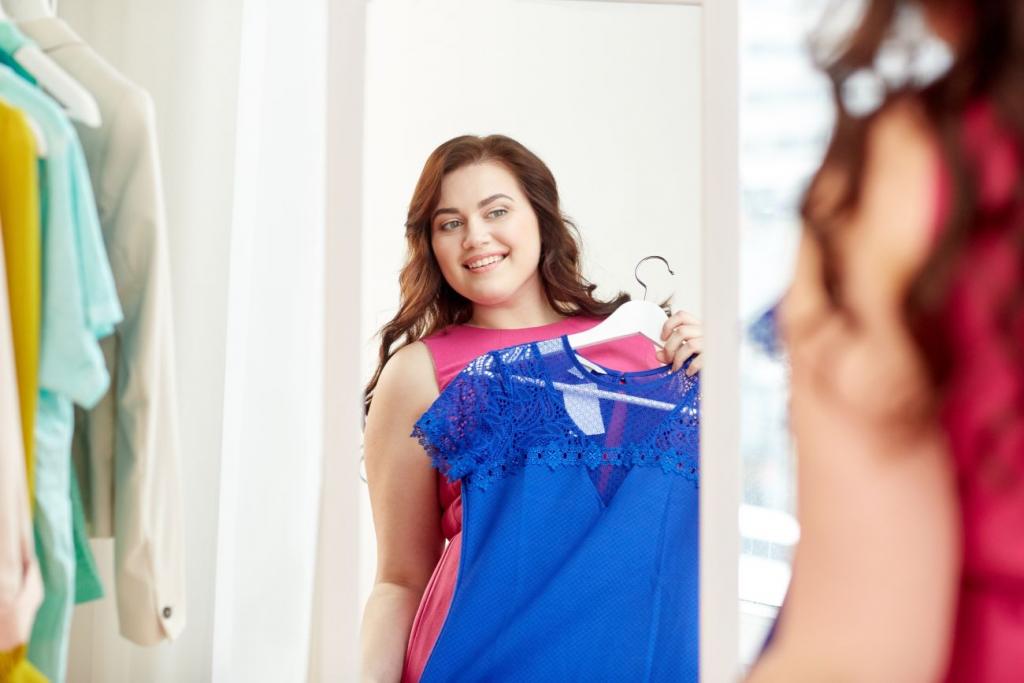 Find the Right Fit
The right fit is everything when it comes to great style. Clothes that are baggy in all the wrong places will not accentuate the gorgeous curves you have while clothes that are too tight are just not as flattering as you might think. Finding the right fit begins with understanding your overall body shape.
Every woman has a unique shape. You may have heard them given multiple titles, but according to MetDaan, they generally fall into the following five categories:
The Hourglass Shape: This shape features larger hips and a larger bust but a smaller waist.
The Pear Shape: This shape has hips that are larger than the bust.
The Apple Shape: This shape has most of the weight concentrated through the bust and shoulders with smaller hips and midsection.
The Round Shape: With this shape, most of the weight is found in the bust and midsection.
The Straight Shape: This shape has a waist measurement that is only a few inches smaller than the bust or hips.1
Who What Wear recommends choosing dresses or pants ensembles that show off your best features while downplaying those that you would rather overlook. If your body shape has a defined waist, you will look great in dresses and pants that are cinched in at the waist. If you have a bottom-heavy shape with fuller hips and thighs, you will look particularly good in A-line or fit-and-flare dresses that flare over your hips. Shift dresses are best if you do not have large hips, such as is found with a straight or apple body shape. If you have a great bust, consider fits that show off your décolletage. Always be careful of clothes with lots of extra material if you have a larger midsection.2
It's All in the Details
Once you have your basic clothing shapes down, you should know how to choose the colors, patterns, and textures that best boost the shape, size, and style you already have. According to Real Simple, some of the "rules" that you have probably heard in the past simply do not hold true anymore. You do not have to dress in monochromatic colors or stay away from patterns for fear of looking larger. Instead, choose clothing that is supportive and has the structure to hide any lumps and bumps in order to decrease your insecurities.3
First, consider the color of your clothing. CheatSheet rightly says that black is a slimming color.4 However, you should not be scared to wear any color that you like as long as it looks great with your complexion. Go as bright as you want as long as it makes you happy and comes in the correct fit. If you are a bit nervous about trying out new colors, start with small areas of color or try pastels.
Second, do not be scared to get out of your comfort zone with prints. While large horizontal stripes are your enemy, some stripes actually hide your insecurities while highlighting your assets. Look for thin stripes that are placed on angles to give you a visually smaller waistline.
Third, remember that the little details on your clothing can be your best friends if you use them correctly. Ruffles, flounces, flowers, and other details will set off whatever feature they are on. Therefore, use them on your best assets or use details, such as ruching, to hide problem areas.
Choose the Right Accessories
The right accessories complement your clothing, show off your personality, and serve as embellishments to already great outfits.
Your most important consideration should be proportion, according to Bellatory.5 When choosing jewelry, opt for larger pieces that will not get lost on your body. Your best bet is to choose one piece to wear at a time, so your look is not confusing. Opt for statement necklaces, chunky earrings, or cuff bracelets.
A belt can do a great deal to highlight a curvy waist. Wear belts with dresses, over jackets, and with wide-leg pants. You may even want to consider embellished belts if you really want to show off your narrow waist.
Finally, Real Simple recommends shoes and handbags that match your silhouette.6 Consider a pointed-toe shoe for a leaner look or a heel to elongate your legs. In addition, choose a larger bag that is proportionate to your body size, such as an oversize shoulder bag, bucket bag, or hobo bag.
Finding the Right Clothes to Dress Your Body Shape
If the lack of good clothing choices when shopping has gotten you down, consider a subscription box service, which does the shopping for you. For example, with Stitch Fix Plus and Dia&Co, a stylist picks the clothes for you based on your body measurements and your answers to some basic quizzes. Gwinnie Be is great if you like to pick out your own clothing from a virtually limitless online closet and rent pieces for as long as you like.
As nearly anyone who has shopped for plus-size clothing can tell you, it can be nearly impossible to find the right pieces in your local department store. What you do find there often fits poorly, is untailored, or comes in very few colors. Therefore, Money Crashers recommends doing much of your clothes shopping online. Once you start browsing, you will be excited by all the options that you find at many price points.7 Plus, with personal stylists at some of these growing subscription companies, you can finally feel confident in your everyday and special occasion styles.