There's a lot to love about reaching your senior years – but there are also plenty of challenges. And as you get older, driving becomes increasingly challenging, making it tough to get around and accomplish your to-do list.
As seniors are living longer, transportation is becoming a big issue. According to Consumer Reports¹, the average American outlives his ability to drive by anywhere from 6 to 10 years. But if you aren't able to drive for the last decade of your life, how will you enjoy life?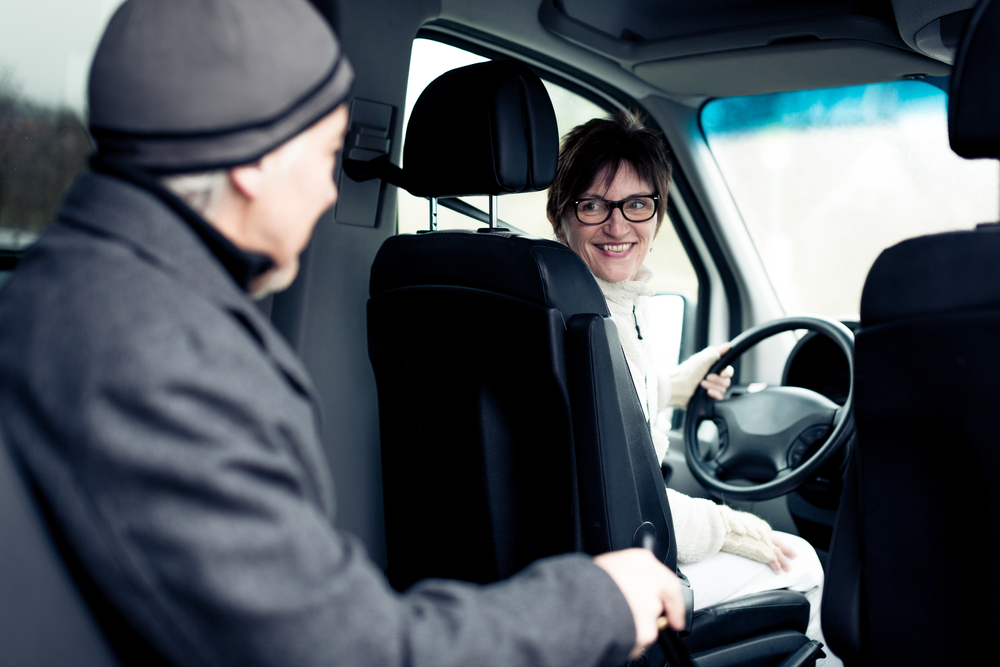 That's why senior transportation services are an important tool. These services will help you get out and about, accomplishing everything from errands to doctor's appointments to visits with friends. A senior transportation service could be your lifeline, your connection to the world.
Here's what you need to know about the benefits of senior transportation services, and which are the best available.
Seniors Can Get So Much Accomplished Without the Hassle of Driving
It's common for seniors to continue driving for as long as possible – after all, no one wants to give up their freedom to go anywhere, any time. But unfortunately, that means many seniors are driving longer than they should. Some even make the dangerous choice to drive when they're no longer safe drivers.
But senior transportation services can let you keep your freedom, offer the same flexibility as driving, and keep you safe on the road. Instead of driving yourself, a transportation service can take you wherever you need to go. And there are plenty of benefits that make senior transportation services a better choice than driving.
The following are the top benefits of using a senior transportation service.
Keep Your Freedom
Losing the ability to drive can leave seniors feeling trapped and isolated. And accomplishing the simplest errands, like running to the store, can be very difficult if you can't simply drive yourself there.
However, a senior transportation service gives you that freedom back. You can schedule trips to run errands – even multiple errands in one day, or back to back – and call a driver whenever you want to get out of your house. You'll maintain your independence and have the freedom you've always enjoyed.
Stay Safe on the Road
Driving when you aren't completely capable is incredibly dangerous. A senior driver who struggles with mobility, strength, or cognitive decline will likely have an accident on the road. And that puts both you and other drivers in danger of injuries or even death.
Senior transportation services remove these dangers entirely. You'll have an experienced driver taking the wheel, and you won't have to worry about how you're feeling or if you're up to driving. You'll be safe as a passenger, and the transportation service will be your reliable, dependable, and trustworthy driver any time it's needed.
Find Rides Easily
When seniors stop driving, getting around becomes difficult. It's common to rely on family members for your transportation needs, and that can be a problem if your family is busy or unavailable. It can leave you feeling stranded and stuck, or like you're an inconvenience.
Senior transportation services eliminate these problems completely. You can find a ride any time, whenever you need to. You can schedule rides in advance or call for a ride just hours or minutes before you're ready to leave. This means you'll never have to worry about finding a ride to doctor's appointments, the grocery store, or even a friend's house.
Improve Your Emotional Health
There's nothing worse than feeling like you're unable to enjoy the activities and independence you've had your entire life. And giving up driving can be emotionally difficult, especially for seniors who are still very active.
However, senior transportation services can keep you involved and participating in your favorite activities, hobbies, groups, and social responsibilities. With readily available, easy transportation options, you can see friends and family and live as normally as you would if you were driving yourself. And that simple fact can boost your emotional well-being and make you both happier and healthier, Preferred Healthstaff² explains.
The Top Senior Transportation Services
If you're ready to start using a senior transportation service and discover just how many benefits they offer, you just need to choose the service you'll use. And there are many to choose from.
But not all senior transportation services are the same. The following are a few of the top choices for seniors anywhere.
GoGoGrandparent
GoGoGrandparent is a senior ride concierge service. Whenever seniors need a ride, GoGoGrandparent will connect them with drivers in just minutes. The service works with Lyft and Uber³, which makes it perfect for seniors who aren't tech-savvy and need help using rideshare services.
Veyo
Seniors who need more specialized transportation will do best with Veyo. This senior transportation service partners with insurance companies and health or medical facilities, offering non-emergency medical transportation. Veyo provides special vehicles to transport people in wheelchairs or who need medical care along the way. Seniors can possibly get Veyo rides covered by their insurance, which makes each ride free⁴.
iTNAmerica
Unlike other senior transportation services, iTNAmerica offers truly thorough service – iTNAmerica guarantees door through door service⁵. This national network of senior ride companies pairs seniors with local transportation. And when the ride arrives, the driver helps the senior get out of the house, into the car, and out of the vehicle through the door of their destination. It's a fantastic choice for anyone who needs a little extra help.
Try It Out Today
With so many benefits and plenty of different options, senior transportation services are the best way to get around when you're older. Why put yourself through the risks and hassles that come with driving if you're a senior? With companies and services like those mentioned here, maintaining your independence and staying connected to your social life is easy.
When choosing a senior transportation service, it's important to check what's available in your area. You can check with your city and county to see if there are specific assistance programs already set up for elderly residents. You can also find out if any of these programs are free for you to use.
If not, you can try services like the top options mentioned here. With reasonable rates and service that makes it easy for seniors to get exactly where they need to be any time, a transportation service is even better than driving.