When you're stuck indoors during the cold winter nights, it can be infuriating to see scuffs, dirt, and debris pile up in your home. It exacerbates our cabin fever and can make us feel completely out of control.
Many people begin to feel the need to deep-clean their houses every spring, but in case you wanted to start earlier, we assembled a list of some of the best cleaning products available. They've been tested by a panel of experts, have rave reviews, and will definitely help make your cleaning experience not only more effective but more pleasant as well.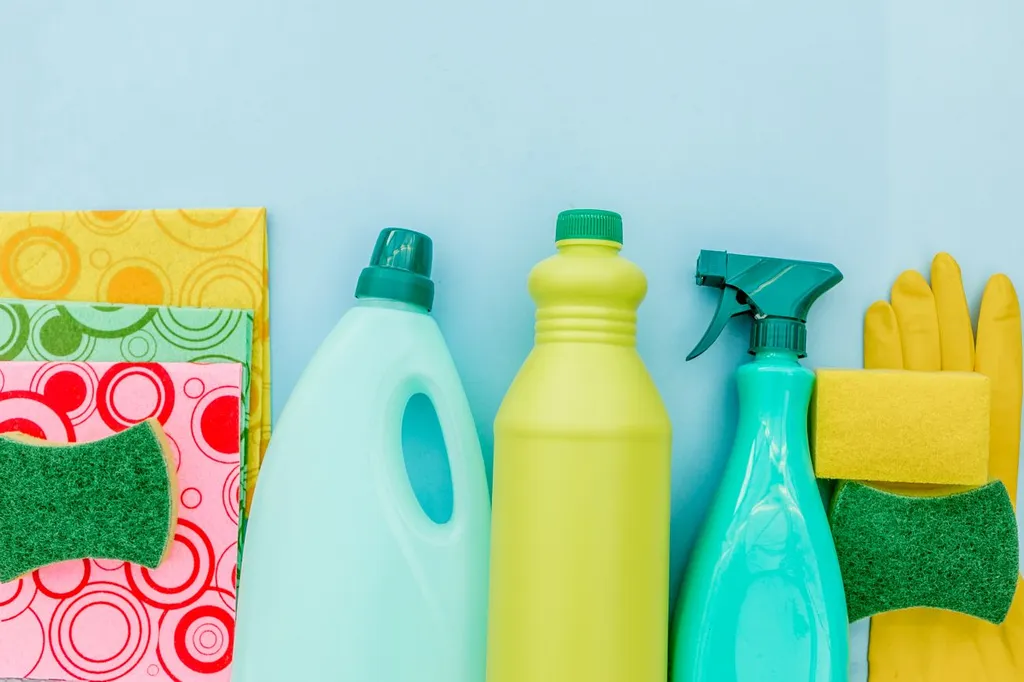 Dyson V7 Motorhead Stick Vacuum
If you live in an apartment or small home, you probably don't need a large, corded vacuum to clean your floors. A lighter stick vacuum is ideal for small house and apartment-dwellers.
The Dyson V7 Motorhead Stick Vacuum easily works on both carpet and hardwood flooring and lasts for almost half an hour of cleaning before it needs to be recharged. It comes with a convenient mounting post, so it can be attached to the inside of a door or closet. Plus, it quickly converts to a handheld vacuum.
This Dyson vacuum usually retails between $230 and $300, so it's an investment, but it makes cleaning much more convenient.
OXO Good Grips Compact Toilet Brush and Canister
Unless you really want to be reaching into your toilet bowl up to your elbows, you should probably invest in a toilet brush. You want the brush to be well-designed so it's capable of intense scrubbing without flicking water up into your face.
The OXO Good Grips Compact Toilet Brush comes with its own canister that opens and closes automatically, which means that you don't have to look at it when it's not in use. It also comes in three unique colors, which will match any bathroom décor.
It's only $16 and the brush heads are replaceable.
O-Cedar Microfiber Cloth Mop
If you're looking for a wet mop that's both cheaper and more environmentally friendly than the ubiquitous Swiffer, check out the O-Cedar Microfiber Cloth Mop for $8.97. Sure, you'll have to use it with a mop bucket, but the mop head dries super-fast. Plus, the mop head is machine washable, so you can just throw it in the wash with your clothes and it'll be good as new.
The O-Cedar Microfiber Cloth Mop is absorbent and capable of scrubbing at stains and stuck-on grime. Even better, you can use your own cleaning liquid with it. It might seem easier to buy bottles of Swiffer cleaner, but you can easily make your own floor cleaner with some liquid dish soap, vinegar, and water.
Casabella Wayclean Wide Angle Broom
If you've ever used a cheap broom to sweep your living space, you'll know how frustrating it can be to rely on an inferior product that just doesn't do the job right. Long, limp bristles that only move dirt around and allow smaller particles to slip through are the most common problem that most people have with their current broom.
The $12.99 Casabella Wayclean Wide Angle Broom has 2,880 bristles — yes, the testers counted — that are packed densely, so no dust or debris gets through. Pair this broom with a good dustpan and you'll never have to spend more than five minutes sweeping again.
Puracy Natural Multi-Surface Cleaner
You may have never heard of this product before, but testers assure us that once you've tried it, you'll never go back to other multi-surface cleaners. So many people rely on single-use products to clean multiple areas of their home and are often disappointed with the results- streaky chrome finishes, filmy granite, and leftover grime even after putting in some serious elbow grease.
Puracy Natural Multi-Surface Cleaner is relatively cheap. In fact, it's $14 for a bottle of their concentrated formula. Moreover, it is the best at cleaning oily spills, getting crayon off the walls, and any other task testers could throw at it.
Reusable Cleaning Towels
If you've ever relied on old t-shirts or bath towels to clean up messes, you might be saving money, but you're definitely leaving dirt, lint, and streaks behind. Purchasing a bundle of reusable cotton cleaning towels is a great investment.
Utopia's set of reusable towels are cheap, can be laundered over and over again, and don't leave lint behind. A pack of 25 only costs $11, but if you're worried that you'll run out, you can always purchase their 100 or 500-pack.
Seventh Generation Natural Dish Liquid
Dish soap is something that most people, even those with dishwashers, have beside their kitchen sink. You should be able to use it on any kitchen gadget or dish and it should cut through grease and grime with ease.
With $30 for a six-pack, Seventh Generation Natural Dish Liquid is made without dyes or artificial fragrances and they don't test on animals.
Tide Ultra Stain Release Free
Even if you keep a handle on your laundry, it's amazing how much can pile up when you're cleaning the house. Ideally, your detergent should be able to wash a load of laundry without damaging clothes and should be gentle on the skin and environment.
At $12, Tide Ultra Stain Release Free laundry detergent conquered all the tests and was the only detergent that was able to wash out both stains and unpleasant smells. This specific product is only available at Target right now, but if you want to buy online, Tide Plus Bleach Alternative HE Liquid is a great second choice.
Mr. Clean Magic Eraser
Mr. Clean Magic Eraser is a jack-of-all-trades product that helps get rid of stubborn stains and ground-in grime. For how useful it is, it's surprisingly inexpensive. In fact, $10.60 buys you a pack of eight on Amazon.
You can use Magic Erasers for any task that usually requires a bit of elbow grease and you'll find that they cut down on the effort and scrubbing involved. Many people keep them around the house to help remove scuffs and dirt from walls without damaging paint or use them to get rid of stubborn stains on grout. Just make sure you have a few on hand at all times since they're not reusable.
Dr. Bronner's Pure Castile Liquid Soap
People who have bought or been gifted a bottle of Dr. Bronner's Pure Castile Liquid Soap often don't know how to start using their new cleaning tool. This soap, which is often billed as an 18-in-1 product, can do anything. Essentially, it's a super-concentrated liquid soap that's made with all-natural, organic, vegan ingredients. You can combine it with different ingredients like baking soda, vinegar, water, and essential oils to make different cleaners that are ideal for soap scum, floors, or kitchen surfaces.
At $16.99 for a 25oz, this liquid soap is a great all-purpose cleaner to keep around the house.
Scrubbing Bubbles Bathroom Cleaner
If you're cleaning your bathroom and want to make sure that you're disinfecting all of the surfaces and removing soap scum, dirt, and hard-water stains at the same time, reach for Scrubbing Bubbles.
Their foaming bleach bathroom cleaner, which is $2.99, works on any bathroom surface, removing dirt and grime with ease. Their product line does contain bleach and other potential irritants, but they're perfectly safe as long as they're not ingested.
Bar Keeper's Friend
If you regularly struggle with scrubbing baked-on foods and other stains from your cookware, reach for Bar Keeper's Friend. Coming in at $7.66, it's a powdered cleaning product that can clean almost any surface, including copper, porcelain, ceramic, and stainless steel. It helps get rust and stains out of old cookware, making it look as pristine as the day it was purchased.
Muji Cleaning System
Muji, the Japanese houseware company that's also a minimalist's dream, recently released a self-contained cleaning system. Their system is made up of several poles that come with interchangeable heads, so they can be used as mops, floor dusters, brooms, or even bath scrubbers. Everything has been designed so it can be stored easily. Plus, their brush heads are all reusable and washable. They also have several tiny spot-cleaning tools that are great for hard-to-scrub areas like shower grout, corners, and drains.
If you already have cleaning supplies at home, you can augment your collection with their unique spot-cleaning tools. But if you're moving and need to purchase everything new, we recommend purchasing the whole system.