Closets do more than just provide a place for you to hang your clothes. They reduce stress and save time by helping you to stay organized. But if your closet is simply a mess, maybe it's time for a refresh — or an all-new closet.
If your closets aren't providing the storage space and organization you need, consider a custom closet design service. Here are five ways custom closets save tons of space without breaking the bank.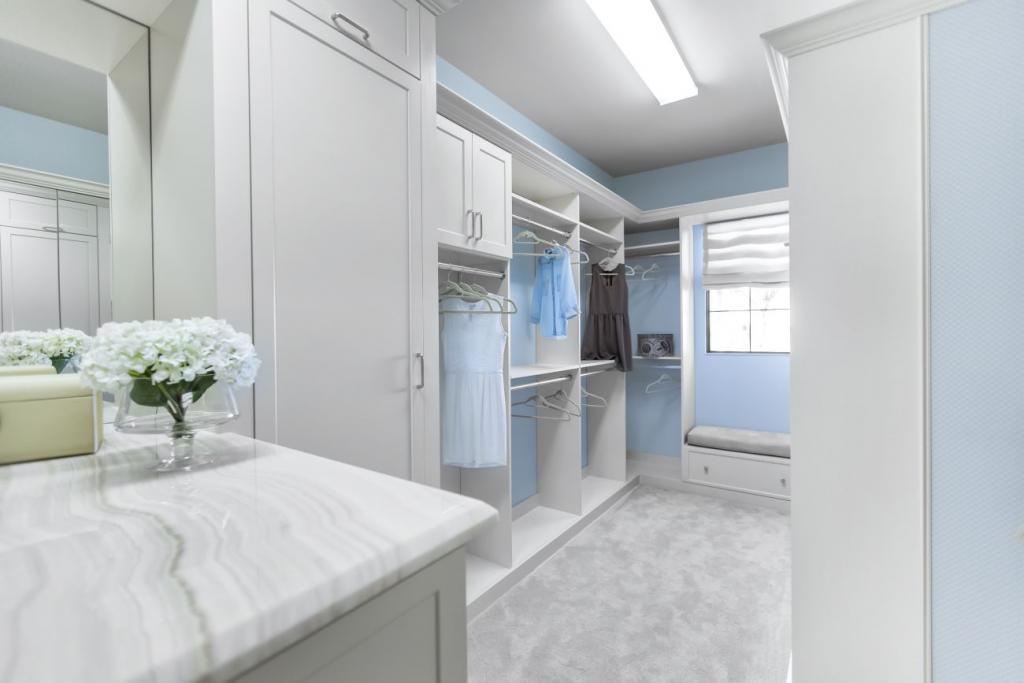 1. Makes Better Use of Available Space
Space is a valuable commodity. When trying to fit everything into your closet, you need as much organization as possible. This is where the beauty of a custom closet comes in. A custom closet uses shelves, hanging fixtures, and drawers to maximize your space and provide organization. When you sit down with a custom designer and explain why your existing closets are failing to meet your needs, the designer can work with you to create a configuration that fits your lifestyle and allows you to keep your clothes organized and readily accessible.
Unless you expand your closet space, you only have so many square feet to work with. Because of this, it is important to maximize the space as much as possible from floor to ceiling. This can be accomplished by utilizing such features as closet accessory organizers and multi-level closet rods. Complete closet systems are also available that include shelves, bins, and compartments. Storage bins and cubby holes provide additional space for you to hide dirty laundry and keep your shoes organized.
2. Saves Time
Have you ever thought about how much time you waste looking for a particular item of clothing? In addition to the time you spend searching, how often have you had to press a garment that was wrinkled because it was crammed into a packed closet? According to one report, Americans waste as much as one year of their life searching for items at home or at work.1
Custom closets will save you a lot of time, because you will be able to stay better organized and find things more quickly. If you have a dedicated space for your shoes and accessories, you can avoid the panic of searching for the right items to complete your look. You can even have a special place reserved for tomorrow's wardrobe, which will save you time getting ready for work. If you have children, you can help them stay better organized with custom closets. This will benefit the entire family by saving time and reducing stress.
3. Improves the Appearance of Your Closets and Your Home
In addition to saving you time and helping you to become better organized, custom closets are more attractive and add to the overall appearance of your home. Functional items, like mirrors and lights, also help to enhance your closet's appearance. An uncluttered closet looks larger and more attractive than one where everything is crammed into a space that is too small. High-end touches, such as crown molding and custom cabinets, can be used to make a closet look absolutely beautiful.
With the right design, a custom closet can become an extension of your bedroom. It can include a dressing area with beautiful wallpaper, mirrors, plush carpet, and crystal lighting. The addition of such a closet to the master bedroom can yield a bedroom suite that is glamorous as well as functional. Luxurious materials, such as leather and parchment, can transform the look from ordinary to spectacular. Modern technology, such as LED closet rails, have the ability to convert ordinary closet components into showcase items.2 Custom glass and drapery can also be employed to create a luxurious feel.
4. Increases the Value of Your Home
In addition to streamlining your life, making you more organized and saving you time, custom closets can also increase the value of your home. Prospective buyers will look inside your closets, because they want to make sure your home has enough storage. If your closets are crammed full, it will appear that your storage space is inadequate, which can devalue your home.
On the other hand, custom cabinets let prospective homebuyers visualize just how neat and organized their wardrobe will be in their new home. Many homebuyers want to see upgraded features that include tie racks, valet rods, belt racks, built-in hampers, and shoe walls.3
5. Free In-Home Estimates
It is easy to get a free in-home estimate for installing custom closets. The process begins when you schedule an in-home consultation with a designer who will listen and take notes as you explain your needs as well as any ideas you have. The designer will also measure your available space and take an inventory of the items you need to fit within that space.
The designer will then create a design that they will share with you. Some designers use sophisticated software to create a 3D model that makes it easy for you to visualize your space once the improvements have been made. The model typically includes such things as lighting, accessories, and finishes. If you aren't happy with the design, a designer will be glad to do that for you.
And when you're ready to build or install the custom closet of your dreams, you'll find a wide range of options for different budgets. The cost of a custom-designed closet ranges from $2,000 to $6,000 according to Thumbtack4. You can adjust your designs to suit your budget as well as your needs.
Before you begin, however, make sure to check with different custom closet companies. Many offer ways to cut costs, like free installation, lifetime warranties, or even discounted design services. And every custom closet should begin with a free in-home estimate to ensure you're getting the closet you want.