Is your bra comfortable? Do you struggle with discomfort, aches, pains, or adjustments every time you put a bra on? You're likely experiencing these issues because you're wearing the wrong bra size. And you aren't the only woman who's living with these frustrating fit problems.
A shocking number of women wear the wrong bra size every day. According to Popular Science¹, 50 percent of women are wearing bras that aren't supportive enough, dealing with breast pain and other health woes. And while an ill-fitting bra is uncomfortable, it can ultimately cause even bigger problems.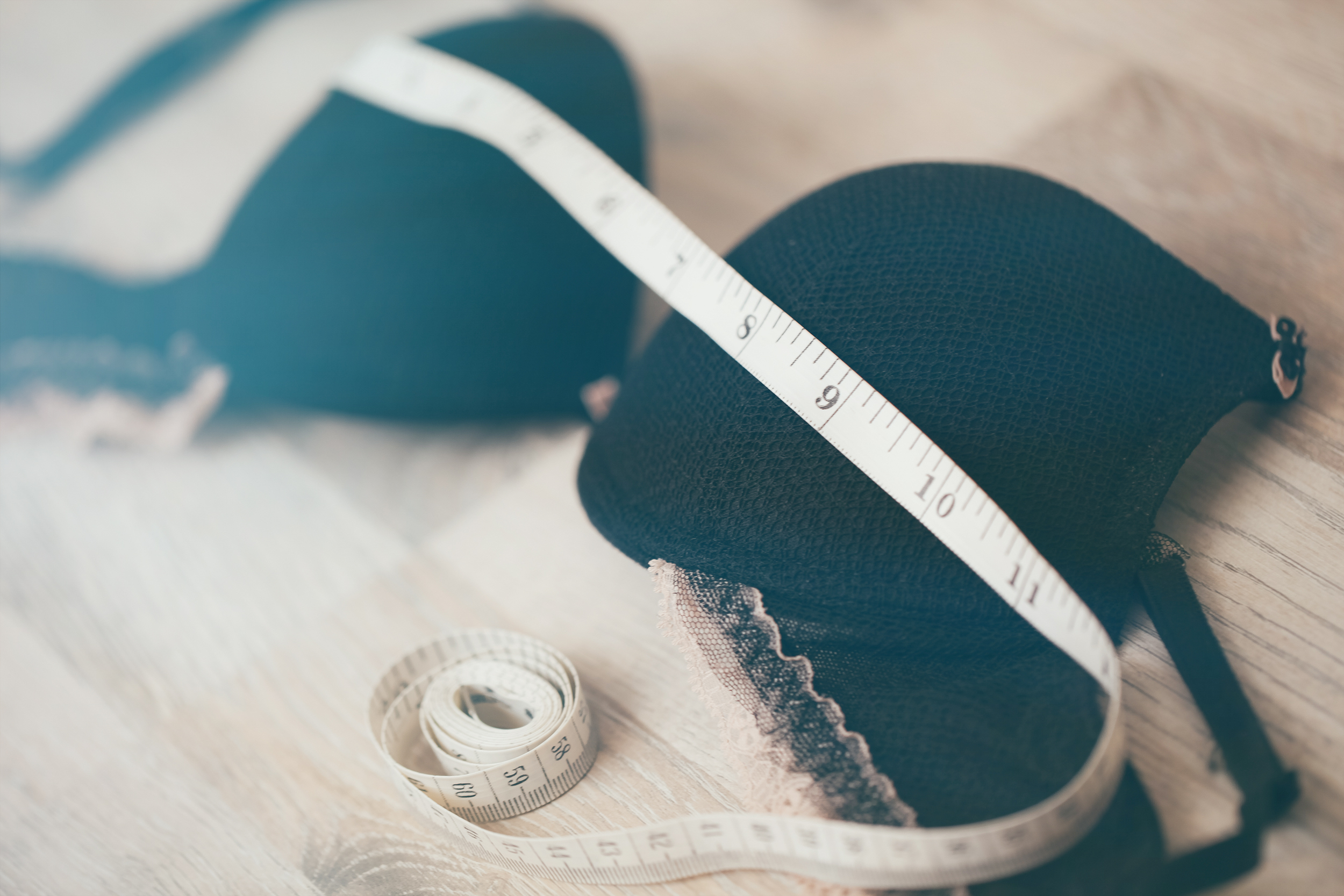 If you're tired of fighting with your bras and struggling to live comfortably in your own clothes, you need to reassess your bra. You could be wearing the wrong size. You could find relief – you just need to know your options.
Why the Right Bra Size Matters
You've likely tried to wear the right bra size throughout your life. But even if you've been measured at a chain store or tried measuring yourself at home, those measurements probably weren't perfect – and even a small discrepancy can leave you wearing ill-fitting bras for years.
And if you don't buy or wear the right bra size, you'll do short- and long-term damage to your health. The correct bra size will provide support, comfort, and be comfortable to wear daily. The wrong bra size, on the other hand, will leave you frustrated and in pain.
Here are just a few ways that wearing the wrong bra size can affect your everyday health, comfort, and well-being.
The Wrong Size Can Cause Pain and Discomfort
Wearing the wrong bra size can leave you with physically painful side effects. You can experience some or all of the following, according to Bustle²:
A red line under your breasts
Itchy or irritated skin, particularly around where underwire lays
Shoulder indentations
Marks, lines, or other indents around your ribcage
And if you experience these uncomfortable symptoms, they're only going to worsen with time. These are all signs that a bra is rubbing against your skin or constricting you in painful ways. You shouldn't ache and hurt when you take your bra off at the end of the day.
The Wrong Size Can't Offer Support
Bras are meant to offer you support, helping your back hold up the weight of your chest. And a good-fitting bra should also keep you supported when you walk, climb stairs, or perform other simple actions throughout the day.
But if you find yourself pulling, tugging, or readjusting your bra daily, you don't have a comfortable or supportive fit. As Bustle³ explains, you should feel cradled and able to comfortably move throughout the day without much movement in your breasts. Too much movement, or too little support, can result in skin stretching, back pain, and poor posture.
The Wrong Size Can Cause Lasting Health Problems
In addition to daily aches and pains, a poorly-fitted bra can also have lasting negative effects. As Popular Science⁴ explains, you can wind up with neck, back and shoulder pain, along with bad posture.
And as you continue to struggle with a lack of support and ill-fitting bras, you can develop a reluctance to exercise or a desire to have a breast reduction to alleviate your pain⁵. These issues could shape your overall health and well-being for years to come.
How a Custom-Fit Bra Can Help
Fortunately, you don't have to continue dealing with discomfort, pain, and health woes all caused by an improperly fitting bra. You have options – and the best option is a custom-fit bra.
A custom-fit bra is one that's made to fit your chest. These bras are designed for your specific size and to solve the challenges that can come with ill-fitting bras. Instead of being mass designed or mass made to suit any size, custom-fit bras are designed differently to offer support and comfort for your specific size.
And that can make a world of difference in your daily comfort.
As Now That's Lingerie⁶ explains, a bra that's correctly fitted or custom-fit can change how you stand and carry yourself. A better fit can stop slouching, help you achieve better posture, and smooth bulges or bumps that can often appear with an ill-fitting bra. You should no longer see straps digging into your skin or bands leaving behind uncomfortable red lines around your ribcage.
Most importantly, a custom-fit bra can offer the right level of support. These bras can keep your breasts in place, keep them from moving when you perform simple actions, and literally lift weight off your back. And that can prevent problems later in life.
The Best Custom-Fit Bra Companies
Unsure where you can find a custom-fit bra? There are actually a number of new startup companies offering custom-fit bras online. In just seconds, you can take a customized fit quiz and find your correct size – as well as a selection of bras that are all designed to fit you and your needs.
If you're searching for a custom-fit bra to replace your poorly-fitting bras, these are the best places to visit.
ThirdLove
ThirdLove uses a fit quiz to help you determine your size. There are 78 different sizes you can shop for, ranging from band sizes 30 to 48 and cups AA to I, including half sizes. And each bra is made with memory foam cups, no-slip straps, and comfort in mind. You also have 60 days to try out any bra, wearing it and washing it, to ensure a great fit.
True&Co.
True&Co. Uses a fit quiz to help determine your sizing and which types of bras are best for your breasts. Then, different True&Co. bras are recommended – in a wide range of different sizes. All of these custom-fit bras are soft, stretchy, supportive, and designed to be incredibly comfortable above all else. Like other companies, True&Co. also lets shoppers try bras out and return them if the fit isn't perfect.
Cuup
Cuup designs bras to fit, lift, shape and support all sizes. With more than 35 sizes and a current line of four bras available in each size, any woman can find a bra in her specific size. The company is working to reengineer how bras are constructed, and the only enhancements are made for comfort and a proper fit. Sizes A through H are available, and Cuup has plans to expand its bra offerings.
You don't have to settle for a poorly-fitted bra. Instead of shopping for mass-produced bras in limited size ranges, you can improve your comfort and your well-being by choosing a better bra. Search for custom-fit bras to find a better fit and the right size, and you'll feel better each day.