Nursing is an exciting and rewarding career. You'd be hard-pressed to find a field with more available jobs, better benefits and daily opportunities to improve lives.
If you want a career that's challenging and enriching, nursing is the perfect fit. And because nurses are in such high demand, it isn't difficult to get started: you can begin and complete your nursing education in a very short amount of time and small amount of money.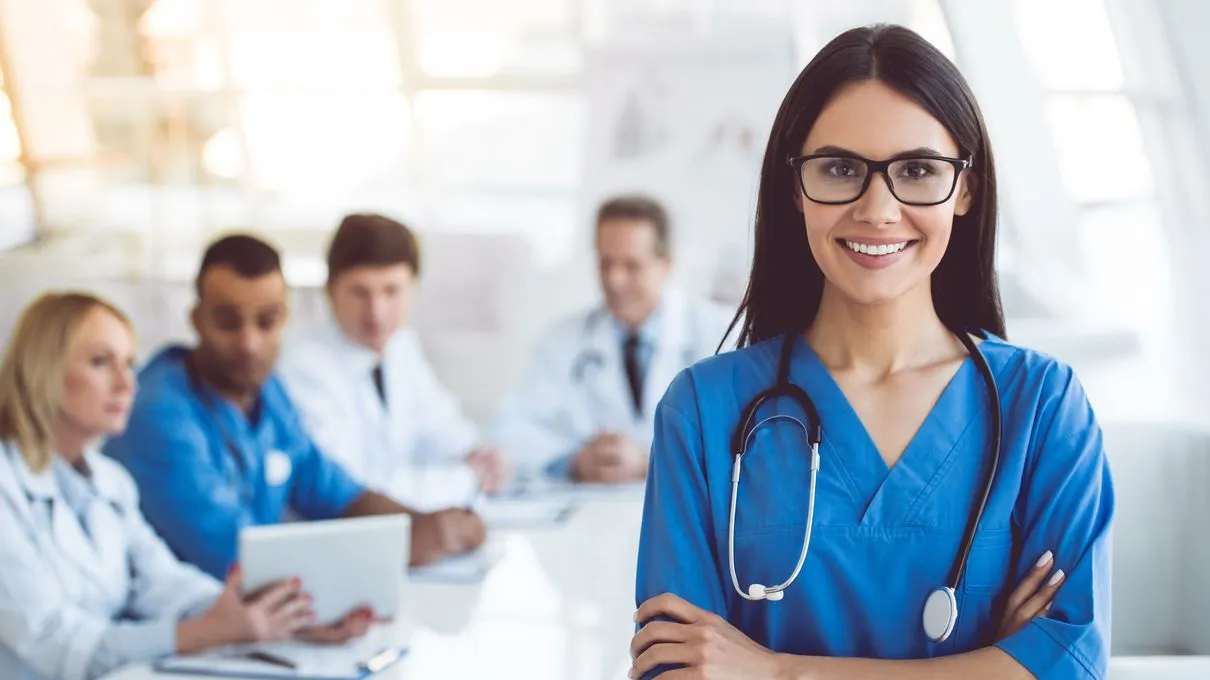 Here are the top five reasons to consider earning your nursing degree.
1. Job Security
Nurses are always in demand. Unlike other job fields, nurses are in need at hospitals, doctors' offices, and care centers across the U.S. The U.S. Bureau of Labor projects that the nursing employment rate will grow nine percent in the next eight years alone.1
Additionally, nursing is a recession-proof profession. When the job market and economy slump, nursing doesn't. With an aging population and health problems on the rise and a major shortage in candidates due to recent events, nurses will only become more in demand.2
2. Flexibility
Most people associate nursing with long, grueling hours, but nothing could be further from the truth. The schedule is actually more flexible than most traditional jobs.
Nurses can choose to work whatever hours and shifts they prefer: early mornings, midday, evening, or even the middle of the night. You can choose to work weekends or to keep your schedule Monday through Friday only. Some nurses prefer to stack their shifts, for example working three days on and four days off; it's entirely up to you.3
3. Student Loan Forgiveness
College tuition may be growing more expensive every year, but student debt doesn't have to be a concern if you earn your nursing degree. If you need to take on loans in order to finance your nursing degree, you can get them forgiven after graduation. Special grants, scholarships, and student loan forgiveness programs are all available for nurses.4
Two scholarship programs that every nursing student should look into are:
AACN Continuing Professional Development Scholarships: Members of the American Association of Critical-Care Nurses can apply to receive funding of up to $3,000 and up to $750 for travel expenses.5
Nurse Corps Scholarship Program: Eligible students will receive a monthly stipend to cover tuition, fees, and other costs including books, clinical supplies, and uniforms.6
The federal government will forgive loans if you work at a government facility or a military hospital. Or, become a Peace Corps nurse, or work in an impoverished community; you'll also qualify to have your loans forgiven. That means you could become a nurse without spending a cent!
4. Travel Opportunities
Want a job that allows you to see and experience the world? With a nursing degree, you can do just that. You don't have to stay in a single hospital – you can explore the many different avenues of nursing and choose a career that takes you around the world.
With a nursing degree, you can become a travel nurse, accompanying athletic teams everywhere. Or, you could join the Peace Corps or Doctors Without Borders, helping people in international destinations. Your degree will serve you absolutely anywhere.
5. Learn Online
Becoming a nurse requires learning a challenging curriculum – but you can do all of your studying online. Many nursing degree programs are now available online, making a BA or BS more affordable and available for all students.
Online classes make it incredibly easy to get your foot in the door and start your degree. You don't have to go through a lengthy application process, nor will you need to pay $10,000 or more per semester to attend classes. You'll get the same valuable education without paying the huge price tag of in-person college tuition.7
Some of the top online accelerated BSN programs include:
University of Texas Arlington: Takes as few as 15 months and costs $21,675 in total.8
University of Wisconsin Oshkosh: This 12-month course costs $41,500 in total.9
Madonna University: This program takes about 16 months10 and costs a total of $51,887.11
Careers in Nursing
Getting a nursing degree doesn't limit you to just one career path. In fact, nursing encompasses a wide range of careers and specializations. All of which come with respectable salaries.
Some of the many careers in nursing and their median salaries include:
Licensed Practical and Licensed Vocational Nurse: $48,82012
Physician Assistant: $115,39013
Physical Therapist: $91,01014
Nurse Practitioner: $111,68015
Start Earning Your Nursing Degree
How can you get started on a nursing degree of your own? You can search for and choose an online college that suits you. There are so many options available that allow you to begin an exciting career in the medical world.
The path to a nursing degree is affordable, flexible, and quick. You just need to do your research online. You can find a nursing degree program with low-priced classes that offers you all the benefits of a traditional RN degree without taking on a huge financial burden – and you can do it all in less time.
Like anything, it's always a good idea to be aware of the latest research. We recommend comparing at least three or four options before making a final decision. Doing a search online is typically the quickest, most thorough way to discover all the pros and cons you need to keep in mind.