Now that you are holding your baby in your arms, the irresistible urge to protect them from anything and to ensure that they have the very best childhood will set in quickly. Initially, what your baby needs most is good nutrition paired with plenty of love and lots of sleep. If you are opting for baby formula used on its own or along with breastfeeding, you may be in for a surprise when you see how much formula costs directly from your grocery store's shelves and how much your baby will go through in the first year of his life.
While most baby formula is sold at drastically high prices, you have several options for scoring it cheaply or even at no cost. These following tips will help you trim your baby formula costs and keep more money in your wallet where it belongs.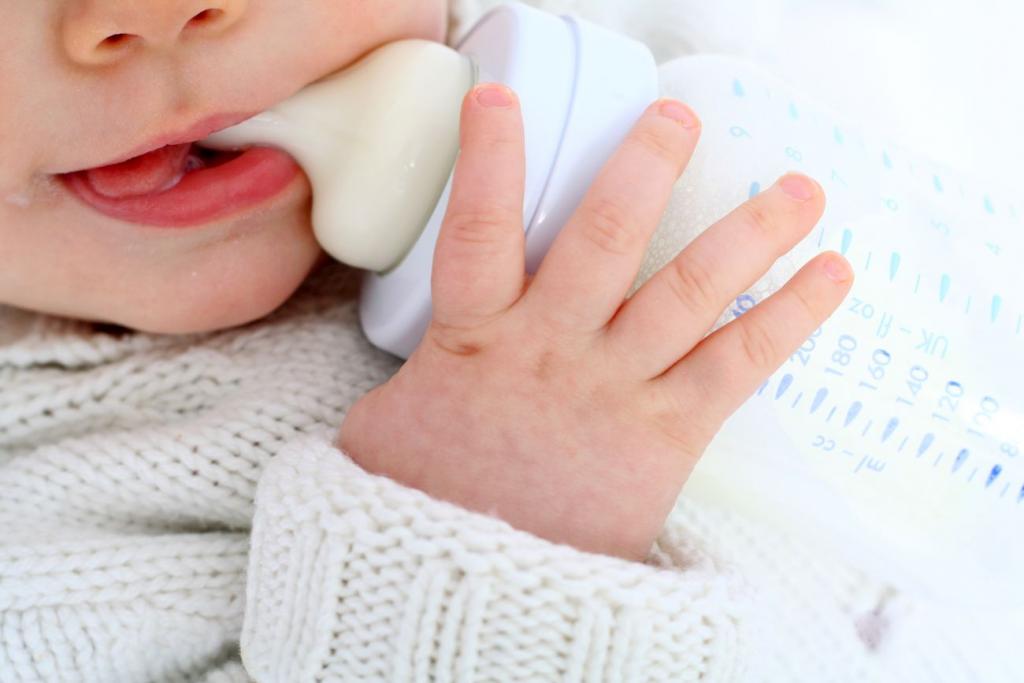 Your Doctor Can Give You Free Samples
Free samples let you feed your baby at absolutely no cost to you. While there are a number of ways to get your hands on free samples, one of the easiest options is to get in touch with your doctor. Your baby's pediatrician or family practice doctor often has samples of the most popular brands, such as Enfamil, Similac, and occasionally Gerber, that have been given to them by the formula companies. Formula companies know that by giving these samples to doctors who will pass them on to their patients, they are gaining customers for life.
According to Verywell, you can also stock up before your baby arrives if you know that you will be formula-feeding when you get home from the hospital.1 Call your local hospital and ask for free samples. Neonatal departments often have plenty of liquid formula around and may want to get rid of some of it if the samples are within a month or two of expiring. Plus, the hospital should send you home with some of the same formula that your baby has been using. Never feel bad about asking for a free sample. After all, your doctor certainly understands how expensive formula feeding can become.
Find Coupons on Popular Brand Sites
When you run out of the free samples you got from your doctor and your hospital, you still have several other options for keeping your baby formula spending under control. You can find coupons for popular formula brands all over, including in your weekly coupon mailers, your local newspaper, parenting magazines, and online coupon sites. Some of the most popular online coupon sites for formula savings include Retail Me Not and Coupon Cabin. These sites will also keep you posted on current online sales and freebies.
In addition, remember to check your favorite baby store's weekly advertisement. Many stores offer special deals for purchasing a certain number of canisters of formula at a time or provide clip-out coupons. Ask your family and friends to clip coupons for you too, so you can use more than one coupon on each container of formula. Other stores provide coupons on their store apps, making it easier for you to shop with just your phone rather than a stack of paper coupons.
Join Membership Clubs
However, if you want the best coupons, head directly to the source, according to the trusted Parents website.2 Every major baby formula brand seems to offer a membership site these days, often offering hundreds of dollars' worth of freebies and coupons for their loyal customers. The most popular ones include the following:
Enfamil Family Beginnings
Enfamil currently offers up to $400 in gifts and an opportunity to win a year's worth of free formula. You will get powder and liquid samples, coupon checks to use at your local retailer, a Nursette baby bottle, and special gifts throughout the year, such as discounts at popular clothing stores and baby sites. They provide samples of their most popular newborn, infant, and toddler formulas.3
Similac StrongMoms Rewards
This rewards program also currently offers up to $400 in savings, including coupons and samples. In addition, when you sign up, you will receive information and coupons from Pampers, which is associated with Similac.4
MyGerber
If Gerber is your prime choice, sign up for a MyGerber membership. While you will not get as many free samples as you would with the Enfamil or Similac programs, you will get plenty of nutrition and health advice, special offers and coupons for Gerber formula and foods, and some helpful online tools.5
In addition to these programs, Nature's One and Earth's Best Organic also offer coupons and membership rewards sites.
Always Comparison Shop First
As always, it is best to search for the very best formula for your baby's particular needs and compare brands before settling on any one option. Your pediatrician may recommend a specific brand or type of formula especially if your baby has any health concerns. For example, some babies need soy formula, a formula for sensitive stomachs, or a selection for low-birth-weight babies.
Once you know what type of formula is best for your baby, determine if you can get the lowest price by choosing a brand name and shopping with coupons or if you could save more with a store brand. Keep in mind that all baby formulas are required to meet specific FDA requirements because of the Infant Formula Act of 1980.6 In fact, you may be surprised that many store brands are actually formulated by the same company and have almost the same nutritional amounts and ingredients as many name brands do.
As soon as you know that you are expecting a baby, start researching the many types of formula and their wide-ranging prices. Talk to your doctor and share any concerns about affording formula with him. You may be surprised at just how much free formula and money-saving coupons are available today to score you great deals at the store and to provide you with samples that can cover much of your baby's needs.