Did you make through the holidays without buying a new TV? If you did, you're a smart, money-savvy shopper. Although many people believe the deep discounts retailers offer on Black Friday are the lowest TV prices of the year, that actually isn't true at all.
The lowest prices on TVs of all kinds and sizes actually happen after the new year begins. And that's because there's a big TV event that happens every year at the end of January or first weeks of February: the NFL's Super Bowl.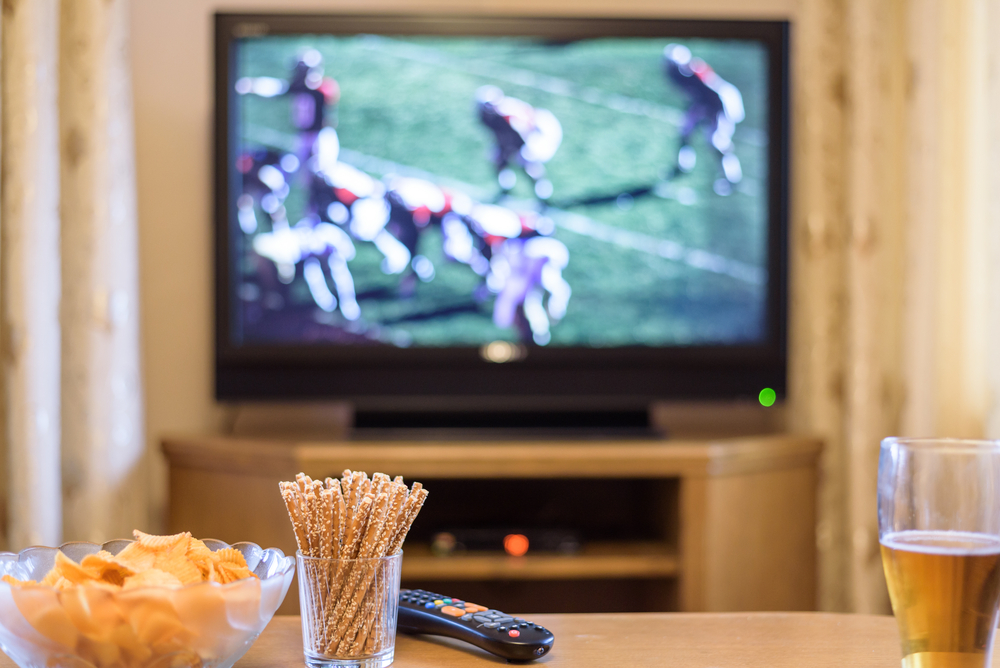 As Popular Science¹ explains, the best TVs go on sale in the weeks leading up to the Super Bowl. It's during this four to six week period starting in January that the highest quality and best models see discounts, making it worth your while to shop and get a deal that won't be around the rest of the year.
Now that the Super Bowl is quickly approaching, pitting two of football's toughest teams against one another, it's time to pick your new TV for the big game. Whether you love or hate the contenders at hand, everyone can enjoy at least one good piece of the Super Bowl hype: the sweet, sweet TV sales.
While most people think bearing through the madness of Black Friday shopping is the only way to get an unbeatable TV deal, the Super Bowl is actually the best time to buy all year.
Why? Because retailers are clearing out old stock and getting ready to fill their shelves with the latest crop of sets, including those announced at the Consumer Electronics Show at the beginning of January. So if you've ever wanted to get a TV at a solid price, get off your butt and buy this week!
Both Amazon and Best Buy are offering deals on TVs ahead of the Super Bowl – and this year, some of the deals are even bigger than the holiday sale prices you saw just a few weeks ago.
Whether you're in the market for a high-end television or something a bit more affordable, there are plenty of deals for you to choose from. But don't wait! Because these deals are only going to last until Super Bowl Sunday.
Here are the best models to snatch up:
HiSense 55-inch R7 Series Roku TV ($200 off) – If you're on a budget, Best Buy² is offering this affordable $500 TV featuring 4K HDR for $200 off on its regular price.
50-inch Samsung 4K UHD Smart LED TV (over $250 off) – This truly smart TV features a 50-inch display and 4K Ultra HD resolution. Get a deal on this standout TV today from Walmart³, where it's marked down from $599 to $327.
Samsung Flat 55-inch QLED 4K UHD 6 Series Smart TV ($500 off) – This Amazon deal⁴ will save you big on its regular $1,500 price. The television, which comes with all the smart features and high resolution you're looking for, features 4K Ultra HD resolution for a total price of just $997.
LG OLED 55-inch 4K Ultra HD Smart TV ($500 off) – This sizable television that features a 55-inch, 4K Ultra HD screen is on Amazon⁵ for $500 off of its regular $1,496 price, giving you nearly a third of a discount off the total.
Samsung 65-inch QLED Smart 4K UHD TV ($1,000 off) – This TV comes with a 65-inch screen with a 4K HDR resolution. It regularly sells for nearly $2,800 on Samsung's website⁶, but you can now get it for much less just before the big game!
LG UK6570 Series 75-inch LED Ultra HD 4K Smart TV ($1,000 0ff) – This offer is for a 75-inch display with 4K Ultra HD resolution, and this pricey TV is truly impressive in any living room. It regularly costs $1,000 more, but P.C. Richard & Son⁷ has drastically slashed the price to give you a discount of 46 percent just before the Super Bowl game.
But the deals don't just stop there! Most manufacturers are running deals right up until the day of the big game itself – and that means there's still time to save. It's important, though, to know that the best way to find deals is to do your research and to compare all of your options. Shop and search online before you pick out your next TV, and make sure you're getting the lowest price possible so you can enjoy the big game!