Getting a prescription filled isn't easy. Not only do you have to visit the pharmacy, but you also have to make time during your busy work day, wait in line, and hope your prescription still has refills left. And this can be hard to accomplish if you're a working adult, a senior with mobility issues, or simply someone who's busy.
But fortunately, there's a new solution to this problem. Recently, prescription delivery services – or mail-order pharmacies – have exploded in popularity. Instead of wasting time at the pharmacy, you could have your medication delivered right to your door.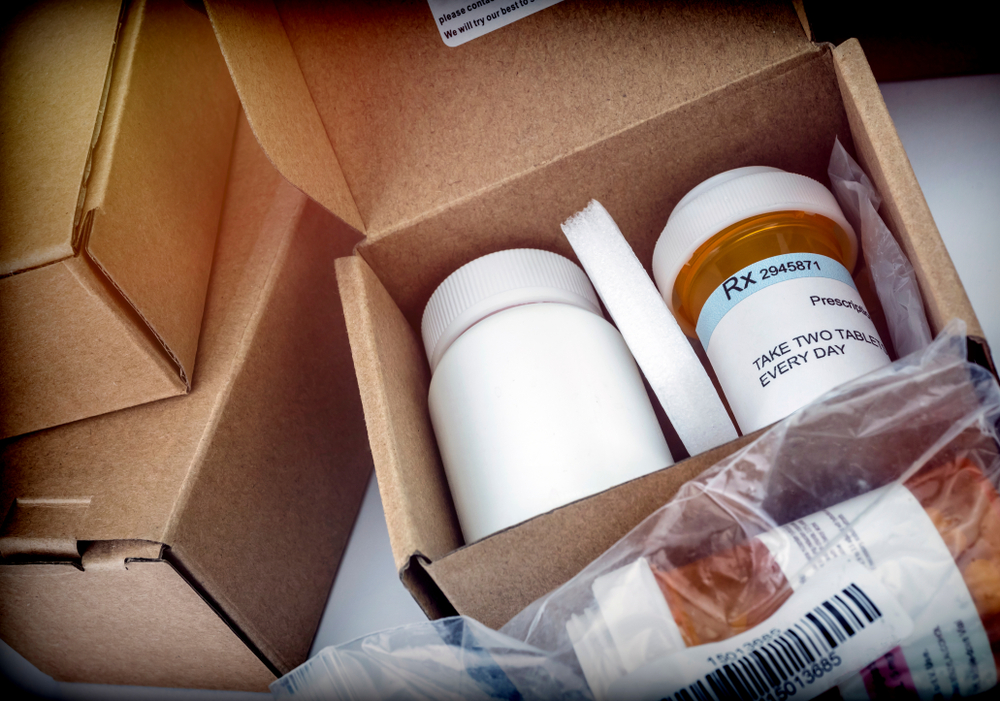 You're already using your smartphone to have food, goods, and even services delivered to you. Why not get your prescription medicine delivered too?
Prescription Medicine Delivery Service Offer Many Advantages
Picking up medicine at a local pharmacy is a pain. But prescription medicine delivery services are changing this entirely.
When you use a prescription medicine delivery service, you're choosing convenience. You won't have to worry about your schedule, when your medication will be ready, or even how you'll manage your prescriptions. And those are just a few reasons people love having their medications delivered.
The following are a few of the biggest benefits of a prescription medicine delivery service.
Save Time
Choosing a mail-order pharmacy is a huge time saver. Instead of taking time out of your busy schedule to run errands to get the medicine you need, you'll just wait for it to arrive at your door.
Every time you're due for a refill, a prescription delivery service will automatically refill your medicine and ship it to you. You won't even have to take a few minutes to call in your refills!
Save Money
Having your prescriptions mailed to you could save you significant money. Mail-order pharmacies tend to offer lower prices on medications because they place bulk orders¹. This means your cost will decrease, and you can get a 90-day supply too. Shipping is often free as well, which means you don't have to worry about any extra fees.
Depending on your health insurance provider and plan, you may get a huge discount. According to GoodRx², you can save big on generic medications for chronic conditions, like diabetes or high blood pressure. You may pay just a couple dollars total for 3 months of medications when you choose a delivery service instead of your local pharmacy.
Never Run Out of Medications
Perhaps one of the biggest benefits of prescription medicine delivery services is you'll never have to worry about running out of your most important medications. Most delivery services automatically refill your medicines – and some will even contact your doctor for a new prescription when your current one runs out.
This ensures you won't have to go without your medications. Prescription delivery services get your medicine to you before you run out. And you won't have to lift a finger or add anything to your to-do list to get your medications on time.
How Prescription Delivery Works
Using a prescription delivery service or mail-order pharmacy is easy. All you have to do is choose which service you'd like to use, set up your information and prescriptions, and your medication will be on its way.
Prescription delivery services either work as part of a traditional pharmacy or a standalone company. In either case, these services work just like a regular pharmacy. As The Benefits Guide³ explains, a pharmacist will compare your current medications, check for drug interactions, and fill each prescription as needed. You can even chat with the pharmacist on the phone, or reach online customer service for help.
And many mail-order pharmacies actually work with your health insurance benefits. It's becoming more common for insurance companies to offer mail-order prescription services, and they often operate right through your insurer. To sign up, you can log in to your insurance provider or benefits provider website and see what's covered.
The Best Prescription Delivery Services
As prescription delivery services are becoming more popular, there are more and more choices for you to choose from.
Before you choose a mail-order pharmacy, however, make sure to check with your insurance provider and plan. Many insurance companies, like Cigna, offer their own delivery service options. This makes it easy to get your medications and pay only what's covered under your plan.
If you're looking beyond your insurance, there are a number of great choices. The following are some of the best prescription delivery services available today.
PillPack
PillPack exploded in popularity after it was purchased by Amazon in 2018⁴. And now, it's changing the way people get their medications. PillPack delivers medicine in all 50 states and packages your medication in individual daily doses so you always know what to take and never miss a dose.
CVS Same-Day Rx Delivery
CVS may already be your go-to pharmacy – but did you know the retail giant is also delivering medications? Recently, CVS started delivering prescription medication via USPS to all 50 states within one to two days. And now, CVS is beginning to roll out same-day delivery across the country, getting prescriptions to you within just three hours⁵.
GetMyRx
A less popular name, GetMyRx is as efficient and effective as big-name pharmacies. With delivery service in thousands of cities and regions across the U.S., this prescription option will deliver your medicine from a pharmacy near your home. You can even choose where you'd like it to come from, or swap prescriptions between different pharmacies.
Walgreens
Another favorite pharmacy of many, Walgreens is now offering its very own delivery service. In 2018, Walgreens announced its new next-day prescription delivery service⁶, which uses local Walgreens pharmacies to deliver patients' prescriptions within the next calendar day. It's one of the fastest and most convenient options, aside from next-day delivery.
Get Started Today
There are so many benefits to switching your medications from a traditional pharmacy to a prescription medicine delivery service. Why waste time heading to the pharmacy every few weeks when you can have everything you need delivered right to your door – and possibly save money along the way?
If you're ready to make the switch, it's easy to get started. Your first step should be to search your own insurance provider's options. Then, you can compare your health insurance mail-order pharmacy options to others, like PillPack, CVS, or GetMyRx. You can also search online for other flexible delivery services that can deliver your medication any time you need it.