Payroll software will make it easier for you to process your payroll and complete the associated paperwork. It will also save you a lot of time.
In fact, the HR manager of Renaissance Veneer Specialty Products says that when Renaissance implemented ADP's payroll system, it cut its payroll processing time from two days to only about half a morning. According to Iris Software and Services, the total time to process payroll can be reduced from 11 minutes per employee to less than two minutes per employee.
Here is a list of typical time savings per employee for various steps within the payroll process:
Calculating employee salaries can be reduced from one minute to 10 seconds.
Completing paperwork can be reduced from one minute to 10 seconds.
Checking compliance with tax laws can be reduced from two minutes to 20 seconds.
Calculating number of days worked can be reduced from five minutes to 20 seconds.
Creating payroll reports can be reduced from two minutes to 20 seconds.1
Some payroll software packages offer additional features, such as automated time sheets, employee benefits, workers compensation, and time off. Many are able to integrate with bookkeeping and financial software, such as QuickBooks.
There are several payroll software packages to choose from. Here are four of our favorites.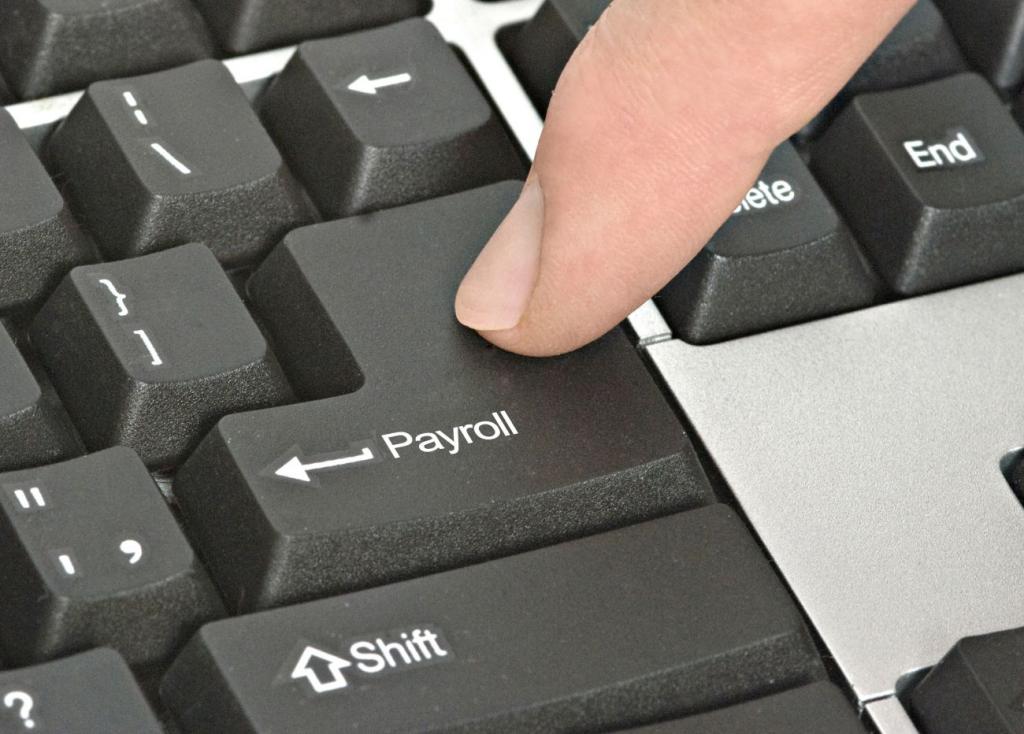 1. ADP
With more than 700,000 clients around the globe, ADP provides one of the better-known payroll software packages. ADP, short for Automatic Data Processing, began as a small payroll processing company in the 1950s and has grown into one of the largest HR companies in the world.2 In fact, the payroll for one of every six U.S. workers is processed by ADP software.3
ADP offers software packages for companies of three different sizes: those with less than 50 employees, those with at least 50 but less than 1,000, and those with 1,000 or more.
One of the ADP software packages, ADP Run, is specifically tailored for small companies with less than 50 employees. Operating in a cloud environment, it runs payroll, manages payroll deductions, calculates taxes, and provides direct deposit. However, it is not priced as competitively as some of the other packages. In fact, it is roughly twice as much as Gusto. Plus, the price varies considerably, depending on how often you run payroll and how many employees you have. Generally, it runs between $20 and $200 per employee per month.
One of the pros of ADP is that the software is very intuitive and offers help options. One of its cons is that ADP charges extra for some of the software's most desirable features.
2. Sage
Sage offers payroll processing software that is designed for small- to medium-sized businesses. The Sage software can be operated in the cloud or onsite. You can generate multiple reports, which will allow you to analyze and tweak certain functions.
It is available in three different versions. The Essential Plan is designed for companies with 10 or fewer employees. You can use your smartphone to enter data. Your employees can be paid by check, direct deposit or prepaid debit cards. The Essential Plus Plan adds the handling of payroll taxes. Both plans provide a QuickBooks interface. Sage also offers a Full-Service Plan for companies with more than 10 employees. It handles all payroll processing functions plus payroll taxes. As its name suggests, the Full-Service Plan comes with additional perks. For instance, Sage will set up the Full-Service Plan software for you.4
One of the pros of the Sage payroll software is its ability to integrate with financial and bookkeeping systems, such as QuickBooks. Another pro is that all three plans offer online chat support. A con of the Full-Service Plan is that it is billed on a per-payroll basis. If you run many payrolls, this could get quite expensive.
Prices start at $49.99 per employee per month.5
3. Paycor
Paycor offers an integrated platform that includes payroll solutions, Human Resources, and recruiting. It is intuitive and provides personalized support for employees. Paycor incorporates the key business processes of payroll, time keeping, reporting, onboarding, and recruiting. More than 30,000 small- and medium-sized businesses use Paycor to process their payroll. The Paycor software incorporates a tax-compliant payroll package with an automated workers' compensation module. It also includes timekeeping software that maximizes efficiency and eliminates many common errors.
Paycor will handle all the details connected to your recruitment process, plus its onboarding software will allow new hires to connect with your organization before they formally join. Plus, all the necessary forms are provided. By using the onboarding process, new hires can enter their personal information, such as their Social Security number, address, and number of dependents directly into the system. Additionally, new employees will be prompted to sign all required documentation, which will insure that your company stays compliant with all federal and state employment laws. The onboarding process increases security, eliminates many common mistakes and saves time. With all these features, the software costs about $60 per year per employee.6
One of the pros of Paycor is that it provides many features for the price. A con is that their customer service may not be as good as some of their competition.7
4. Gusto
As one of the easiest software packages to learn how to use, Gusto is a great software package for small businesses, because it includes Human Resources, payroll, and tax support. The Gusto payroll software has many convenient features, including top-rated customer service, automatic payroll runs, benefits management, and employee onboarding. As was discussed under Paycor above, this process allows new employees to enter their own personal information, which can save you a lot of time and trouble, plus keep you in compliance with employment laws.
Payroll can be put on autopilot, and it will run automatically at every designated payroll period. In addition to basic payroll functions and tax reporting, you can create tuition savings plans, set up 401(k) retirement plans, and purchase workers' compensation insurance.
Gusto's basic package begins at a very reasonable $39 per month. There is also a monthly charge of $6 per employee or contractor.8
Gusto has a very friendly user interface. One of the pros of Gusto is that it will interface with several accounting packages, such as QuickBooks. One of the cons is that the system does not print and mail checks to your employees.