No matter your age, one step of your beauty routine is always important: washing your face. But while you should always wash your face, what you use to get your skin clean is as important as the task itself.
And the face wash you choose should change as you age. As you grow older, your skin changes. It becomes thinner, less plump, and drier, according to the National Institute on Aging¹. Together, these changes can lead to a loss of elasticity, which can make signs of aging more noticeable.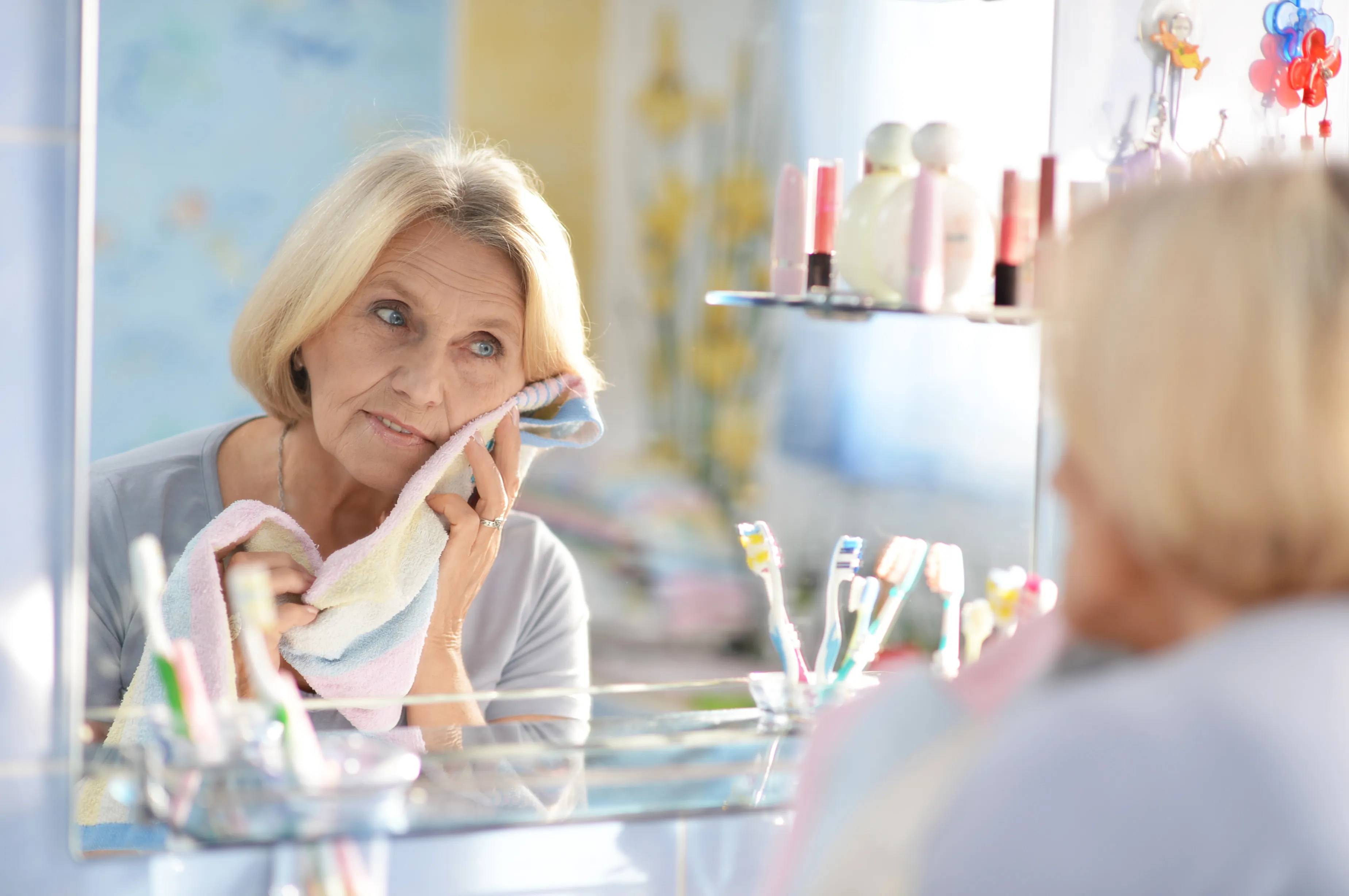 So, if you're looking for a way to moisturize dry, mature skin, you need to use a specialized face wash. The following face washes are excellent options for aging adults and seniors.
LATHER Cucumber Milk Facial Cleanser
Price: $22²
Meant to be both efficient in its cleansing power yet gentle enough for mature skin, LATHER's Cucumber Milk Facial Cleanser is a face wash that can remove makeup, impurities, and an entire day's worth of dirt and grime.
Featuring botanical ingredients, this non-foaming cleanser won't irritate your skin – an important factor for anyone who's experiencing aging. It'll also leave skin soft, glowing, and looking fresh after every wash.
Benefits for Mature Skin
Includes cucumber and sea algae, which are calming for skin.
Includes antioxidants, which fight damaging free radicals.
No parabens, sulfates, or synthetic ingredients.
All vegan formula.
Oats and almond oil moisturize skin.
L'Oreal Paris Age Perfect Anti-Aging Cream Facial Cleanser
Price: $6.99³
Gentle enough for everyday use, the L'Oreal Paris Age Perfect Anti-Aging Cream Facial Cleanser will cleanse mature or senior skin without stripping it of moisture or over-drying. Instead, you'll see softer, smoother, and well-hydrated skin after regular use.
Additionally, this cream-based cleanser includes a blend of oils that can tackle even the toughest makeup products. These oils are also highly hydrating, giving skin an extra dose of moisture to keep it looking its best.
Benefits for Mature Skin
Gentle and non-drying.
Effectively removes makeup.
Offers gentle, light exfoliation while washing.
Designed for anti-aging.
Deeply hydrating blend of ingredients.
Olay Total Effects Refreshing Citrus Scrub
Price: $9.49⁴
Olay Total Effects Refreshing Citrus Scrub is a facial cleanser that can make seniors' skin appear healthier, younger, and well-hydrated. Feature exfoliating ingredients as well as deeply hydrating components, this scrub will remove makeup as well as daily oils and pore-clogging dry skin.
And that's not all this powerful Olay cleanser can accomplish. It's ideal for anyone who's looking to hide signs of aging. Over time, the added hydration and gentle exfoliation can actually reduce some of the visible signs of aging and help skin appear brighter and glowing.
Benefits for Mature Skin
Cream-based cleanser increases skin's moisture.
Features tiny exfoliating particles for effective cleansing.
With regular use, will see fewer fine lines and smaller pores.
Smoothes and brightens skin.
Deeply cleanses.
Clarisonic Gentle Radiance Foaming Milk Cleanser
Price: $19⁵
Healthy skin is hydrated skin, and if you use Clarisonic's Gentle Radiance Foaming Milk Cleanser, you'll achieve both of these goals. Mature skin will love this thick, foaming cleanser that uses ingredients like licorice root, peppermint leaf, and ginkgo biloba leaf to instill better skin health.
And for seniors' skin, this gentle cleanser can fight the dullness that makes signs of aging more apparent. You'll have more radiant, fresh and glowing skin with regular use.
Benefits for Mature Skin
Botanical ingredients can brighten skin's appearance.
Creates a natural glow with increased moisture.
Helps fight dull skin.
Smoothes and evens complexion.
Ph-balanced and paraben free.
Paula's Choice SKIN RECOVERY Softening Cream Cleanser
Price: $18⁶
Created just for dry skin, Paula's Choice SKIN RECOVERY Softening Cream Cleanser is an excellent product for seniors and aging adults. It's packed with moisturizing ingredients, all of which work together to prevent your skin from losing essential moisture when you wash your face.
Additionally, this face wash is thorough enough to remove makeup and daily dirt. You should notice a visible difference in your skin's appearance – and softness – with regular use.
Benefits for Mature Skin
Helps preserve skin's moisture barrier.
Softens skin with gentle exfoliation.
Improves skin's appearance, giving it dewiness and radiance.
Can benefit those with sensitive skin and eczema or rosacea.
No artificial fragrances, which can dry out skin.
Switch to a Senior-Friendly Face Wash and Reap the Benefits
Is your face wash doing enough for you? Even if it's getting your skin clean and leaves you feeling fresh, it could be stripping your skin of important moisture. And if you're a senior who has dry skin, you need a better solution and a product that actually cares for your skin's needs.
These face wash products are only a few of the deeply hydrating and moisturizing options available. You can find the right option for your mature skin's needs by searching online. Make sure to look for and choose a cleanser that helps your skin look its very best.