Each year, tech gadgets top everyone's holiday gift lists. And who doesn't want to find a new laptop wrapped in a gift box? Whether you're crossing your fingers in hopes that you'll get a new laptop as a gift or are shopping for a laptop as a gift for someone else, laptops are always one of the hottest items to buy when the holiday season arrives.
Fortunately, many popular laptops do go on sale ahead of – and during – the holidays. The key to scoring a great deal on a brand-new laptop? Knowing which laptops are seeing discounts, and which are likely to drop even further in price as the holidays draw closer.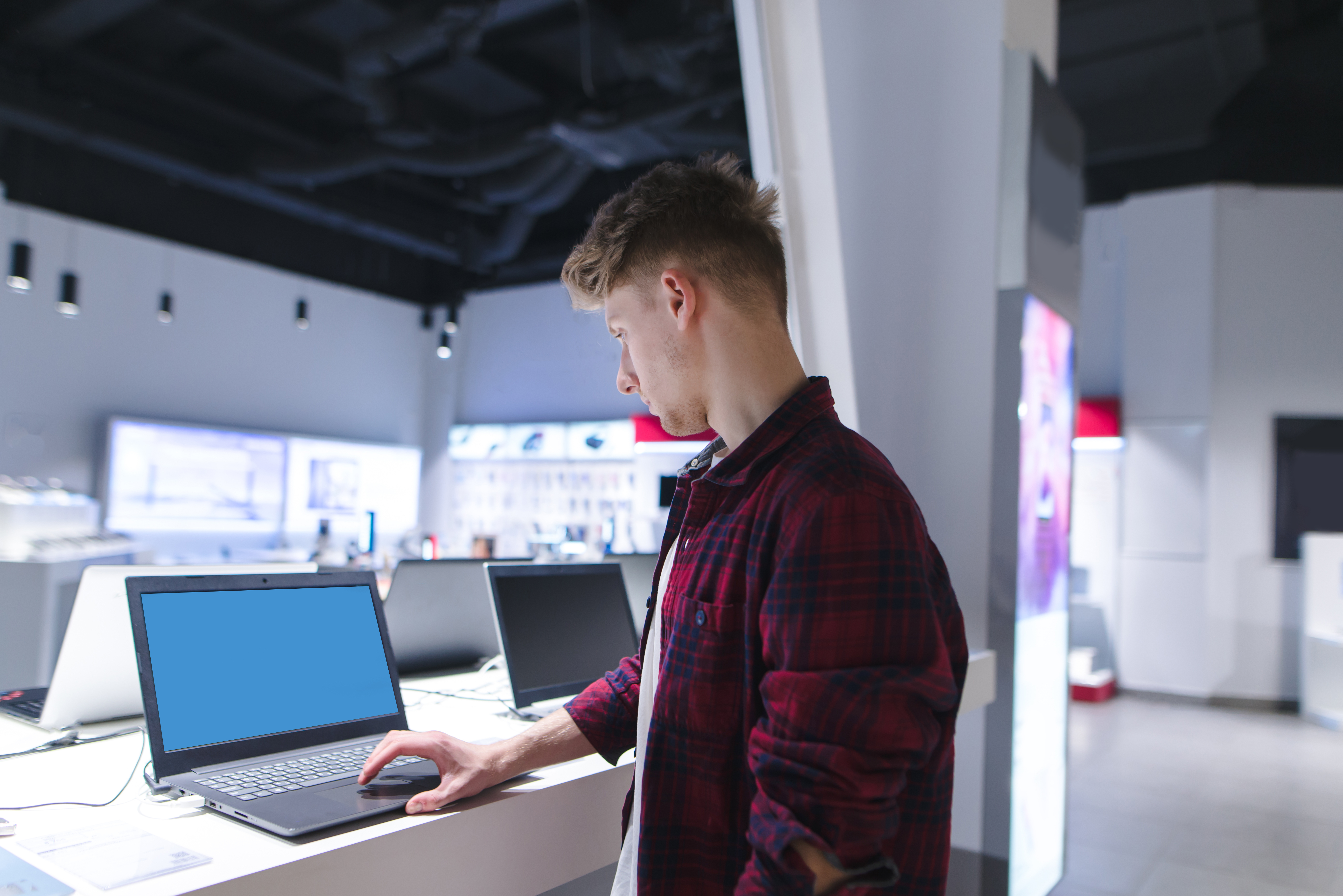 Here are a few of the best laptop deals available for the holidays that you can take advantage of right now.
Microsoft Surface Pro
Price: $597, discounted from $799¹
The Microsoft Surface Pro is one of the hottest laptops available right now. It functions as a powerful, efficient laptop – but it can also convert to a touchscreen lay-flat tablet in just seconds. And the latest Surface Pro laptop is even better than previous models. It's lighter, lasts nearly 14 hours on a single battery charge, and provides total mobile productivity.
Best Features and Specs
7th generation Intel Core M Processor
128GB of storage space
4GB RAM
Battery lasts all day (13.5 hours)
Weighs 1.69 pounds
Compatible with Surface Pen, Surface Dial, and the full Windows experience
Apple MacBook Air, 13 Inch
Price: $999.99, discounted from $1,099²
The latest Apple MacBook Air with a 13-inch screen is highly portable and incredibly lightweight. It's an excellent laptop for anyone who needs portability and on-the-go productivity. With the latest Mac iOS software, a series of productivity tools like Pages, Keynote, and Numbers, and enough power to keep you connected from anywhere, the new MacBook Air rarely sees discounts – until now.
Best Features and Specs
13.3-inch retina display
Dual-core 8th generation Intel Core i5 processor
Intel UHD Graphics 617
SSD storage
8GB RAM
2 Thunderbolt 3 (USB-C) ports
Weighs 2.75 pounds
Dell Inspiron 15.6 Inch Laptop
Price: $365, discounted from $799³
If you're looking for a sturdy and powerful laptop, the Dell Inspiron 15.6-inch laptop could be the perfect fit. This laptop is energy efficient, features 8GB of memory for speedy processing and easy multitasking, and can power both video games, photo and video editing, and multiple programs all at once. The Dell Inspiron also features 1TB of storage space, making it perfect for anyone who needs file space, room for photos and videos, or more.
Best Features and Specs
15.6-inch HD display
Intel HD graphics 620
Intel Core i3-7100U Dual-Core processor
8GB or 16GB of upgradable memory
1TB storage space
2 USB 3.0 and 1 USB 2.0 ports
HP 2019 15.6 Inch Business Laptop
Price: $480.30, discounted from $1,499⁴
The HP 2019 15.6-inch Business laptop is made for people who need their laptop to function as well as a desktop computer. However, it isn't clunky or as heavy as you might expect a laptop that's made for business to be. Featuring a solidly sized display, decent graphics, and a touchscreen, this HP laptop lets you interact with your productivity tools in various ways. It's designed to multitask, meaning you'll enjoy 9 hours of battery life and the ability to surf, stream, and stay in touch on the go.
Best Features and Specs
7th generation Intel Core i3-7100U Dual-Core processor
15.6-inch screen with BrightView WLED backlighting and a touchscreen
12GB RAM
1TB of storage space
Intel HD Graphics 620
9 hours of battery life (7 if playing videos)
Weighs 5.29 pounds
Apple MacBook Pro
Price: $2,499.99, discounted from $2,799⁵
Apple's famous laptops rarely go on sale – but right now, you can get both the MacBook Air mentioned above and the MacBook Pro at a surprisingly solid discount. Featuring a 15-inch display, ultrafast SSD, and a strong graphics card, the MacBook Pro is a powerful and lean laptop. You can accomplish just about anything from this laptop, with extended battery life and new capabilities.
Best Features and Specs
9th generation 8-Core Intel Core i9 processor
15.4-inch retina display featuring True Tone technology
Touch Bar and Touch ID
Radeon Pro 560x graphics
4 Thunderbolt 3 (USB-C) ports
10 hours of battery life
Weighs 4.02 pounds
How to Find Holiday Laptop Deals This Winter
These awesome laptop deals are only the beginning of what's available this holiday season. As the holidays draw closer, expect deals to get even better – and prices to drop even lower. Retailers both online and at traditional stores will continue lowering prices in order to sell the hottest laptops.
And this means that in the lead up to the holidays, you can usually find deals on the year's most impressive and in-demand laptops. Make sure to check prices online regularly throughout the holidays. You never know when retailers are going to offer specials, purchase incentives, and even deep discounts on the laptops you've been considering.