Need a little help around the house? There's a smart home gadget for that. And as the holidays approach, the hottest smart home gadgets are seeing huge discounts.
From enhancing your entertainment to sweeping your floors to protecting your home, smart home gadgets are getting even more intelligent. And for Black Friday, they're also finally becoming more affordable. Retailers are preparing to discount the most sought after smart home gadgets for the biggest shopping day of the year, meaning you could save hundreds off devices that make your home safer, cleaner, and more tech-friendly.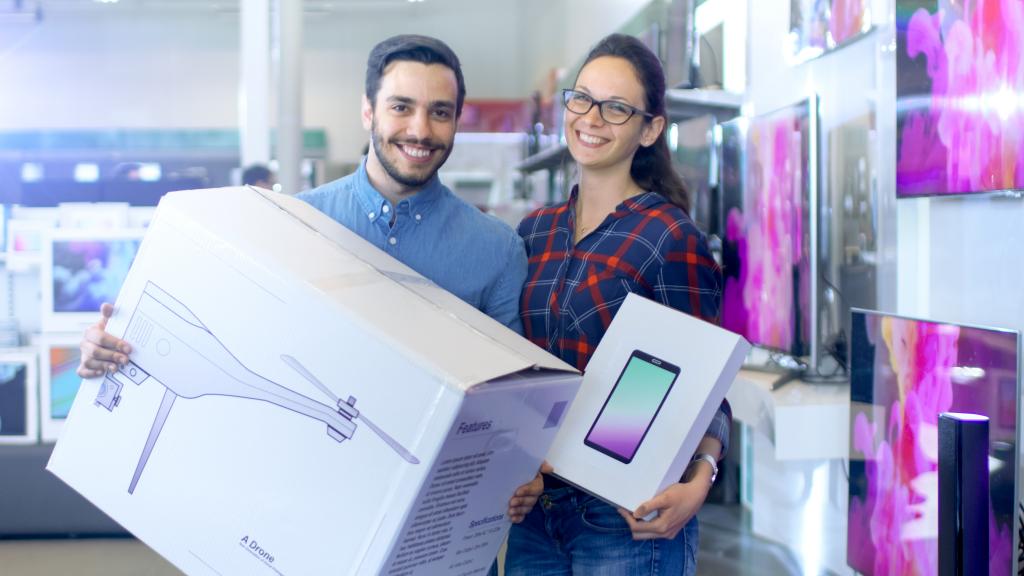 These are the must-have gadgets that you'll want to grab while they're on sale this Black Friday.
1. Belkin WeMo Insight Smart Plug
If you're upgrading your home's gadgets and creating a true smart home, you'll need a few smart plugs. Smart plugs allow you to control different electronics around your home with your voice or a smartphone app. And many even sync with Amazon's Alexa and Google Home.
The Belkin WeMo Insight Smart Plug is easy to set up; you can simply plug it into any outlet, then plug a lamp, charger, fan, or even your TV into the smart plug. You can then use your plug remotely, turning on lights or setting a schedule in an app. You can also ask your smart home hub to control these smart plugs, making your entire home hands off.
2. Amazon Echo
The Amazon Echo is a voice-activated smart speaker – but it's so much more than a speaker for listening to music.
The Echo syncs with your Amazon account and home internet to manage every aspect of your home. It can lock your doors, control your light switches, turn off your oven, change your TV channels, estimate your morning commute, and activate other smart devices. And it's all possible by simply asking Alexa, a digital assistant. At last count, the Alexa platform had more than 15,000 skills in addition to its built-in features, and Amazon continually rolls out more.
3. Google Home
Google Home, a different take on a tabletop speaker, is an alternative to Amazon's Echo. Although this newer smart home system hasn't surpassed the Echo yet, it's rapidly closing the gap.
Aided by your web-browsing history, Gmail data, and typical GPS routes, the Google Home learns about you, your habits, and your needs. Say hello to Google, and it will do as you ask. It even keeps track of every question you ask, and it continually does its homework to give you more thorough answers. The voice-recognition feature for distinguishing between family members adds a personal touch. The more you interact with Google Home, the more helpful it becomes.
4. Sonos Speakers
Hear your favorite tunes like never before with a Sonos system. Sonos speakers are an essential part of any smart home. This multiroom wireless speaker system is easy to use, offers excellent sound quality, and supports multiple streaming systems. Though most people use their Sonos system for music, it also connects with Amazon's Alexa to become a digital assistant.
Because Sonos connects directly to the internet, you can play music from your phone or computer without calls, texts, or alerts interrupting. You can play the same music in every room of the house, or program different genres for different rooms.
5. Leeo Smart Alert
This small, lightweight device really increases your home's safety as well as your health.
The Leeo Smart Alert plugs into any wall outlet and works with the smoke, carbon monoxide or water alarms that you already have installed. It monitors your home, and if a smoke detector or other alarm goes off, the Smart Alert jumps into action. In the event of fire, flood or potential CO poisoning, it calls your smartphone and dials your preset backup emergency numbers if you don't answer.
6. Deebot N79
Can't stand sweeping or vacuuming? The Deebot N79 is a nifty robotic vacuum that's winning over homeowners everywhere. Owners give it rave reviews for performance and convenience, making it a household essential if you want to skip some cleaning chores.
The Deebot N79 is controlled by an app. Set it to run, and the Deebot will vacuum rugs, hardwood floors, and low-pile carpets. You can set a schedule for it or tell it to get working at your whim. Deebot's smart navigation system sends it to out-of-the-way corners that no other robotic vacuum can tackle. And its anti-collision sensor is unmatched.
Add These Smart Home Gadgets to Your House
These are only a few of the latest smart home gadgets – but they're winning over individuals everywhere. From offering a helping hand around the house to improving your quality of life, bringing a smart home device into your home can make just about anything easier.
And with Black Friday approaching, you'll be able to find great sales, discounts, and offers on these products and many other smart home gadgets. Why not upgrade your home with smart home tech and make life a little easier at an affordable price?
Like anything, it's always a good idea to be aware of the latest research. We recommend comparing at least 3 or 4 options before making a final decision. Doing a search online is typically the quickest, most thorough way to discover all the pros and cons you need to keep in mind.