Audiobooks have become a valuable alternative to old-fashioned reading. So much so that teachers say audiobooks support the learning process and help struggling readers meet benchmarks.1 In today's busy culture, the ease of popping in your earbuds and relaxing to an audiobook on your way to work or a jog around the block is incredibly appealing. In fact, almost 40 percent of people have listened to a digital reader, according to Forbes.2
Even though they don't need to be printed and can be delivered without shipping fees, audiobooks may cost more than paper versions. Familiarizing yourself with websites that offer free and inexpensive audiobooks lets you stay entertained without breaking the bank.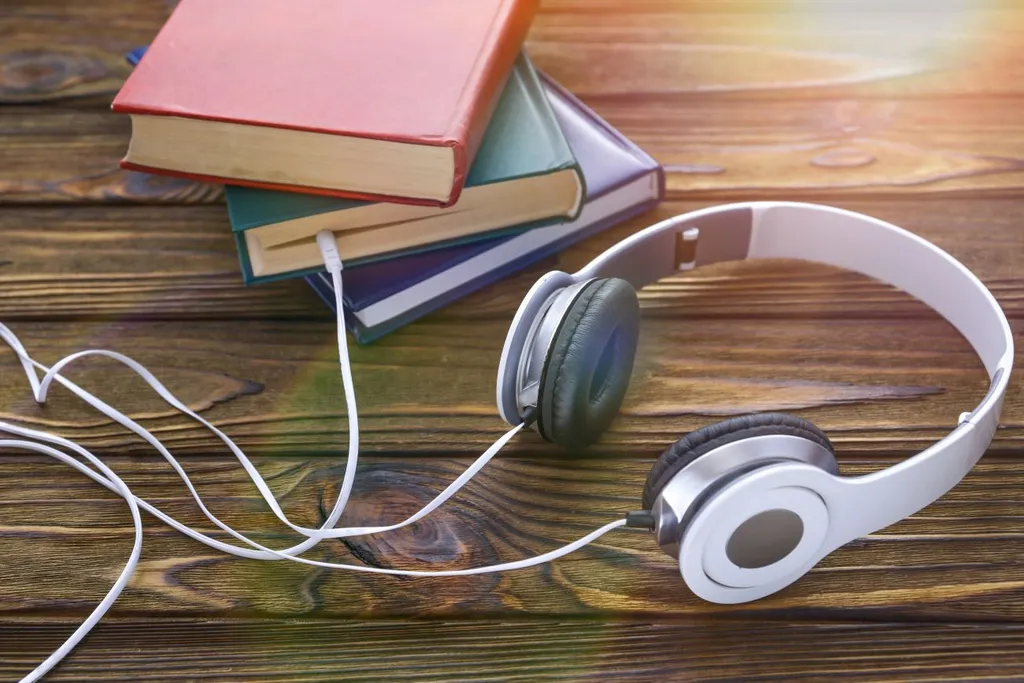 1. Open Culture
Open Culture offers a variety of educational resources, all of which are free. In addition to audiobooks, you can find online courses, movies, and textbooks. Download up to 900 free audiobooks, most of which are classics in fiction and literature.3
Books are available in different formats, including MP3 downloads, links to iTunes, and streaming on Spotify. Unfortunately, every book is not available in all formats.
While no payment is required, you can donate to the organization if you'd like.
Pros
Completely free
Easy to browse by author's name
Access to e-books, textbooks, online courses, and language lessons in addition to audiobooks
Cons
Search function on the website can be confusing
All books may not be available in your desired format.
2. LibriVox
LibriVox lets you read or listen to books that are in the public domain. This non-profit company has a mission to make all books in the public domain accessible in audio format. So, all of its recordings are available for free.4
It uses volunteer narrators and editors. Some are trained actors and deliver seamless performances. Others are just testing out their abilities, so they may give robotic performances or have difficult-to-understand accents.
Download the recordings and listen to the audiobooks on your computer or mobile device. For those that still use a Walkman, you can also copy them onto a CD.
Pros
Audiobooks are available in many languages
Some books have been recorded by different people, allowing you to choose your preference
Completely free
Get to keep all downloads
Cons
All volunteer narrators are accepted, which means some may not sound professional
Limited selection as most public domain books were published more than 100 years ago
3. OverDrive
OverDrive works with local libraries to offer an extensive selection of audiobooks and e-books. Anyone can borrow books using the mobile app for Apple, Google, and Windows phones or tablets just as long as you have a local library card.5 You can use OverDrive's desktop app to download audiobooks to your computer, if you are looking to transfer them to your MP3 player.
Looking for an audiobook using OverDrive is not difficult, but it can be confusing. To help, we broke it down into four easy steps:
Click on "Find libraries near you" from the OverDrive homepage.
Search using your zip code. If that doesn't work, try entering the name of your county.
When you locate your library, click on "Website" to go to its digital section. You can browse audiobooks or e-books in this section.
Once you find one that you'd like to listen to, download the MP3 or listen online.
Mobile device users can download OverDrive's Libby app to access audiobooks more easily. After you download the app, it will walk you through the process of locating your local library. Use your library card to log in and browse or search the catalog. After you borrow an audiobook, you can listen to it on your device.
Pros
Completely free
Offers thousands of titles
Can download some items for offline use
Cons
Local library card is required to use Overdrive
Somewhat confusing to navigate
Can only access titles available from your local library or school
4. Scribl
Scribl has partnered with the service that used to be called Podiobooks to offer stories in a serialized format. This is ideal for those who prefer listening to podcasts or short chunks of audio at a time.6 It also features more new releases than some of the other free audiobook resources.
If you purchase an audiobook, you get the e-book for free. This allows you to sit down and read at night and pick up where you left off and listen to the audio format on your morning commute.
The cost of the titles is set via crowdpricing. Highly ranked, popular books cost more than new titles or less fashionable genres. Because of this, new books are usually free for an introductory period. Consumers who want to get the most value should check Scribl frequently.
Pros
Great place to discover new, independent authors and titles
Pricing per title is generally affordable
Podcast-style audiobooks break books down into smaller pieces
Cons
Good books don't stay free for long
Few well-known authors
5. Amazon
There are a few ways to listen to free audiobooks on Amazon. The most obvious is with Audible.
Audible is an Amazon company that offers a 30-day free trial. During the trial, you can listen to one audiobook and two Audible Originals, which include entertainment that is meant to be delivered in audio format.
If you pay for a $14.95 monthly membership after the trial, you receive credits for one audiobook and two Audible Originals every month. Unused credits can be rolled over for up to five months, and books can be swapped out for free if you don't like them after you begin them. Various membership tiers give you access to additional credits per month.7
Any books that you download while you're in the program are yours to keep. You can listen to them using the Audible app on an Apple, Android, or Windows mobile device or a media player to listen on your computer.
Amazon Prime members get access to the Audible channels at no extra cost, and approximately 50 free audiobooks are also available to these members at any given time. To find them, download the Audible app to your mobile device, launch the app, and sign into your Amazon Prime account. In the app, click on the "Channels" icon, which looks like a clock. Scroll down and tap "Audiobook Collections." Browse and select a title.
Many Kindle titles also come with free audiobook companions. If you're already paying for Kindle Unlimited, you can browse Books with Narration.8Pros
Audible Originals feature gives you access to unique content, which is available for free on Amazon Prime
Audible has the largest selection of audiobooks and original shows
Keep books that you download
You can often find deals for discounted monthly memberships
Uses professional actors to narrate books
About 50 free audiobooks are available at a time to Prime members
Cons
Free trial and membership give you access to only one book per month
Limited credit rollovers
Relatively expensive after free trial