Having the right supplies makes a huge difference, especially when it comes to printing projects. When you own a printer, you also have to stay stocked up on a crucial item: ink or toner.
Ink and toner, while similar and used for the same purpose, are almost total opposites. If you're trying to decide whether ink or toner is the better option for you, here's what makes the two choices different.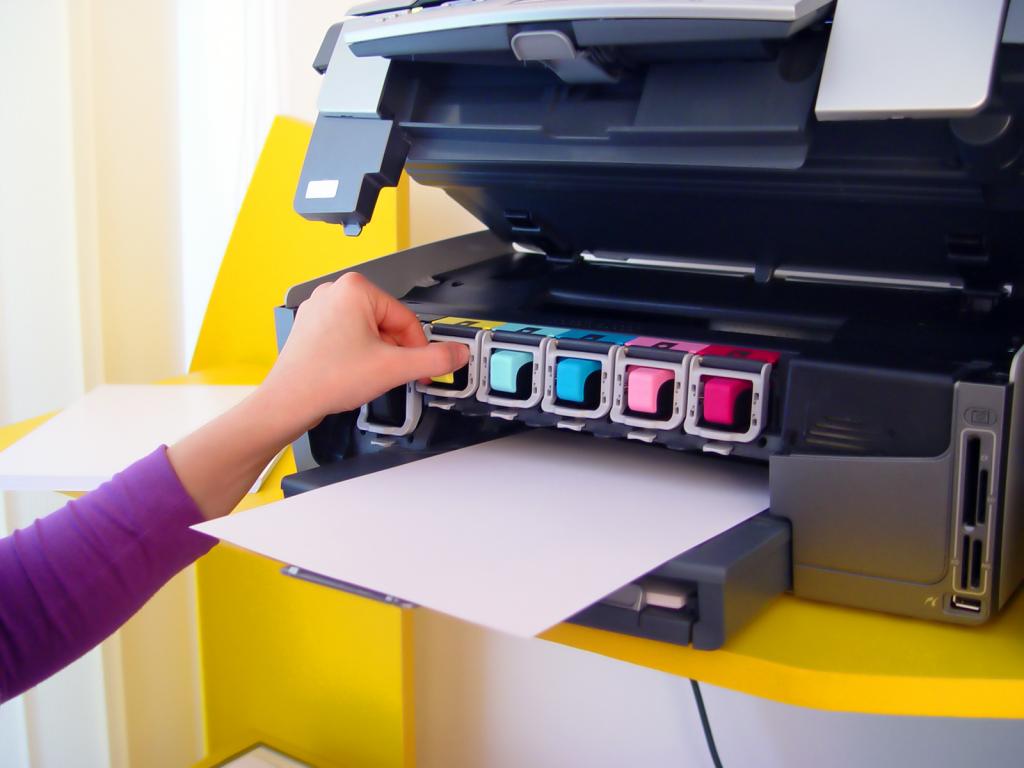 Ink Means Liquid, Toner Means Powder
While ink and toner are both used in printers to print documents and photos, they're very different. And their very makeup is what sets these two products apart.
To put it simply, ink cartridges contain liquid and toner cartridges contain powder.
Ink cartridges typically contain one of two types of ink: dye-based or pigment-based. According to LD Products¹, dye-based inks are the most common option, but some printers can require pigment-based ink. Dye-based ink is also the more cost-conscious option. Both types of ink, however, can print vibrantly colored documents and photos.
Toner cartridges all contain a similar dry, powdery substance rather than liquid. That powder allows printers to create images and documents with print. A drum, either within the printer or in the toner cartridge itself, helps fuse the powder substance to paper while the printer runs. While it's common to find toner cartridges sold with built-in drums, single toner cartridges are also a popular – and more affordable – option.
Both Come in Different Colors
Though the source of their printing ability differs, both ink and toner cartridges can print in an array of different colors.
When you purchase ink cartridges for your printer, you can choose to buy either a black cartridge or a color cartridge. The same goes for toner – you can purchase a black toner cartridge or a color one.
For both types of cartridges, you'll find that printing in color requires three colors: cyan, magenta, and yellow². These three colors, along with black, can create just about any blend of colors needed to master your printing jobs.
Inkjet Printers Need Ink, Laser Printers Need Toner
When you're trying to decide between ink and toner, don't forget to consider your printer. Some printers require ink while others require toner – and you won't be able to swap the two to work in any printer.
If you own or plan to purchase an inkjet printer, you'll need ink. Inkjet printers run on ink alone. These printers are a great choice for printing in small amounts, home printing jobs, and creating photo prints.
If you own or plan to purchase a laser printer, you'll need toner. Laser printers use toner to get your printing job done. They're a smart choice for anyone who does high-volume printing, business printing, or needs text- and photo-heavy prints. They're something of a more capable option for heavy-duty or bulk printing tasks.
You'll need to refill your printer with either ink or toner based on what kind of printer it is. While ink and toner both offer benefits, some people may find that ink is costlier for the kind of printing they do, and vice versa. Make sure to do your research before choosing a printer to see if an inkjet or laser option will be most affordable for you.
How to Choose the Right Ink or Toner
Now that you've learned the difference between ink and toner, you're ready to choose which is right for the printing you need to tackle.
Your first consideration, of course, should be the printer you'll be using. Remember, ink is for inkjet printers while toner is for laser printers.
Next, you'll want to assess the cost of ink and toner. While both ink and toner cartridges can be pricey, make sure to look at the estimated amount of pages a cartridge can handle. This is called the page yield, and it's a great way to compare the capability and cost of a specific cartridge. Many ink and toner cartridges offer XL or high-yield options, which can print more pages and tackle bigger jobs.
Lastly, make sure to do your research. There are so many different types and brands of ink and toner. And every option is different, both in its quality and its price. You can easily search for ink or toner that suits your printer and compare those options, looking at price, any available discounts, and page yield. These features will help you find the right ink or toner for your needs.