While most grocery purchases still occur at a store, close to 30 percent of U.S. households buy groceries online.1 The emergence of grocery delivery services has benefited a variety of people, including seniors living at home.
For seniors, these delivery services can ease some of the major challenges of grocery shopping and offer opportunities for various savings.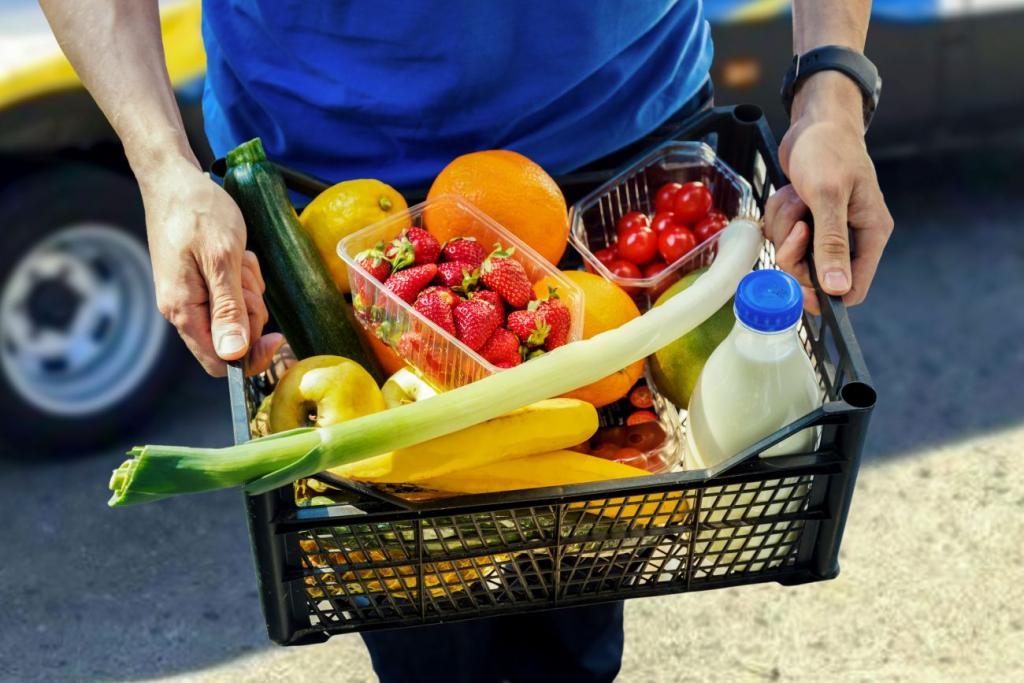 The Benefits of Using a Grocery Delivery Service
Speed and Convenience
Seniors who live at home often struggle with in-store shopping. Limited physical mobility and strength, few transportation options, and a lack of reliable assistance from family or neighbors can make a trip to the grocery store either difficult or impossible.
Grocery delivery services spare seniors a trip to the store and can be customized to their needs. For example, you can arrange to have groceries delivered on a weekly basis or you can schedule deliveries for the same day. You can still make in-store visits for certain purchases while using delivery services for heavy or bulk items.
Speed of delivery is also a tremendous advantage. Shipt, Instacart, Amazon Prime Now, AmazonFresh, and Walmart offer some of the quickest deliveries. Depending on the service, the grocery delivery may arrive one to three hours after you've placed the order. You may also be able to choose specific time slots and ensure that you aren't at a doctor's appointment, visiting a friend, or out of the house for another reason when the groceries are set to arrive.
Another convenience in online grocery services is that companies are often mindful about accessibility for people with disabilities, including seniors with visual impairments. For example, Instacart provides information about the accessibility guidelines it has followed for its platform and the number you can call if you're still experiencing problems using the site.2
Easy Coupon Use
When you place an order online for grocery delivery, one or more coupons may apply to the items you're purchasing. Often, the discounts from these coupons will show up automatically during the checkout process or you'll be able to apply them to your purchase with a simple click. Automatic coupons create a more streamlined shopping experience and they're especially helpful to seniors who want to minimize the amount of typing they need to perform to complete a purchase.
Seniors will benefit from not having to hunt through several pages to find a coupon. Coupons are clearly announced for each item and sites will often highlight deals. For example, AmazonFresh promotes Fresh Deals on various items.
Online Specials
To entice people to use online grocery deliveries, companies will often offer discounts or special deals. For example, a company like Peapod may present promotional codes for a free delivery and price reduction on first-time purchases.
You may also be able to find promotional codes on reputable third-party sites. An excellent example is Groupon, which regularly offers deals you can apply to online grocery shopping and general food delivery services, including AmazonFresh.
Given how important it is for seniors to stay within their budget, online deals are an important benefit to grocery delivery services. You can wind up cutting costs on a range of foods, beverages, and household goods. However, it's possible that you may miss out on certain in-store discounts if you're shopping online; that's an issue to investigate when you're choosing a grocery delivery service.
Examples of Grocery Delivery Services
Online grocery services aren't available to seniors in every town around the country. But the major ones are expanding their reach. Two examples are Instacart and AmazonFresh.
Instacart
Instacart connects you with local stores, including major businesses like Costco. You place an order online, then an Instacart Personal Shopper heads to the store, does the shopping for you, and delivers it to your home. Shoppers are mindful of expiration dates and careful about picking out produce that's in good condition. If an item isn't available, they can choose a replacement and contact you to ask if it's acceptable.3
A key advantage to Instacart is the speedy delivery. The company offers same-day deliveries — you may be able to receive your groceries in an hour. The delivery speed, the clear layout of the site, and the service performed by a courteous, experienced shopper are appealing to seniors. To check if you can use Instacart, enter your location on their site. If they're available near you, you'll be able to check which stores they've partnered up within your area.
With Instacart, you must place an order of at least $10. Along with paying for the groceries, you'll be subject to delivery fees that vary depending on the order's size and delivery time. For instance, choosing a one-hour delivery will cost you more than a two-hour delivery.4
If you plan to regularly use Instacart, you may benefit from signing up for Instacart Express. Orders over $35 will come with free delivery and it won't cost you an extra fee to combine purchases from multiple stores into one order. If you're interested, an Instacart Express membership has an annual cost of $99 or a monthly cost of $9.99.5
AmazonFresh
Offered through Amazon, AmazonFresh is a specialized delivery service for produce, perishable foods, and other groceries. Drawing from Whole Foods and other sources, this service can generally get your food delivered in two to three hours; in some locations, the delivery time may be less.
You can set the main Amazon search bar to AmazonFresh and look for specific grocery items. Or you can head to the AmazonFresh page and browse through the selections, which are divided into different categories.6
To make use of AmazonFresh, you first need to be an Amazon Prime member. On top of the membership fee for Amazon Prime, which is $119 on an annual basis or $12.99 at a monthly rate, you'll need to pay $14.99 per month for AmazonFresh. If you aren't sure whether to use Amazon Prime or AmazonFresh, a free 30-day trial is available for both services.7
AmazonFresh might work best for seniors who are already regularly relying on Amazon for a variety of deliveries. If you use Amazon rarely and have little interest in either Amazon or Whole Foods, you probably won't find it worthwhile to sign up for an Amazon Prime membership and purchase AmazonFresh.
It's critical to know that AmazonFresh operates in fewer delivery areas than Amazon as a whole. While Amazon can offer same-day or one-day deliveries to over 70 percent of people in the U.S.8, AmazonFresh operates in a more limited fashion. You need to enter your location on Amazon's website to determine if your area is currently receiving service. Depending on where you live and what items you need, you may want to look into Amazon Prime Now, another service you can use for many types of groceries if you're a Prime member.9
Which Service Will You Use?
These days, seniors have a variety of options for online grocery shopping and home deliveries. Your choice of service will depend on a variety of factors, including your budget, where you're located, the items you need, and how quickly you need them.
Carefully sorting through the options will allow you to arrive at a decision that maximizes savings and convenience.