This summer, don't leave the kids at home if you want to enjoy a little bit of culture or music. Although many of the top music and culture festivals around the country don't accept little ones, there are lots of family-friendly alternatives.
Whether you choose to head to a big city or a small town, these fun festivals will introduce you to new music as well as new art, food, and entertainment. And, to help soothe pre-departure nerves, we've even made you a handy travel checklist.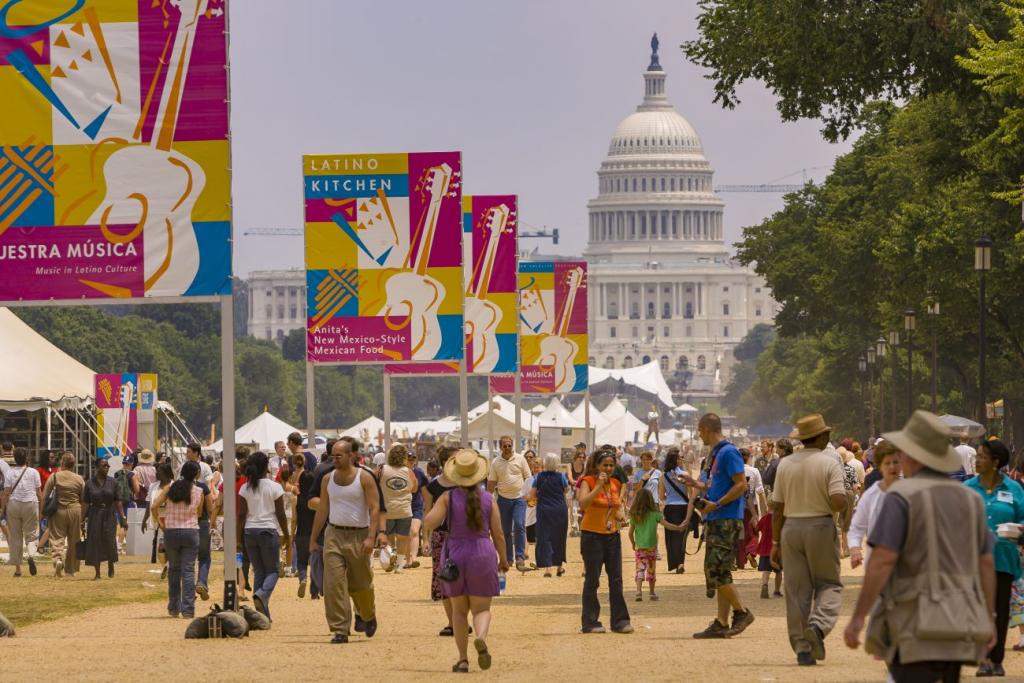 1. Smithsonian Folklife Festival, Washington, DC, June 29-30
Best for: History and music nerds
The Smithsonian Folklife Festival has been taking place on the National Mall in Washington, DC since 1967. It celebrates the living cultural traditions of our country and the people and groups that help sustain them.
This year, the theme of the festival is "The Social Power of Music". There will be plenty of concerts, as well as storytelling, classes, and presentations. The Folklife Festival isn't always as music-focused and will take a more general focus in 2020.
Tickets: Free of charge. Info and schedule are available on their website.
2. Potato Days Festival, Barnesville, MN, August 23-24
Best for: Families who absolutely love potatoes
If you're looking for one of the most unique food-themed festivals in the United States, the Potato Days Festival in Barnesville, Minnesota is definitely a contender. It's a cross between a county fair, athletic event (really!), and a food fight. There's a Potato Cook Off, Potato Throwing Content, Miss Tator Tot Pageant, plus a wrestling contest in a giant wrestling ring filled with mashed potatoes.
Kid's will absolutely get a kick out of all the fun — and delicious — activities.
Tickets: General admission to the Potato Days Festival is free.
3. MusikFest, Bethlehem, PA, August 1-11
Best for: Families looking for a fun music festival in a laid-back environment
MusikFest is a music festival that's been bringing families to the Lehigh Valley of Pennsylvania for the last 35 years. It's currently the largest free music festival in the United States. Since it's run by a non-profit arts organization, they're committed to keeping it that way.
This year, they're hosting performances by artists like Earth, Wind & Fire, The Chainsmokers, and Lady Antebellum. Not all artists are family-friendly, but they offer plenty of other activities to keep kids entertained.
Tickets: General admission is free, but tickets to larger concerts range from $15 to $225.50.
4. Vans U.S. Open of Surfing, Huntington Beach, CA, July 28-August 5
Best for: Kids who long to ride the waves
This celebration of the world's top talent in surfing, skating, and BMX occurs every year in sunny Huntington Beach, California. It's regularly attended by more than 500,000 spectators every year.
Families who are interested in watersports and other outdoor activities will have a great time checking out events, walking along the Surfing Walk of Fame, and perusing some of the featured street art that decorates the town center. There are even hands-on creative workshops hosted by local artists.
Tickets: There's no entrance fee, but Vans is selling VIP entrance for $199 per person.
5. Summerfest, Milwaukee, WI, June 26-July 7
Best for: Music fans of all ages
Summerfest bills itself as the largest music festival in the world. It's a little hard to prove, but they do have a massive lineup of acts ranging from Thomas Rhett and Jason Aldean to Jennifer Lopez, Lil Wayne, and Snoop Dogg. There are over 1,000 performances, as well as comedy acts, fireworks display, and a massive shopping plaza.
Tickets: Admission ranges from $10, which will get you into the festival area once, to a $120 three-day pass.
6. Lollapalooza, Chicago, IL, August 1-4
Best for: Families who want to be immersed in the arts
Lollapalooza is one of the top music festivals in the United States, but most people don't realize that it's actually very kid-friendly. The larger stage areas can get rowdy, but there's a special section called Kidapalooza which is full of family-friendly musical acts, demos and workshops specifically for kids, a craft station, and a kid lounge.
Parents can even tag their kid, so they don't need to worry about losing them in the crowd.
Tickets: Entrance for kids 10 and under is free. Adult entrance is $130 per day.
7. Outside Lands, San Francisco, CA, August 9-11
Best for: Families who love music, food, and great weather
The Outside Lands music festival showcases globally-recognizable music, as well as the best food California has to offer. This year, Paul Simon is headlining, alongside musical acts like Childish Gambino and Twenty One Pilots. There are tons of local food trucks and even a special series of events called GastroMagic, where chefs and artists are paired to create magic together onstage.
Tickets: Tickets cost $155 for a single day or $385 for a three-day pass. Babes in arms get in for free.
Travel Checklist
If you're paying a steep entrance fee to get yourself and your children into a festival, you'll want to make sure you don't need to leave for any reason. That means bringing any necessities with you on the day of the event. You'll likely be able to purchase essentials like sunscreen or bottled water, but this convenience will come at a cost. Keep in mind that many festivals ban seemingly innocuous items like large backpacks or open water bottles.
Here's a travel checklist for you to use before you leave the house.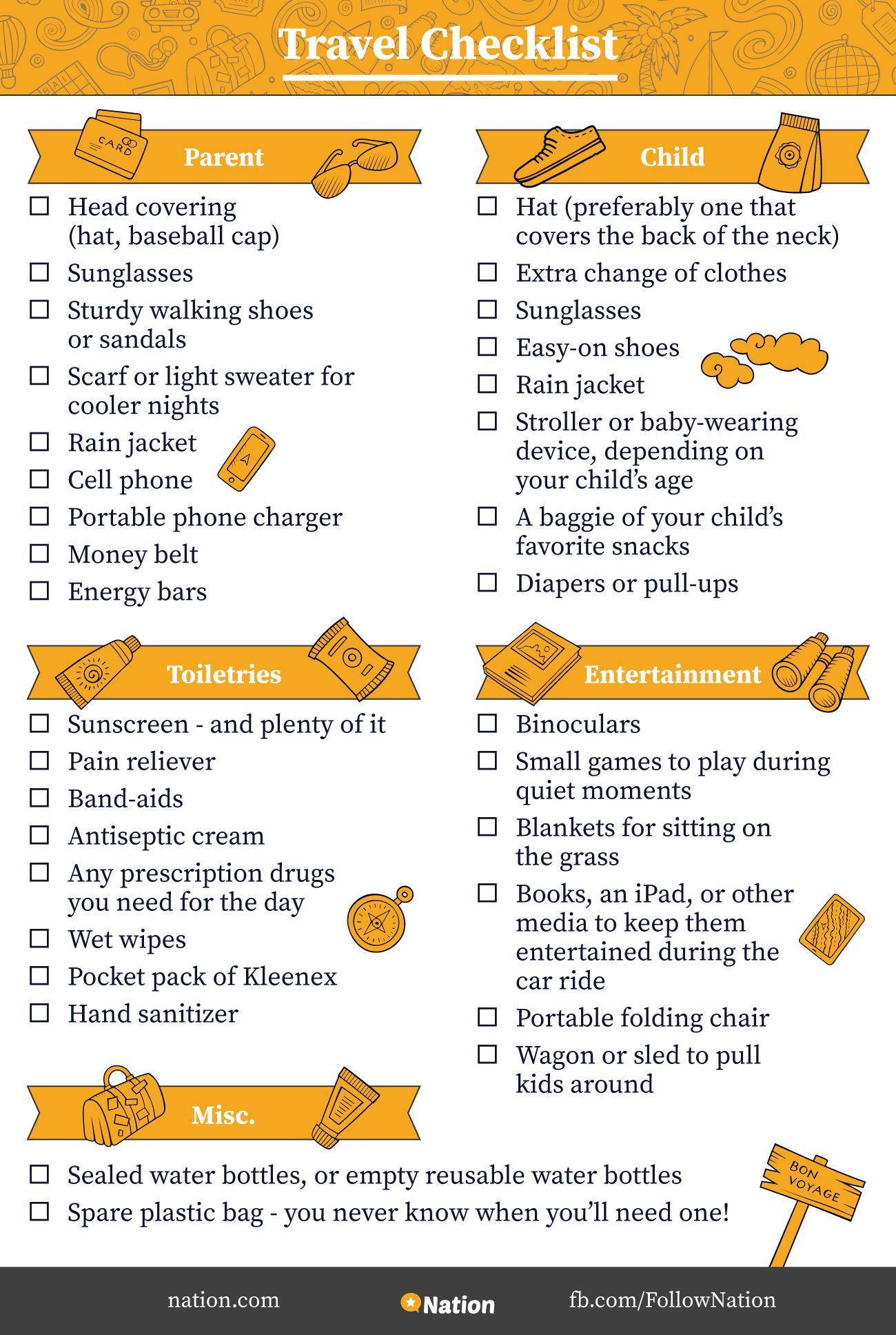 Parent
Head covering (hat, baseball cap)
Sunglasses
Sturdy walking shoes or sandals
Scarf or light sweater for cooler nights
Rain jacket
Cell phone
Portable phone charger
Money belt
Energy bars
Child
Hat (preferably one that covers the back of the neck)
Extra change of clothes
Sunglasses
Easy-on shoes
Rain jacket
Stroller or baby-wearing device, depending on your child's age
A baggie of your child's favorite snacks
Diapers or pull-ups
Toiletries
Sunscreen — and plenty of it
Pain reliever
Band-aids
Antiseptic cream
Any prescription drugs you need for the day
Wet wipes
Pocket pack of Kleenex
Hand sanitizer
Entertainment
Binoculars
Small games to play during quiet moments
Blankets for sitting on the grass
Books, an iPad, or other media to keep kids entertained during the car ride
Portable folding chair
Wagon or sled to pull kids around
Misc.
Sealed water bottles or empty reusable water bottles
Spare plastic bag — you never know when you'll need one!
Be Ready
So many of these amazing festivals offer fun and entertainment for people of all ages. Regardless of which one you attend, make sure you've got everything you need for a busy day will ensure that the whole family enjoys every moment. There's nothing like forgetting to bring extra diapers or getting a third-degree sunburn within the first 20 minutes to put a damper on a fun day out.
Definitely make sure you check the weather before you go and adjust your packing list accordingly. A little bit of preparation will ensure that you can last from morning to night, snacking, dancing, and enjoying the day out with family.