When you buy your groceries, head to the mall to get a gift, purchase airline tickets, or book a hotel, you most likely use a major credit card, such as a Visa or Mastercard. For most individuals, using a credit card is an everyday experience, even popular for the smallest purchases. The reason for this is simple. Shopping with cash is bulky and irritating but sliding a credit card is easy and requires very little thought.
If you are like the average Canadian, you need to find smart ways to make your credit cards work for you. Credit cards that provide instantaneous cash back rewards along with no annual fees are great for earning money back on the items and services that you already purchase. Depending on where you most often spend your money, these four cards are among the best at offering these amazing rewards.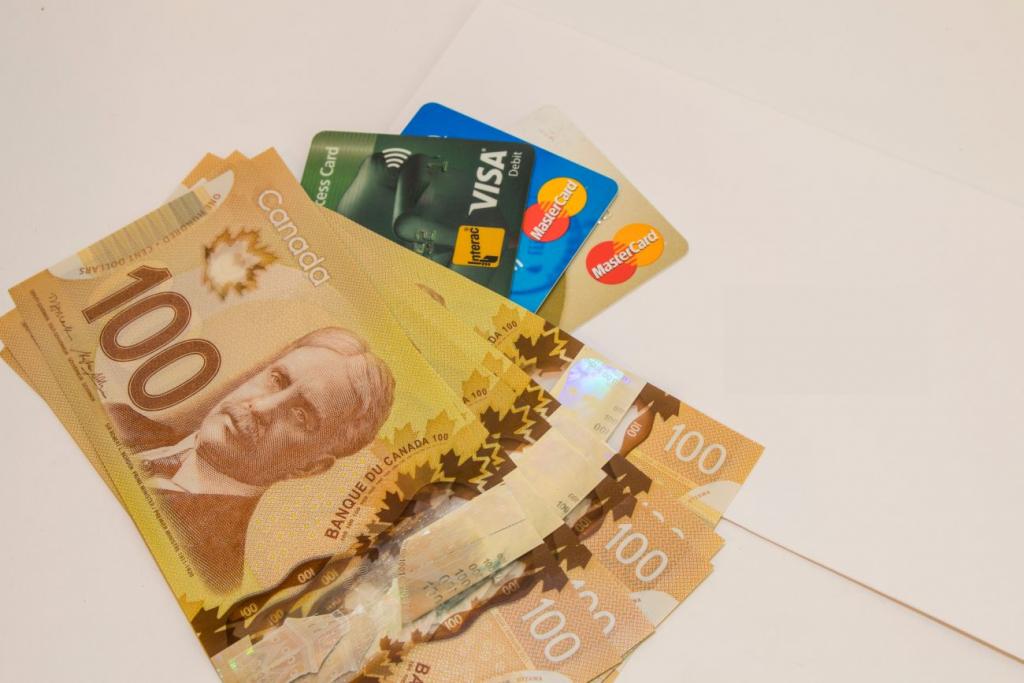 The Best Cash Back Card for Traveling
If you regularly travel across the country or around the world and are putting airline charges, hotel costs, and baggage fees on your credit card, the Home Trust Preferred Visa is the best choice for you. Not only will you earn one percent cash back on all purchases, including groceries and gas, but you can also enjoy plenty of extra perks every time you are away from home.
This card gives you such bonuses as free roadside assistance and no foreign currency exchange rates.1 Therefore, whether you are purchasing a sari when you are in India or a rug from Turkey online from the privacy of your own home, you will not have to worry about unwelcome fees.
According to Credit Card Genius, there is no limit to the amount of cash back you can earn with the Home Trust Preferred Visa.2 You will also secure 90 days of purchase protection every time you swipe your card as well as coverage for rental theft and damage, which is perfect if you routinely choose air travel and use rental cars when traveling. Your cashback will automatically be credited to your card at the beginning of each new year.
The Best Cash Back Card for Dining
The Capital One Platinum Mastercard is an awesome choice if you want to consolidate the cards you carry in your wallet and get rewarded for the habits you already have. Plus, this card doubles as your Costco membership card, making it easy for you to tap and go for gas, groceries, and more when visiting this popular warehouse store. It is also great if you love to dine out several times every week because it earns three percent cash back on all restaurant purchases. Capital One offers a few other benefits that you will enjoy when this Platinum card is in your wallet:
Two percent cash back on gas purchases
Up to one percent cash back on all other purchases
No annual fee
Price protection, purchase assurance, and extended warranty included
Travel accident insurance and travel assistance included3
The Best Cash Back Card for Everyday Use
If you do not really feel that you spend the majority of your money in one or two specific categories yet you put plenty of purchases on credit cards each month, the card for you is the SimplyCash Card from American Express.
The best time to use this card is when you first receive it as all your purchases within the first 90 days earn a whopping 2.5 percent cash back up to $150. Pointshogger also points out that in the first six months, you can earn five percent cash back on restaurant purchases up to $250. After that period, you will continue to earn 1.25 percent on every purchase you make without any future limits.4
With the SimplyCash Card, you do not have to worry about signing up for rewards categories every month or cashing in at the end of the year. Simply watch your rewards be applied to your account. You will also enjoy the following benefits:
1.99 percent interest rate on balance transfers for the first six months
$100 referral bonuses up to $1,500
Priority access to concert tickets with American Express Invites
Higher cash back rewards on certain special packages and offers through American Express
No annual fee5
The Best Cash Back Card for the Everyday Shopper
If your purchases change from month to month depending on whether you are planning your family vacation, shopping for groceries for upcoming holiday celebrations, or buying back-to-school clothing, you need a card that lets you change your mind on rewards. MoneySense recommends the Tangerine Money-Back Credit Card that lets you choose two to three categories for rewards.6 So, no need to feel fenced in though because you can change these categories whenever you want.
With Tangerine, you do not have to wait until the end of the year to cash in on your savings. Instead, Tangerine pays out rewards monthly, which can be automatically applied to your existing card balance or placed in a Tangerine savings account. If you choose the savings account option, you will get your third money-back category added.
Other benefits include the following:
0.5 percent cash back on all purchases outside your chosen categories
1.95 percent interest rate on balance transfers for the first six months
No reward limits7
The best way to make your money work for you is to cash in on a rewards credit card that automatically gives you cash back without requiring you to lift a finger. Choose the one that best meets your everyday needs whether that is shopping for groceries and gas or traveling around the world. Of course, the Canadian government itself reminds you that to see the most impressive benefits, you will also need to pay off your card each month. Then your cash back truly is a deserved special reward.8
So, it's best to start your search today in order to find the best card for you.