Dodge Ram has another great truck lineup for the 2020 model year.
Whether you need a versatile daily-driver or a rugged off-road machine, you can trust Dodge Ram to have the perfect model. Furthermore, even its heavy-duty work trucks come loaded with creature comforts.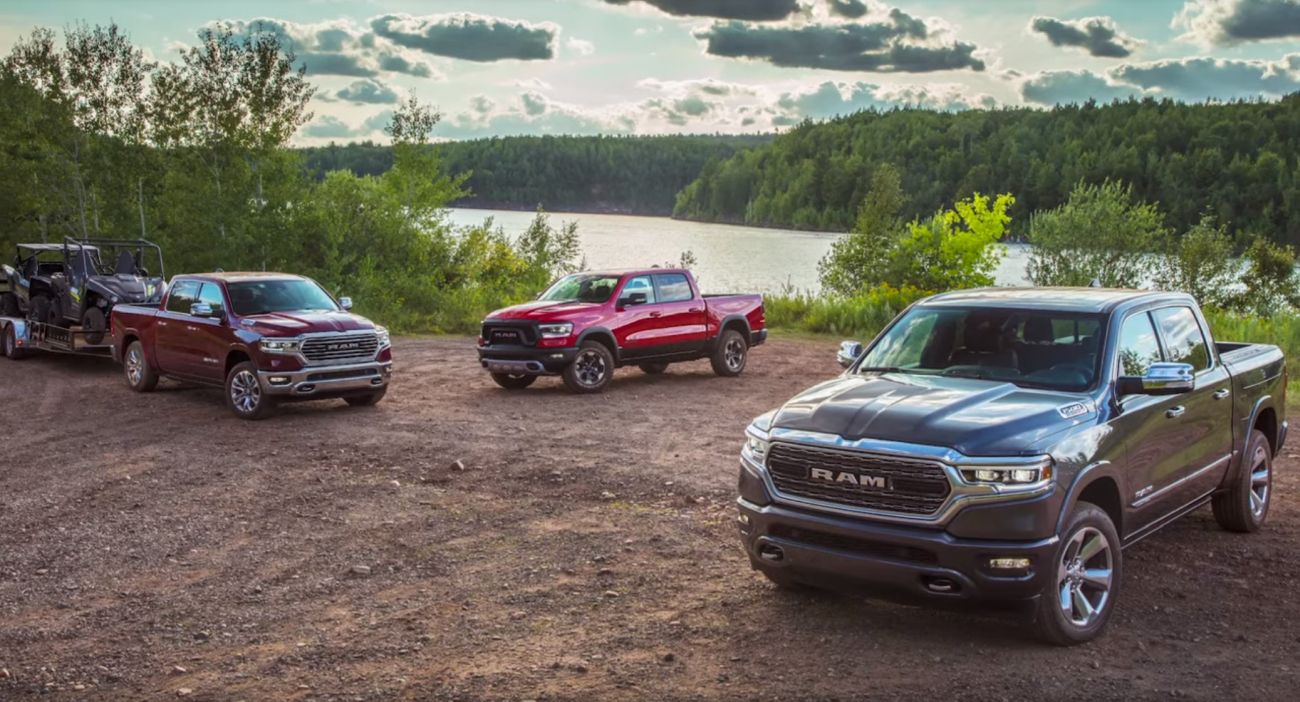 2020 Dodge Ram 1500
Trims
Tradesmen: $31,895
HFE: $34,095
Lone Star: $36,340
Laramie: $40,040
Big Horn: $42,540
Rebel: $44,240
Longhorn: $50,640
Limited: $53,4151
Overview
For good reason, the Dodge Ram 1500 was named the 2019 MotorTrend Truck of the Year.2
Automotive critics rave among the Ram 1500's smooth driving dynamics and luxurious cabin. Plus, strong fuel economy gives you even more reason to love this light-duty pickup.
Performance Specs and Fuel Economy
Three different powertrains are available for the 2020 Ram 1500. The base 3.6-liter, V6 engine develops a competitive 305 horsepower. Meanwhile, stepping up to the Hemi V8 engine increases production to 395 horsepower. You can use the extra muscle to tow up to 12,750 pounds. This year, Dodge Ram brings back its EcoDiesel engine, which develops 260 horsepower and a best-in-class 480 lb-ft of torque.3
When equipped with a V6 engine, the Ram 1500 can return up to 26 mpg. Opting for the EcoDiesel engine further improves efficiency. Even when during mixed driving, some automotive journalists have averaged a combined 26 mpg. Don't expect the V8-equipped models to deliver more than 23 mpg.4
No other truck in the segment offers Ram's load-leveling air suspension. This feature makes hauling cargo a breeze. In particular, it gives the Ram 1500 a remarkably stable feel at highway speeds.
Entertainment, Interior, and Safety Features
On the inside, the 2020 Ram 1500 welcomes you to one of the most spacious cabins in the segment. Several luxurious upgrades are available, including heated and ventilated reclining rear seats.
While the base model comes nicely equipped, plenty of premium options are available. Many people will be interested in the 12-inch touch display with split-screen. Its stunning graphics and high-resolution navigation maps promise to leave you impressed. Additionally, a 900-watt Harman Kardon sound system is offered.
No longer does the Ram 1500 suffer from a lack of accident-avoidance technologies. Some of the highlights include automatic emergency braking, blind-spot warning, and lane departure alert. For drivers who hate the task of parking, the Ram 1500 offers a surround-view camera and a self-parking system.
2020 Dodge Ram 2500
Overview
To keep pace with the competition, Dodge has recently redesigned the heavy-duty Ram 2500.
As such, you'll immediately notice its more muscular body. Plus, new headlights help give the latest 2500 a more modern look.
Performance Specs and Fuel Economy
The 2020 Ram 2500 has two available engines. A 6.4-liter, Hemi V8 engine with 410 horsepower comes standard. Although the EPA doesn't list fuel economy estimates for heavy-duty trucks, Ram 2500's new eight-speed automatic transmission seeks to improve efficiency.
If you need superior towing and hauling performance, upgrade to the Cummings diesel engine. It's rated to crank out a formidable 370 horsepower and 850 lb-ft of torque. When called upon, the diesel-powered Ram 2500 should be able to tow nearly 20,000 pounds.
On the road, the 2020 Ram 2500 impresses with its effortless acceleration and stable handling. This heavy-duty workhouse can also handle rough terrain. Adventure seekers will enjoy the trail-ready Power Wagon model. It comes loaded with a ton of off-road equipment, including upgraded shock absorbers and extra underbody protection.5
Entertainment, Interior, and Safety Features
Like the light-duty Ram 1500, the Ram 2500 provides a lot of space to stretch out. Special black leather upholstery makes the range-topping Limited trim feel especially luxurious.
Even the base model comes loaded with popular features like a five-inch touchscreen, Bluetooth, and a 3.5-inch driver information display. On top of these standard features, there are plenty of upgrades available. These include a 17-speaker sound system and stunning 12-inch Uconnect infotainment display.
Unlike in past models, the Ram 2500 now offers active safety features. While blind-spot monitoring makes driving on crowded highways less stressful, forward collision warning prepares you to stop for obstacles. In addition to these features, a 360-degree parking camera is available.
2020 Dodge Ram 3500
Overview
The 2020 Ram 3500 is essentially a more capable version of the Ram 2500. Like its sibling, it now packs more style and a greater number of premium features.6
While the Ram 3500 can handle an off-road trek, there's not an ultra-rugged Power Wagon trim in its lineup.
Performance Specs
A familiar 6.4-liter, Hemi V8 engine comes standard on the new Ram 3500. It produces a solid 410 horsepower and 429 pound-feet of torque.
In contrast to the Ram 2500, the Ram 3500 offers a high-output version of the Cummings diesel engine. In fact, Dodge tuned it to push out 400 horsepower and a crushing 1,000 lb-ft of torque. You can trust this beast to tow more than 35,000 pounds.
A stiffer suspension and optional dual rear wheels help the Ram 3500 to handle the additional weight.
Entertainment, Interior, and Safety Features
While the Ram 3500 is built for hauling big loads, it's still a pleasure to drive. You'll appreciate its quiet ride and comfortable seats. Large windows also promote great outward visibility. Excellent passenger and cargo space make the Ram 3500 an even more rewarding truck for work crews.
Drivers seeking a dependable work truck will be more than happy with the Ram 3500's list of standard equipment. However, upper trims feel more like a luxury sedan as opposed to a heavy-duty pickup. Upgrades, like seat ventilation and a big-screen infotainment system, help you to truly enjoy your time on the road.
Additionally, the Ram 3500 gives you access to advanced safety features like adaptive cruise control and blind-spot monitoring.
Final Thoughts
As you can see, Dodge Ram's new lineup of pickups brings a lot to the table. While the light-duty Ram 1500 will save you more money at the pump, the heavy-duty models are built to work even harder.