SUVs are suddenly all the rage on roads everywhere – and it seem like anyone who's looking for a new car wants an SUV. However, there's one problem: SUVs aren't cheap.
But right now, something unusual is happening at dealerships across America. And thanks to these different factors, right now you can buy a brand new SUV at a lower price.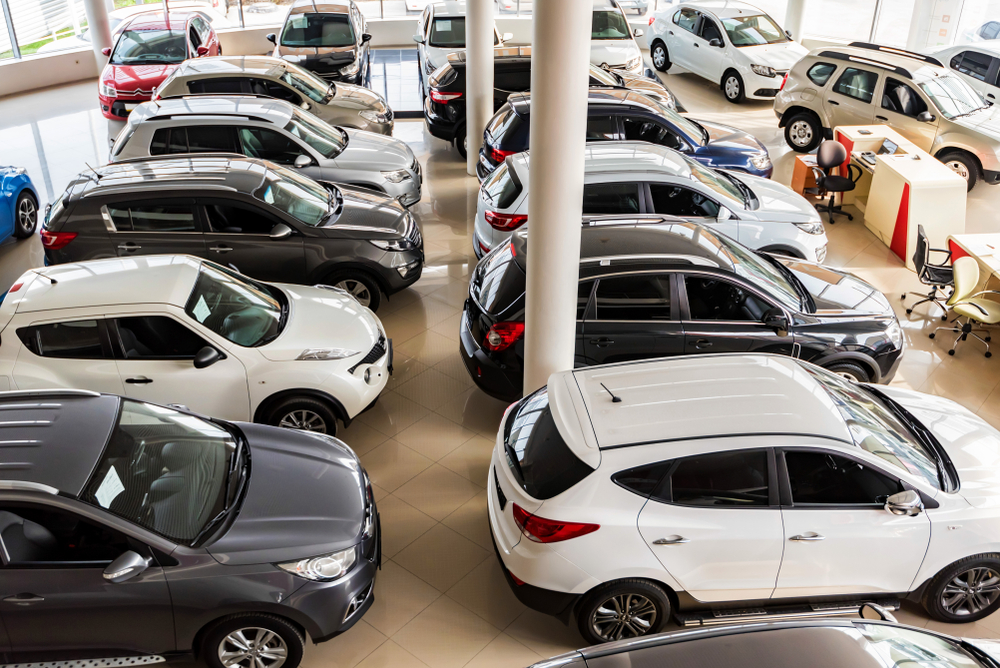 Here's why prices are falling and incentives are increasing, giving you a chance to get a huge discount on the SUV of your dreams.
Too Many SUVs Are Sitting on Dealership Lots
It's common to see rows and rows of sparkling new vehicles sitting on car dealership lots. However, dealerships are very careful about the number of cars they keep. If there are too many, they can struggle to sell their inventory.
And that's exactly what's happening right now. Auto dealerships are realizing they have way too many vehicles sitting around, waiting to be sold. Customers aren't buying, more cars are arriving, and that's creating an excess of inventory.
Part of the problem is sales are slowing. The cost of the newest SUVs keeps increasing every year. Last year, The Drive¹ reports, the average price of a full-size SUV totaled $60,437. Today, that same full-size SUV cost is at $62,437. And drivers aren't interested in these high prices – according to The News Wheel², auto sales totaled 17.55 million just three years ago, but this year they're estimated to fall below 17 million.
With sales slowing down, dealerships need to work harder to sell SUVs. But automakers are still creating new models and sending brand-new SUVs to dealerships everywhere. And that's leaving dealerships with more cars than they can possibly move. In January 2019, The News Wheel³ reported that nearly 4 million unsold vehicles were sitting at dealerships.
If dealerships can't pick up their sales, they could lose significant profits.
More SUVs Are Coming Off Lease Every Month
On top of the inventory that dealerships currently hold and can't sell, there's another problem: there's an influx of like-new SUVs coming off their leases.
As the Detroit Free Press⁴ explains, leasing became a popular choice for SUV fans a few years ago. Low monthly payments made it possible to score a brand-new SUV for two or three years at an affordable price. And now, all of those leased SUVs are coming off their leases.
2019 is the first year that a huge influx of SUVs coming off lease is expected. And the Detroit Free Press⁵ expects that trend to continue for a few years.
These off-lease SUVs will be just like the new models arriving at dealerships. They'll have low mileage, many of the same modern and high-tech features, and be in excellent condition. And the huge influx of these returned vehicles will make it even harder for dealerships.
In addition to selling brand-new SUVs, dealerships everywhere will suddenly need to sell these off-lease models too. That adds to their inventory and increases their costs – The Morning Call⁶ reports that holding a big inventory costs dealers more money in interest and storage expenses.
And dealerships don't want to lose money. They want to make a profit in any way they can, but to do so they need to make sales. Pressure to sell SUVs is increasing each month, and any missed milestones or lost money will only add to it.
What Does This Mean for Anyone Looking for a New SUV?
With all of this extra inventory, dealerships across the country are desperate to make sales. And this is great news for anyone who's looking for a new SUV.
Experts expect this added pressure and surplus of inventory to cause SUV prices to fall significantly. The Detroit Free Press⁷ is anticipating deals offered by dealerships to increase, and for incredible prices to be found on off-lease, late-model SUVs.
As the number of available SUVs continues to increase, buyers will have more choices than ever before. And that means dealerships and auto companies will have to compete with each other for your money. This is going to force dealerships to lower prices, offer big incentives, and give out unusually large discounts just to make sales.
Great discounts and incentives are already appearing. As The Morning Call⁸ reports, GM is staging month-long promotions to give big discounts and Nissan is offering buyers over $5,000 in cash back incentives on certain models.
You can expect these incentives and deals to only get better as SUVs sit unsold for longer periods of time. But, in order to take advantage of them, you need to search. With automakers and dealerships competing for your business, you should take the time to compare prices and incentives. See what different dealers can offer you – and where you can find the best savings.