A ski vacation offers you athletic challenges, outdoor adventure, gorgeous natural scenery, and an opportunity to spend time with people you love. But what can you do about the potential expenses?
If the expenses of a ski trip are giving you doubts, don't give up your hopes of enjoying skiing, snowboarding, and all the other activities that would make your vacation memorable. There are reliable ways of saving money on your ski trip. Search for deals on accommodations and find out what other discounts and free amenities you can enjoy at each location. The following are a few examples.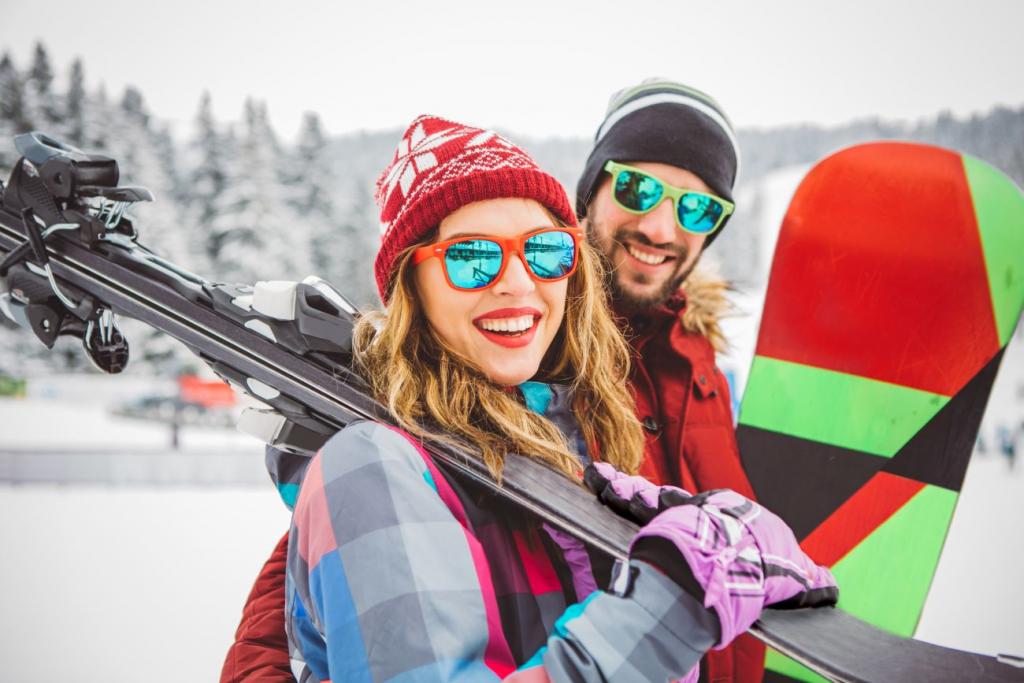 Château Beauvallon in Quebec
For a ski trip outside of the U.S., Canada is an excellent choice. Travel times are often shorter than they would be for a trip across the ocean, and there are lovely locations to choose from. Among the best is Mont Tremblant, a ski destination in Quebec's Laurentian Mountains.
Château Beauvallon1, a four-star hotel near Mont Tremblant, is offering special deals on reservations.2 If you're planning to stay for at least four nights, you can get 25 percent off the regular rates. For example, a two-bedroom suite that's usually over $250 a night could have its nightly rate fall to less than $200.
Even if your stay won't last four nights, you can still benefit. A 20 percent discount can apply to three nights, and discounts of 10 or 15 percent are available depending on whether you're staying two nights or one.
All the accommodations at the hotels are suites. They come with a private balcony, a fireplace, a kitchen or kitchenette, and bathrooms with heated floors. The hotel amenities include an indoor swimming pool and a highly rated bar that specializes in Scotch. Free breakfasts and free parking are included with your reservation as well.
Keystone Resort in Colorado
The Keystone Resort is a sprawling ski destination that covers three mountains and multiple ski bowls in Colorado's Summit County. Throughout the resort, you can find a wide variety of lodgings, some of them for under $160 a night.3
This resort is friendly to families in many ways. One example is its winter vacation deals4, which offer free skiing for any child 12 or under. The deals can also lead to discounts of 20 percent for lodging and free admission to a yoga class or ice skating.
Among the many activities available at the resort are the following:
Ice skating on a lake and in an ice rink
Lessons in skiing and snowboarding
Sleigh rides through Soda Creek Valley
Kidtopia, a program for kids that includes a gigantic snow fort, music, movies, snowshoeing, and wildlife education
Tours on snowmobile that give you incredible views of the Rocky Mountains
Guests also enjoy free transportation around the resort, which is home to various restaurants, a spa, and a fitness studio.
Solitude Mountain Resort in Utah
Located roughly 30 miles from Salt Lake City, Solitude Mountain Resort gives you the opportunity to go skiing in the Wasatch Mountains. The resort offers a range of lodgings, including condominiums, townhomes, luxurious private homes, and an inn. Depending on the accommodations you book, the amenities may include:
Free parking
An outdoor hot tub
A well-equipped kitchen
Access to Club Solitude, which has a heated swimming pool, saunas, a theater, a game room, and a fitness room5
Nightly rates can range from a little over $200 to several hundred dollars. However, the resort does offer some attractive deals, including the possibility of getting the fourth night free during your stay or the option of paying for lodging and lift access in a discounted bundle.6
Across the resort's 1,200 acres, there are numerous opportunities for beginner, intermediate, and advanced levels of skiing and snowboarding. Lessons are also available for adults and kids.
If you're planning a trip for early February, you should know that the resort will be more crowded as a result of the 2019 International Ski Federation World Championship.7 Fans of skiing and snowboarding will be excited to meet some of the best athletes from around the globe.
Some Essential Tips for Your Ski Vacation
Along with searching for deals and packages offered by ski resorts or sites like Expedia, the following are some of the ways to save money on your ski vacation and make it go more smoothly:
When bringing skis or snowboards from home, always research potential fees or extra charges for the airlines you're using. Airlines differ in the ways they allow you to bundle multiple items together and count them as one piece of baggage. Some will charge for extra weight, while others are stricter about length.
Look into the kind of gear your hotel or ski resort offers. Even if you're bringing your own skis, you may wind up wanting to use snowshoes, sleds, or equipment for other activities. As a guest, can you borrow these items for free or at a discounted rate?
If you stay at accommodations that have a kitchen, you can buy groceries and prepare your own food. This is generally cheaper than eating at a restaurant for every meal.
Try not to buy toiletries or other items you need at your ski destination, where they will likely be more expensive. Some people forget to pack lip balm, sunscreen, goggles, sunglasses, waterproof gloves, or a sufficient number of socks. Real Simple provides a helpful list for trip preparations.8
You'll usually have a better shot at landing deals or saving money if you make reservations well in advance or plan your trip outside of popular travel days; these include the week between Christmas and New Year's Day and the weekend of Presidents Day.
Ski Trips Don't Need to Break Your Budget
For world-class skiing destinations, you don't need to travel far or to spend an exorbitant amount of money. In the U.S. and Canada alone, you'll have your pick of places with excellent skiing and snowboarding. The many available deals will make your ski vacation much more affordable. You just need to do a little research.