With the summer weather in full effect, now is the time to have some fun. Like so many other people, you're probably looking to take an exciting road trip.
There is no better vehicle for a road trip than a convertible. To help, we highlighted six convertibles that are perfect for summer driving.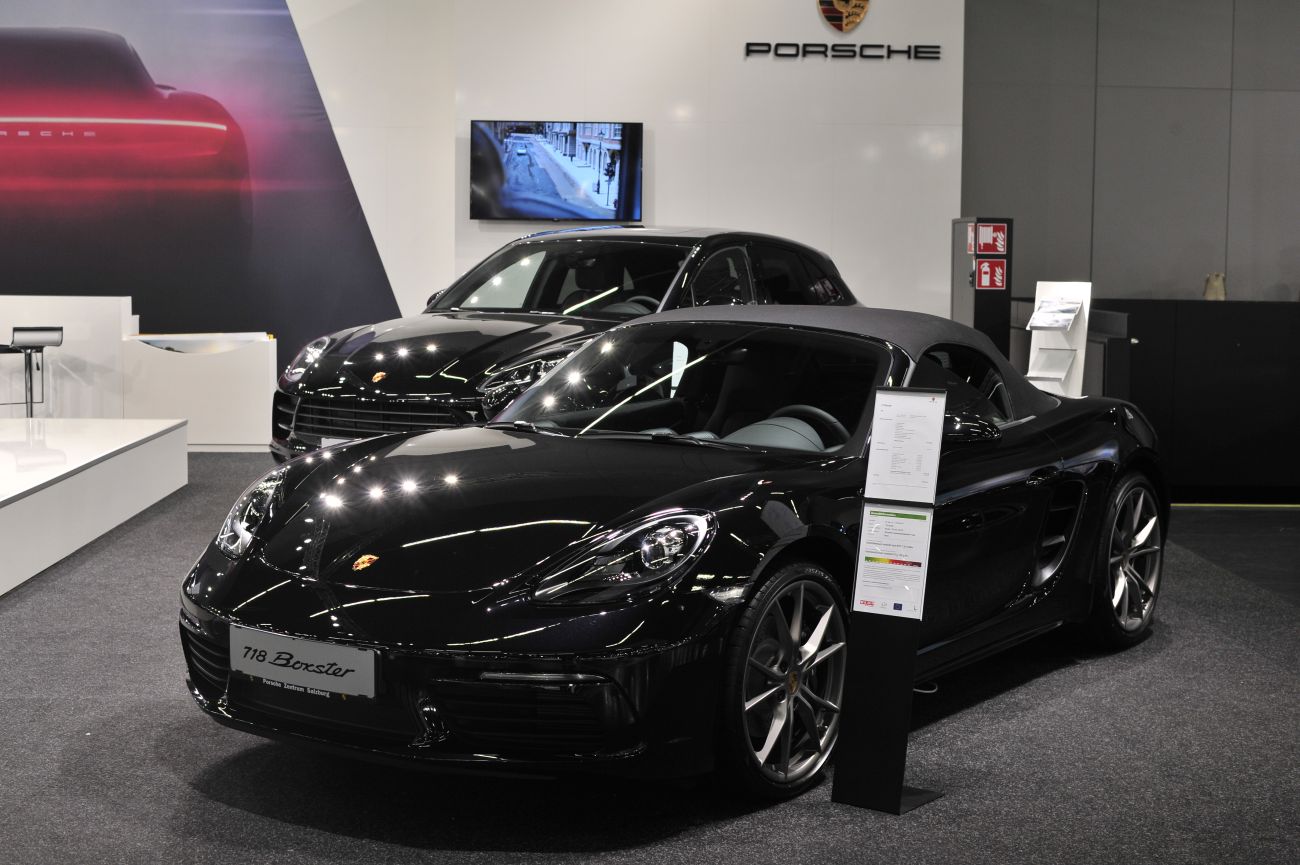 1. 2019 Ford Mustang Convertible
The 2019 Ford Mustang is a fun-to-drive muscle car. With a starting MSRP of $31,895, it's also one of the best convertibles you can buy for under $40,000.
Ford offers the Mustang convertible with two great engines that are come with either a six-speed manual or 10-speed automatic transmission. The base turbocharged four-cylinder pushes out an entertaining 310 horsepower while returning up to 28 mpg. If you desire a pure adrenaline rush, go for the monstrous V8 engine. It cranks out a thrilling 460 horsepower. On top of the excellent specs, the ride quality is outstanding for a performance car.
While behind the wheel of the Mustang, you'll be surrounded by great entertainment features. Ford's SYNC 3 touchscreen with Apple CarPlay and Android Auto allows you to stream mobile apps. Meanwhile, an available 1,000-watt B&O premium sound system enables you to rock out to your favorite songs.
Most importantly, the Mustang's seats are pleasant enough for all-day driving. Additionally, there's enough space in the trunk for your travel bags.
2. 2019 Mazda MX-5 Miata
If you're not looking to spend a lot of money on a new convertible, strongly consider the 2019 Mazda MX-5 Miata. A starting price of $25,730 makes it a superior bang for the buck. Furthermore, the MX-5 Miata is just as fun as any car on this list.
This year, the MX-5 Miata benefits from a stronger SkyActiv four-cylinder engine. It has been tweaked to produce a more enjoyable 181 horsepower. The extra power results in a quicker zero to 60 mph sprint of 5.7 seconds. An estimated highway fuel economy rating of 35 mpg makes the new MX-5 Miata even more rewarding. Because this small roadster only weighs around 2,350 pounds, handling around corners is especially good.
Although the MX-5 Miata has a simple interior design, it still offers plenty of modern technologies. Highlights include a Mazda Connect touchscreen, a nine-speaker Bose sound system, and automatic climate control.
The leather-trimmed MX-5 Miata Touring comes equipped with valuable accident-avoidance features like low-speed automatic braking and lane departure warning. However, a small trunk means you'll have to pack lightly on road trips.
3. 2019 Mercedes-Benz C-Class Cabriolet
The Mercedes-Benz C-Class Cabriolet is the perfect convertible for drivers who demand more luxury. Although prices for the new C-Class Cabriolet start at $51,850, it'll be money well spent. Especially considering you'll be cruising the country in unmatched comfort.
The C-Class Cabriolet's standard turbocharged four-cylinder engine is strong enough for most drivers. It pushes out a satisfying 255 horsepower. Fuel economy tops out at 29 mpg on the open road. If you're willing to sacrifice just a tad bit of gas mileage, you can get the C-Class Cabriolet with a turbocharged V6 engine. Mercedes-Benz rates it to crank out 385 horsepower. An especially strong turbo V8 engine sits atop the lineup, which lowers the convertibles zero to 60 time to a stunning 3.7 seconds.
Upon stepping inside the C-Class Cabriolet, you'll immediately notice its fine craftsmanship. Every aspect of the cabin feels luxurious. Several creature comforts come standard, including an Airscarf system that pumps warm air onto your shoulders. It'll come in handy on cool summer nights. Safety innovations, like blind-spot monitoring and automatic panic braking, are standard as well.
4. 2019 Jeep Wrangler
The 2019 Jeep Wrangler is one of the few SUVs on the market that features a convertible roof. Moreover, it's among the most adventures vehicles on the planet. Plus, a starting MSRP of $28,045 makes the Wrangler a very sweet deal.
Two different engines are available for the new Wrangler. Most people choose the standard Pentastar V6 engine, which develops 285 horsepower. An available manual gearbox adds to the fun. To enjoy extra fuel savings, opt for the new turbocharged four-cylinder engine. It enables the Wrangler to return an impressive 23 mpg in the city and 25 mpg on the highway.
While the Wrangler's improved ride quality makes it recommended for long-distance driving, this SUV is a beastly off-road machine. A tough-nosed frame and standard 4WD allow you to dominate trails.
Although Jeep makes a two-door version of the Wrangler, the four-door Unlimited model is the best choice for families as everyone can experience the joy of riding with the top down. Furthermore, there's an outstanding amount of legroom through the cabin.
Jeep's excellent Uconnect infotainment system and a nine-speaker Alpine sound system are among the list of upgrades. You can also now get the Wrangler with automatic cruise control and forward-collision warning.
5. 2019 Porsche 718 Boxster
Drivers who have a little more money to spend shouldn't hesitate to choose the 2019 Porsche 718 Boxster. With a starting price of $59,000, it has every quality you would want in a convertible sports car.
Power comes from a turbocharged flat-four engine. With a total of 300 horsepower resting under the hood, you can look forward to experiencing rapid acceleration. A bigger flat-four engine is found on the S trim. It raises the performance needle with 350 horsepower.
Fuel efficiency is just as impressive. In fact, the EPA rates the Porsche 718 Boxster to average 29 mpg on the freeway.
In addition to the 718's great performance, fantastic handling gives you the utmost confidence on twisty roads. A sport exhaust now comes standard, so you'll hear a mean growl when accelerating.
Excellent seat comfort and a smooth ride make the 718 Boxster the ultimate convertible coupe for traveling. Because of the car's telescoping steering wheel, even tall drivers can relax. While popular features like a touch display and satellite radio come standard, a Wi-Fi hotspot and blind-spot monitoring are on the 718 Boxster's list of options.
6. 2019 BMW 2-Series Convertible
The 2019 BMW 2-Series Convertible comes ready to be taken on a weekend trip. As a more luxurious alternative to the Mazda MX-5 Miata, BMW has priced the 2-Series at a competitive $41,100.
BMW's proven turbocharged four-cylinder engine develops a healthy 248 horsepower. Expect to reach 60 mph in around 5.0 seconds. Rated to develop 335 horsepower, the available turbocharged inline-six engine transforms the 2-Series into a more exhilarating ride.
Very few cars of this performance caliber are as good on gas. Anticipate getting up to 33 mpg.
Power-adjustable sport seats ensure optimum comfort. Aside from a modern iDrive infotainment system with a console-mounted controller knob, a long list of advanced safety features also come standard.
Final Thoughts
While all these convertibles will make your summer more exciting, you must decide which one is best. Your budget and driving style are big factors to consider.
So, make sure to put some time aside to do a little research. It will help you to make the right choice.