Senior drivers aren't limited to buying cars and SUVs – often, trucks can be better equipped for handling the needs of seniors. Older drivers have much more to consider when it comes to purchasing a vehicle than the average car buyer – most senior drivers want above-average visibility, increased safety features, easy-to-use infotainment systems, and above all, a comfortable drive.
And the good news? If you're a senior looking for a truck, there are plenty of models to choose from that offer almost all these features. Check out these reliable choices – the best 2018 trucks for seniors.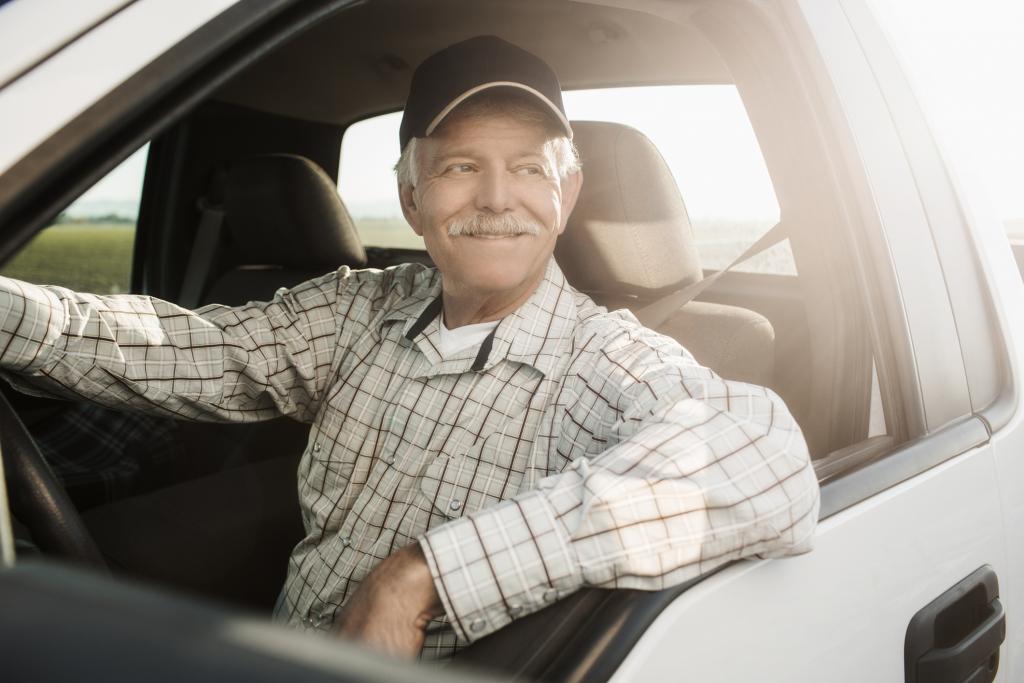 Ford F-150
If you've dreamed of owning a truck in your retirement, Ford wants to make that dream a reality. The Ford F-1501 pickup truck remains America's best-selling truck for 40 years – the 2018 lineup is one of Ford's most affordable lineups yet, with prices starting at $29,641. The new 2018 Ford F-150 models build on 2015's switch to military-grade aluminum. The new lineup now has a 3.0-liter Power Stroke turbodiesel V-6, perfect for long road trips.
As for the safety features, the 2018 F-150 has pre-collision assist with pedestrian detection that is much like another pair of eyes – first it warns the driver, then it automatically breaks if necessary. And senior drivers will be happy to hear that the adaptive cruise control now features stop-and-go traffic assist.
Chevy Silverado 1500
The 2018 Chevy Silverado 15002 is another truck perfect for seniors – and it's affordable too, with a market price that starts at $28,686. It's the perfect ride for those looking for a full-size truck with a quiet interior. There are three cab styles to choose from and two bed lengths, so you can easily find a model that meets your needs.
And rest assured, the 2018 Silverado has received the highest safety rating from the NHTSA. However, older drivers may want to consider a higher trim level because this model included lane keeping assist, forward collision warning, and low-speed automatic emergency braking.
GMC Sierra 1500
The 2018 GMC Sierra3 now comes standard with a rearview camera, which is sure to make parking in those tighter spots a breeze. Starting at a reasonable MSRP of $29,973, you'll be happy to know that the 2018 model now comes with more standard features than ever before – a six-speaker audio system, easy-to-use infotainment system that allows for hands-free Bluetooth connectivity, so you'll be sure to never miss an important call from any of your grandkids. If you live in a colder climate, you may want to opt for the higher trim level that comes with heated and ventilated front seats.
Standard on the Denali trim is the Enhanced Driver Alert package with safety features perfect for senior drivers. It includes forward collision warning, automatic emergency braking, lane keeping assist, and IntelliBeam headlights.
Ram 1500
Looking for a comfortable and spacious ride? Ram has released new luxurious updates to its 1500 models – which offers more spacious seating for drivers and passengers (the perfect truck for taking the grandkids for a spin). How does a leather interior sound? Nice, right? This is available on the Rebel model. All new Ram 1500s4 include an easy-to-use infotainment system with pinch and zoom functions and improved resolution.
As for safety features, all 2018 Rams include Sirius Guardian with SOS call – a great feature that allows you to call for help when you're on the road. Also included is Roadside Assistance, and a Vehicle Finder alarm – never forget where you parked your car ever again!
Toyota Tacoma
The 2018 Toyota Tacoma5 is a great midsize truck, available in rear-of four-wheel drive configurations. Senior drivers are sure to feel safe on the road as all 2018 Tacomas are equipped with Toyota Safety Sense-P features that include forward collision warning, pedestrian detection, automatic emergency braking, adaptive cruise control, automatic high beams, and lane departure warning.
Even more importantly, the 2018 Toyota Tacoma has a well-built interior and is more refined on the road, allowing for a quiet cabin and a more comfortable ride.
Honda Ridgeline
The 2018 Honda Ridgeline6 offers an incredibly smooth ride – and thanks to its car-based chassis, the Ridgeline is perfect for seniors who do a lot of highway driving. It is the second generation of Honda's midsized pickup – but was redesigned to offer more towing capabilities. This truck will have no problem pulling a trailer for a weekend getaway with the grandkids. Plus, with a seating capacity of five, it is sure to meet most seniors' needs.
All safety features are standard on all models – which include adaptive cruise control, automatic emergency braking, forward collision warning, lane keeping assist, lane departure warning, automatic high beams, road departure mitigation, and blind-spot warning.
Get These Senior-Friendly Trucks At an Affordable Price
Now more so than ever, new car buyers will benefit from incentives offered by dealers who need to sell trucks sitting on their lots. Whether you're looking for a midsize truck that's easy to handle or full-size truck with the latest in safety, incentives and deals on some of the best options for seniors are emerging now.
Chevrolet is currently offering up to $2,000 in incentives on the 2018 Chevrolet Silverado according to Edmunds7. Ford is offering qualified buyers up to $3,250 off the 2019 Ford F-150. And Edmunds also reports that Toyota has up to $1,500 in incentives on the 2018 Tacoma.
These are just a few of the deals available. Incentives on trucks change each month, which is why it's smart to search before you buy and compare different pricing and offers.
Like anything, it's always a good idea to be aware of the latest research. We recommend comparing at least 3 or 4 options before making a final decision. Doing a search online is typically the quickest, most thorough way to discover all the pros and cons you need to keep in mind.