Traveling can be difficult without a credit card especially when traveling internationally. However, you may find it equally difficult to be approved for a credit card if you have poor credit.
These four secured credit cards offer plenty for your purchasing needs as well as excellent rewards whether you are a rookie sightseer or a seasoned traveler.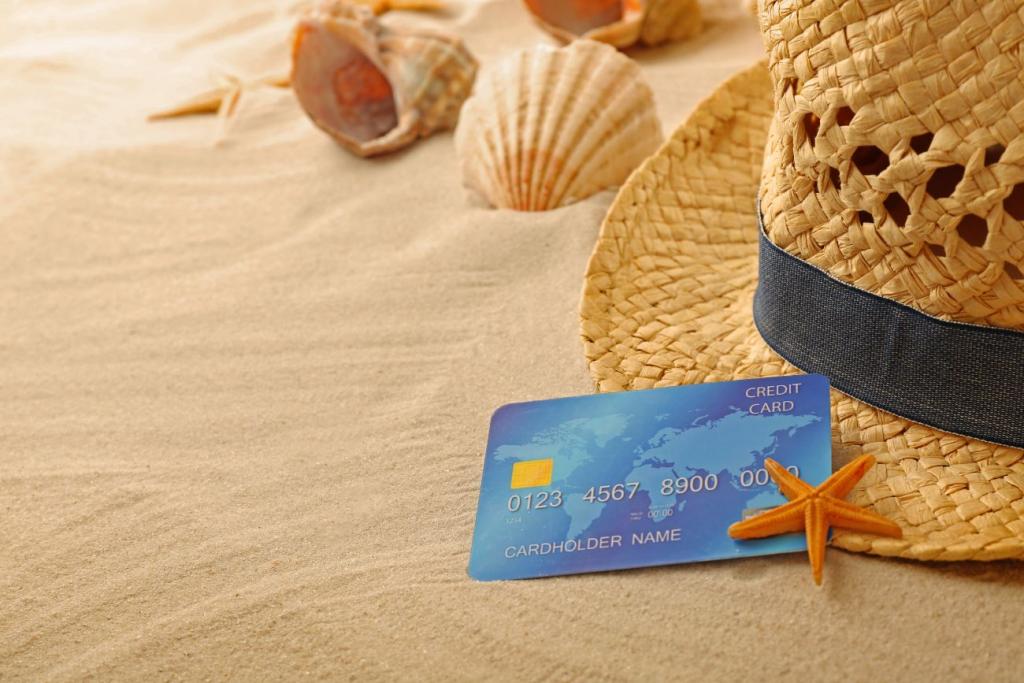 1. LATAM Secured Credit Card
If your true travel joy comes from international travel, the LATAM Secured Credit Card might be right for you. LATAM Airlines flies extensively throughout South America with many connections in North America and internationally, including Western Europe, South Africa, Australia, and Eastern Asia.
With a secured credit card, you will place a deposit on the card. This deposit then serves as your credit line limit. If you eventually move to an unsecured card, the company will return your deposit along with interest. Secured cards are wonderful because they help you build credit.1
The LATAM secured card is backed by Visa and is accepted anywhere that Visa is accepted. Of course, you can use your card for booking your next flight through LATAM Airlines, but also you can use it for purchasing souvenirs around the world and even for making your everyday purchases.
This card does come with a high APR of up to 25.24 percent and an annual fee of $25, which is waived the first year. However, it is a smart choice if you want to build up your credit, plan to pay off your card each month, and want to earn some amazing rewards.
Rewards with the LATAM Secured Visa include the following:
10 percent discount on LATAM Airline costs with a cap of $500 yearly
One point for every dollar spent
5,000 bonus points after your first purchase2
In addition, you can rest easy with $500,000 of travel accident insurance and auto rental collision damage waiver included. Once you have used your card responsibly for one year, U.S. Bank will move you to an unsecured card.3
2. Aeromexico Secured Credit Card
The Aeromexico Visa is a secured credit card sponsored by the Aeromexico Airlines brand. With over 50 destinations in Mexico and service from numerous American travel hubs as well as additional service to certain South American, Asian, and European cities, Aeromexico Airlines is a great choice if you love traveling to warm, sunny climates for relaxation.
Once again, you will start using this card with a secured deposit between $300 and $5,000. This money is deposited into an FDIC-insured account for interest-building. If you establish appropriate credit within 12 months, you will be switched to an unsecured card and your deposit plus interest will be returned.4
With only a $25 annual fee, this card offers you many excellent features, including fraud protection and automatic bill pay. If you are a frequent traveler, you will enjoy the travel and emergency assistance, auto rental collision damage waiver, and travel accident insurance included with the card.
In addition, this Visa card comes with the following perks:
One point for every dollar spent
3,500 bonus points after your first purchase
Two points for every dollar spent on groceries and gas
No baggage fees on Aeromexico flights
$99 companion traveler certificate with each renewal5
3. SKYPASS Secured Credit Card
SKYPASS is the loyalty program for Korean Air. Of course, destinations include dozens of locations throughout Eastern Asia. However, Korean Air also makes stops in a few locations in the Southern Pacific and Europe with connections to 13 U.S. airports.
With the SKYPASS Secured Visa, you can enjoy amazing rewards when traveling on Korean Air as well as rewards for the rest of your purchases. For example, you can enjoy the following perk:
One point for every dollar spent
5,000 bonus points after your first purchase
1,000 bonus miles at renewal
Travel accident insurance up to $250,0006
All of this comes with no redemption mileage cap, complete fraud protection, and travel and emergency assistance.
You will have to pay a $50 annual fee. However, the variable APR of up to 18.49 percent is lower than you might find with other secured credit cards.7
4. Best Western Secured Credit Card
Best Western offers hundreds of mid-range to premium hotels around the United States as well as numerous top international destinations.
If you want to cash in on your stay while building up your credit, choose the Best Western secured credit card accepted anywhere that MasterCard is accepted. Although this card comes with a $40 annual fee and a purchase APR of 21.24 percent, it does offer plenty of perks, including the following:
One point for every dollar spent
Three points for every dollar spent at Best Western and an additional 10 points per dollar when combining it with your Best Western Rewards account
5,000 bonus points with your first purchase8
Choose Secured
The best card for you if you are trying to build up your credit for the first time or are trying to repair bad credit is a secured card. It offers you the backing of a worldwide-recognized name, such as Visa or Mastercard, and the ability to make purchases without having to bring along cash, which is especially important if you are traveling.
Whether you like to fly around the world or stay in the best hotels, the above four cards offer you excellent credit-building solutions.