Moving on your own is physically and mentally exhausting, especially if you are moving a long distance or out of state. Your friends and family can only provide so much help. Moreover, they may not be able to help with moving into your new home if you are moving too far away.
Instead of doing everything by yourself, consider hiring a moving company. Professional movers will make your move as easy as possible. Depending on the type of move, pricing can be quite affordable. In fact, it ranges from $800 to $2,500 for short-distance moves and $2,200 and $5,700 for long distance moves.1
If you're wondering whether professional moving companies are worth the cost, there are a few reasons to hire one.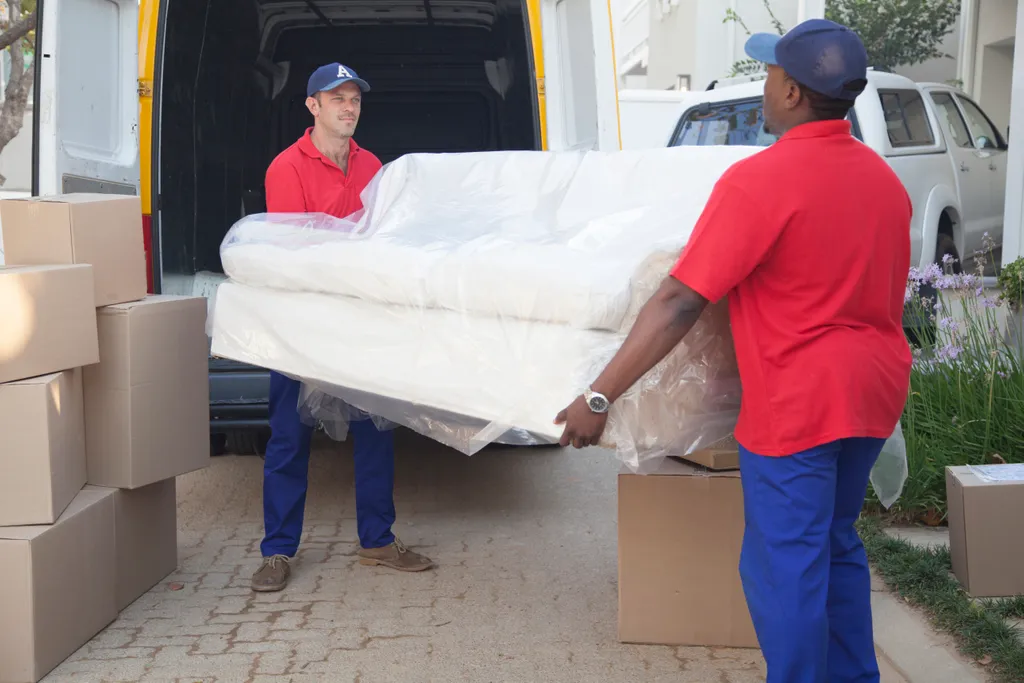 1. No Heavy Lifting
When you move on your own, you have to carry all of your furniture out of your home, lift it into the truck, unload it from the truck, and carry it into your new home. Even if you're in great physical shape, this can be exhausting and can lead to back injuries like sprains, strains, and tears.
Professional movers are trained to lift heavy objects and have special tools and equipment to help them move furniture and other heavy items safely. You don't have to risk injuring yourself, a friend, or a family member when professionals handle the job.2
2. Prevent Damage and Protect Items
It's common for items to get lost or broken during a move, but if anything breaks while a moving company is handling your items, they'll be held accountable for anything that goes wrong.
During a do-it-yourself move, you'll be out of luck if an expensive item is broken. Moving companies are required by law to have insurance. In most cases, this insurance will cover lost or damaged items as well as bodily injury that may occur during a move.
3. Faster and More Efficient
Professional movers spend every day packing and moving, so they work more quickly and efficiently than the average person. Instead of trying to move on your own, you'll have a team of experienced professionals to help. They likely have a system to move as quickly as possible, and they know the best ways to maneuver large items through narrow halls and doorways.
Most moving companies will also give you a specific date and time you can expect your belongings to reach your new home. Professional movers pride themselves on fast and reliable service, so you can trust they'll reach your new home as efficiently as possible.3
4. Save Time
There are plenty of other tasks for you to complete during your move besides loading and unloading the truck. If you let professional movers handle the time-consuming job of transporting your belongings, you can focus on everything else you have to do, like returning or picking up keys, changing your address, and transferring utilities.
When you know that your belongings are being taken care of by a trustworthy moving company, you'll have enough peace of mind to stay focused on your other tasks. This is especially helpful if you have children or pets to take care of while moving.
5. Less Money Spent on Equipment
A moving company will have all the equipment you need to get your boxes and furniture out of your home and into the truck. During a do-it-yourself move, you may find you don't have the tools to disassemble your bed frame or a dolly to move a heavy desk. Supplies like boxes, bubble wrap, and moving blankets can add up, too.
While it may cost money to hire a moving company, you'll save some money on equipment. A moving company can also give you a realistic quote for the entire cost of the move so you won't run into any unexpected expenses along the way.
6. Inventory Services
It's easy to lose track of items during a move, but most professional moving companies offer inventory services. Because they'll be held responsible for missing items, they'll keep careful track of everything they load into the moving van.
When you arrive at your new home, you and the movers can check the inventory list to make sure everything has arrived in one piece. Instead of wondering about the whereabouts of an item weeks after the move, you'll know right away if something is missing.
Hire Professional Movers Today
Moving is a stressful experience but hiring professionals to help will make it much easier. You'll know that your belongings are in good hands, and you'll have extra time to take care of everything else you need to do. If you're planning on moving soon, take some time to research moving companies in your area. When the day of the move comes, you'll be glad you're not handling it alone.
Like anything, it's always a good idea to be aware of the latest research. We recommend comparing at least three or four options before making a final decision. Doing a search online is typically the quickest, most thorough way to discover all the pros and cons you need to keep in mind.