Canada is the second-largest country in the world by total area, only behind Russia. It's also a nature lover's paradise. Visitors can choose to visit enormous lakes, the Rocky Mountains, fierce rivers, and even volcanoes.
On top of its natural beauty, Canada is known for its rich culture. In fact, it has a strong indigenous heritage, along with being a former British and French colony.
As well as having a high per capita income, its renowned for its friendly and welcoming people. Therefore, it's no surprise Canada frequently ranks in the top 10 happiest countries in the world.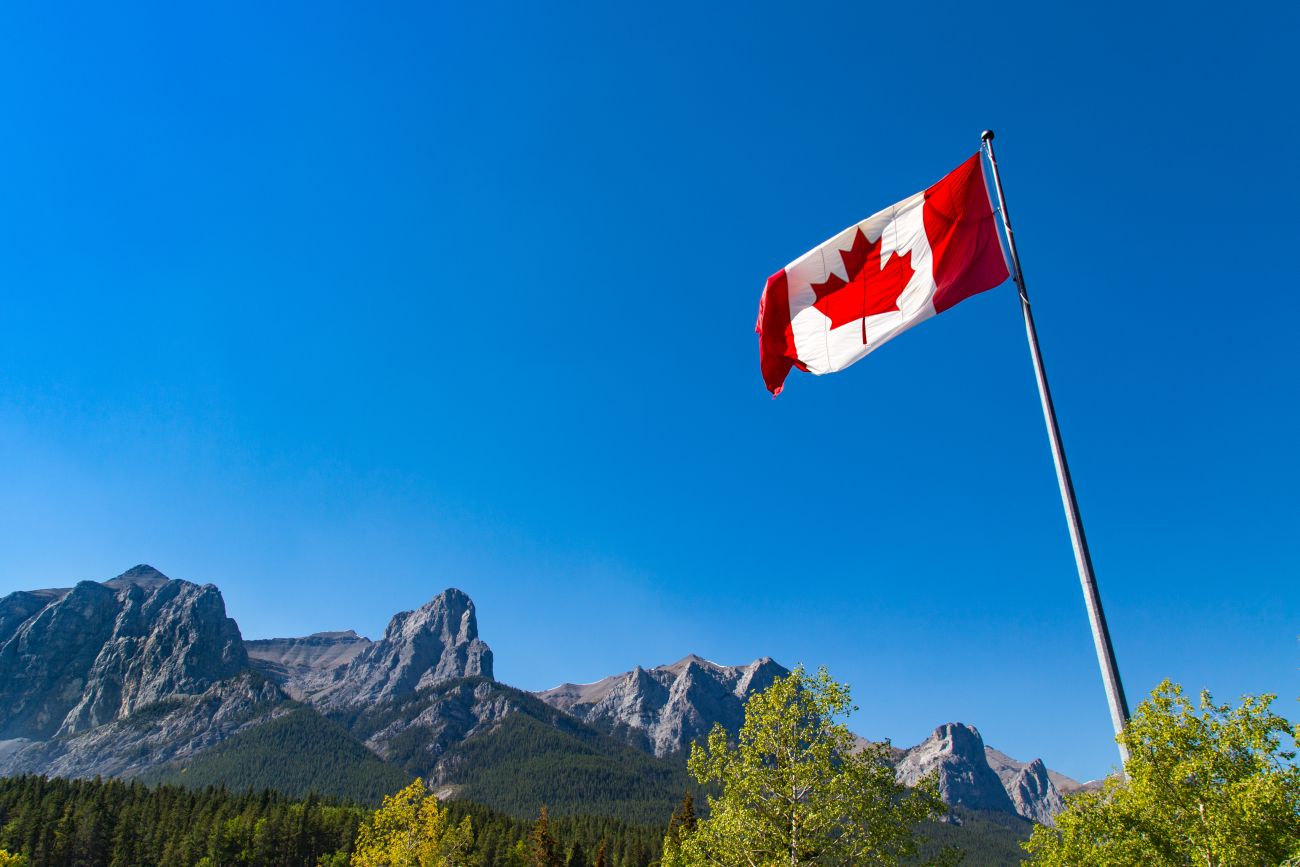 Transport
Traveling around Canada is straightforward and can be done in many different ways.
Flying is by far the cheapest mode of transport, especially considering it's possible to "air hitchhike" with flight couriers around the Arctic Circle. Visitors can also travel by:
Bus, though it can take a long time if you're crossing the prairies;
Rental car;
Train, but it can be somewhat expensive;
Rental RV, which are ideal for road trips, or;
Ridesharing.
Language
The official languages of Canada are English and French.
In addition to the official languages, there are over 65 languages and dialects, which altogether comprise of 12 different indigenous language groups. Among these indigenous language groups, Cree, Inuktitut, and Ojibway having the highest number of speakers.
It's worth noting that due to Canada's favorable multicultural environment — and therefore a large number of immigrants — 6.8 million people have non-official first languages. The most common languages being Chinese, Punjabi, Spanish, and Tagalog.
Main Cities
Ottawa
Ottawa is the capital of Canada and fourth-largest city in the country. As a bilingual city, most citizens can communicate in both English and French. And due to its thriving high-tech business sector, it's one of the fastest growing cities in North America.
Visitors can easily explore Ottawa on foot and popular attractions include Parliament Hill, the Canadian War Museum, and the Canadian Museum of History. It's also worth going to ByWard Market for some shopping and skating on Rideau Canal during the winter months.
Toronto
Toronto is a massive financial and cultural hub, along with being Canada's largest city. It's arguably one of the most cosmopolitan destinations in the world. As such, it's sometimes dubbed "The New York City of Canada."
Make sure you pay a visit to the Art Gallery of Ontario and CN Tower, which is the tallest free-standing building in North America. If the sun is shining, spend the day at one of the city's beaches.
Montreal
Sometimes called "the Paris of Canada," Montreal is the second-largest city in the country and thought to be the center of the country's French-speaking culture.
Montreal has 19 districts, each offering different attractions. Head to Old Montréal to see the classic 18th-century buildings and the famous clock tower at Quai de l'Horloge, walk along Saint Laurent Boulevard for some beautiful street art, or climb atop Mont-Royal for an incredible view of the city.
Calgary
Calgary is located at the foothills of the Canadian Rockies and serves as the main point of access for those visiting Banff National Park. It's a massive business hub and has the highest number of millionaires per capita in the country.
Most travelers enjoy a walk along Prince's Island Park, the views of Calgary Tower, and the hustle and bustle of Canada's third-largest Chinatown.
Interesting Sites and Natural Wonders
Niagara Falls
Niagara Falls is possibly the most iconic Canadian tourist attraction. Located on the border between Canada and the U.S., Niagara Falls is comprised of Horseshoe Falls, the American Falls, and the Bridal Veil Falls.
Visitors can enjoy the views of falls from Skylon Tower, Minolta Tower, Queen Victoria Park, or the Journey Behind the Falls, which is a series of tunnels near the bottom of the Falls.
Banff National Park
Covering an area of 6,641 square kilometers, Banff National Park is Canada's first national park. Surprisingly, the park still has around 93 percent of untouched nature.
Most travelers visit the park for its amazing ski/snowboard resorts. Aside from that, visitors can go on hikes around Sunshine Meadows, take a gondola ride to Sulphur Mountain's summit, or see the hot springs at the Cave and Basin National Historic site.
Northern Lights
Much like other countries with regions located in the Arctic Circle, Canada is a prime destination for those in search of the Northern Lights, the green scintillating glow in the sky also known as Aurora Borealis. The best places to see them in Canada are in the Northern Territories, Nunavut, and Yukon.
Dinosaur Provincial Park
Located in Southeastern Alberta, Dinosaur Provincial Park is the perfect destination for Jurassic Park fans or anyone with an interest in natural history.
Around 75 million years ago, the area was brimming with life. Nowadays, the site contains fossils of nearly 500 species of animals — over 50 of which are dinosaur species. Visitors can also see over 160 species of birds, which include prairie falcons, golden eagles, and ferruginous hawks.
Safety and Health
Canada is considered an extremely safe country and visitors shouldn't have to worry about violent crimes. However, common sense is always necessary as petty crimes such as bag snatching might occur.
There's the risk of fires in the summer and blizzards in the winter, and diseases like diphtheria and measles are still common in the country. Therefore, it's important to purchase travel insurance and make sure you're covered.
Weather
Because of its immense size, there isn't a one-size-fits-all temperature guide for Canada. Generally speaking, it experiences colder temperatures due to its close proximity to the Arctic.
Most urban centers are near the U.S. border, so it's not uncommon for summer temperatures to reach 35°C. However, the Prairies and other inland and northern cities may encounter high-temperature fluctuations, hitting sometimes -40°C during the winter.
Food and Drinks
Many travelers are familiar with maple syrup or may have heard of poutine, the dish containing Fench fries, cheese curds, and gravy. However, Canadian cuisine has a lot more to offer.
Don't leave the country without trying beaver tails, Halifax donairs, fiddleheads, and butter tarts. When it comes to drinks, Canadians love their local beer and cider breweries, but one can also taste delicious ice wine, rye whiskey, and local gins.
Festivals
Canada has a deep love for festivals. So, no matter the time of the year, you'll find one that matches your interests.
In the Spring, it's possible to enjoy Ontario's Stratford Theatre Festival or maybe the Canadian Tulip Festival. Summer brings the famous Montreal's Jazz Festival, Calgary Stampede, and Caribana in Toronto. The Fall is popular with film and literary events, so don't miss Halifax's Atlantic Canada Storytelling Festival or Toronto International Film Festival. Winter is obviously about the cold snow, with the popular Festival du Voyageur in Winnipeg and Winterlude in Ottawa and Gatineau.
People and Culture
It won't take long for you to see why Canadians are such lovely people, but it's also important to adapt and abide by their (sometimes unwritten) social rules. Losing your temper, bragging about your possessions, or talking in a confrontational way is considered rude and should definitely be avoided.
Canadians are also proud of their country and don't like to be called "American." While they like American citizens, they mostly disapprove of the government. It's also a good idea to avoid topics about Indigenous Canadians or Quebec's independence.
Travel Requirements
If you're traveling to Canada by plane and are from one of the countries eligible for visa-free entry, you'll need an Electronic Travel Authorization before you can even board the flight. If you're entering by land or sea, there are no requirements.
You'll also need to travel with your passport, and in most cases, give your fingerprints and photos depending on what you'll be doing in Canada.
Related Articles: Top 10 Warm Weather Destinations for Spring and How to Plan a Last-Minute International Trip on a Budget