If you'd like to spend time on the water during your vacation, consider a river cruise. On this kind of cruise, you book a cabin on a ship and travel on a river past beautiful scenery. These cruises also include stops at various cities, towns, and countryside attractions.
One of the most popular destinations for river cruises is Europe, where travelers discover a blend of excellent cuisine, rich culture, and gorgeous surroundings.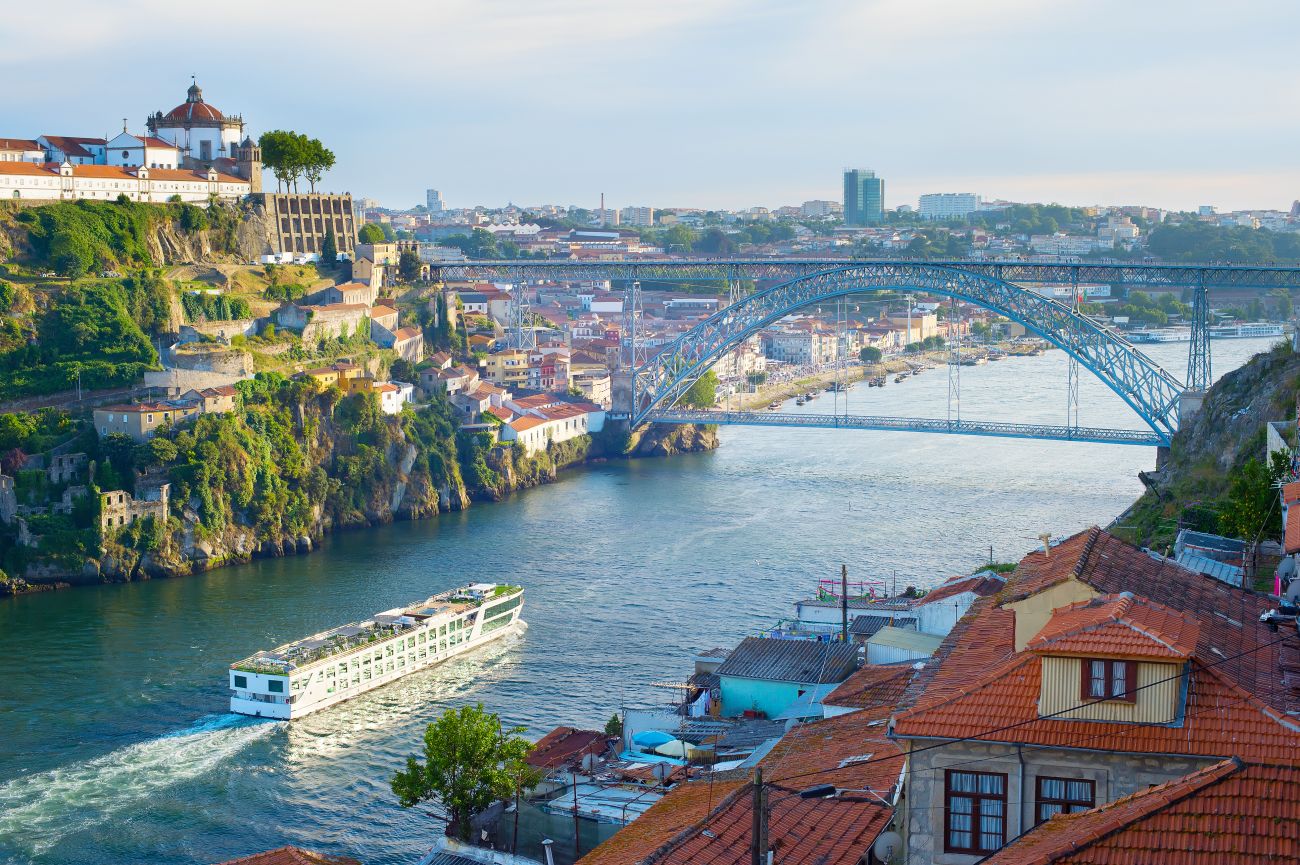 What Is Included in a European River Cruise?
Once you book a cabin on a vessel, you'll find the kinds of amenities and services available at a hotel. Along with comfortable beds, accommodations typically include TV, Wi-Fi, and access to your own bathroom. Some cabins come with balconies.
On the ship, you can eat multiple meals daily and enjoy snacks, coffee, tea, and alcoholic beverages. Dishes from the region you're traveling through are usually on the menu. Along with restaurants and bars, the ship's amenities may also include a fitness center, observation lounge, library, beauty salon, sun deck, and pool.
The itinerary for a river cruise will allow you to regularly disembark to enjoy attractions and activities on land. For example, Viking Cruise's eight-day cruise on the Seine River includes a tour of Paris, guided hikes in the French countryside, and visits to Rouen's cathedral, Monet's gardens in Giverny, and the beaches of Normandy.1
Are European Cruises Better Than Luxury Ocean Cruises?
To determine which type of cruise would suit you best, you need to consider your preferences and what you hope to enjoy on your trip. Traveling on a river is quite different than a cruise out on the ocean.
An ocean cruise will usually involve a much larger ship. Although there are some companies that offer small-ship voyages, ocean cruises generally carry thousands of people. On a river cruise, there are often no more than a couple of hundred people.
Depending on the type of ocean cruise you take, you may spend days at a time on the open water. In contrast, river cruises are able to stop with greater frequency, so you get to see more of what's on land. To compensate for the greater amount of time spent on the water, ocean cruises will generally offer many more entertainment options on the ship, such as sports and live shows.
Think about the type of view you would like as well. With ocean cruises, you can spot some beautiful scenery along the shore or gaze at the unbroken sea. With European river cruises, you won't get the visual effect of an open ocean, but you'll enjoy a greater variation in scenery, including forests, mountains, charming towns, and fascinating architecture.2
5 Popular European Cruise Locations
1. Danube River
The Danube is roughly 1,770 miles in length and flows from Germany to the Black Sea. Typically, Danube cruises run between Germany and Hungary, and the major highlights include Vienna and Budapest. Biking excursions, historic cities, and concerts with classical music are among the attractions. Plus, travelers enjoy what feels like a voyage through the heart of the European continent.3
If you aren't factoring in special deals, the base fare per person for an eight-day trip on the Danube may dip to roughly $2,0004 or climb to over $5,0005.
2. Rhine River
Flowing from Switzerland to the Netherlands, the Rhine will take you through a countryside filled with mountains, castles, vineyards, and other sights from fairy tales. Major cities and cultural centers, such as Strasbourg in France and Cologne in Germany, are also what makes a cruise on this river so popular. Through connections in the waterways, you can easily combine a cruise on the Rhine with cruises on the Danube, the Main, and the Moselle.6
An eight-day trip on the Rhine is available at a range of roughly $2,300 per person7 to over $4,400 per person8.
3. Rhône River
A cruise on this river is popular among people who want to explore some of Southeast France, including Provence. A typical Rhône cruise lasts a week. They usually highlight Roman ruins, a papal palace, and other significant cultural sites in Arles, Lyon, Avignon, along with small towns that have preserved their architecture from centuries ago. Other attractions are the cuisine and the famously beautiful countryside, which has inspired European painters.9
The base fare per person for eight days on the Rhône ranges from a little under $2,00010 to over $5,60011, depending on when you're traveling and what cruise line you choose.
4. Seine River
The main reason people pick this river is that it will take them into Paris, a city with numerous cultural wonders, excellent food, and a romantic atmosphere. North of the city, a Seine cruise also promises an array of cultural, historical, and natural attractions that make Normandy one of the best parts of Europe to visit. From medieval churches to Impressionist art to the history of the Second World War, you'll have a great variety of activity.12
Eight days on the Seine can be available at a base fare of $2,025 per person13 or reach nearly $6,000 per person14. As with other cruises, much depends on the deals you find, the dates of your trip, the cruise company you choose, the type of accommodations you prefer, and the length of the cruise.
5. Douro River
Cruises on the Douro immerse you in Portugal's countryside and give you a taste of Spain as well. Travelers who want a destination with a rich culture, but less tourist traffic might pick a Douro cruise. A typical cruise will show you UNESCO World Heritage sites, estates that make port wine, and the gorgeous city of Porto. In fact, Porto is home to colorful buildings, intricate churches, and other specimens of magnificent architecture.15
You may be able to find an eight-day Douro cruise for a base fare per person of approximately $2,180.16 On the other hand, a more expensive trip of the same duration may be over $4,190.17
Which European Cruise Will You Pick?
From the countries you want to visit to the types of activities you'd most enjoy, there are multiple criteria for picking the best European river cruise. Some companies offer a broad array of geographic choices, while others specialize in one or two regions.
As such, make sure to research your options and look for special deals.