If you're concerned about an elderly loved one who insists on living at home alone, a medical alert system can make any senior's independence far safer. Medical alert systems provide peace of mind for the elderly with 24/7 monitoring, ensuring someone is always available to help.
Falls and unexpected health events can lead to death if not treated quickly, and medical alert systems can prevent the worst. And they don't have to be expensive – medical alarms may be covered under certain parts of Medicare.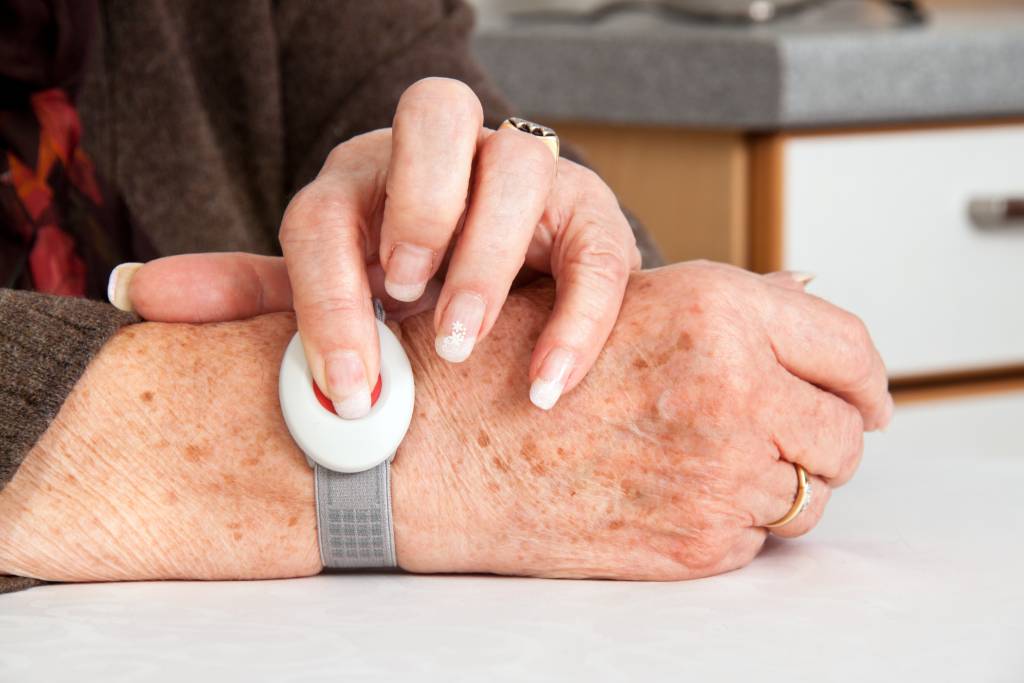 These four systems offer monitoring for you and your loved ones to achieve peace of mind.
What Types of Medical Alarms Are Covered by Medicare?
What's covered and what isn't covered by Medicare can be difficult to determine and understand. According to Medicare.com¹, Medicare Part B is the part of your insurance that's supposed to cover medical equipment. While a medical alarm, or medical alert device, might be considered a piece of medical equipment, Part B doesn't offer any coverage or financial discount on them.
However, there is a portion of your Medicare plan that might offer coverage for medical alarms. If you subscribe to a Medicare Advantage plan or other supplemental Medication health plans, you may be able to get some or all of the cost of a medical alarm covered. If you need a medical alarm for health-related issues or an ongoing medical condition, it's even more likely you'll be able to cover the cost with supplemental Medicare plans.
Read on to take a closer look at some of the medical alarm options available to you.
1. Lifeline: a Trusted Medical Name
Manufactured and managed by Philips, the Lifeline system is a traditional medical alert system with a pendant or wristband alert button and a base acting as both a receiver and speaker. Signals and communications are sent over the AT&T cellular network to ensure widespread coverage. The emergency buttons are water-resistant, making them suitable for use in the shower or bath where the majority of falls take place.
Both a home system and a mobile option, known as GoSafe, are available from Philips. Designed to send alerts using nearby Wi-Fi signals, GoSafe is best for active seniors or those who travel on a regular basis. If an emergency should occur, Philips can send an audio beacon to alert medical personnel to your location when they arrive. Lifeline systems have good range for home use and are able to pick up voices at a variety of volumes, so you know you can rely on them to keep you or a loved one safe.
The in-home option from Lifeline² starts at $29.95 per month for monitoring and requires an initial investment of $50 in equipment. For GoSafe, you pay $54.95 per month and an initial $149 fee for equipment.
2. Bay Alarm Medical: the Cheapest Option
Starting at $19.95 per month for in-home coverage, Bay Alarm Medical³ provides affordable emergency monitoring with flexible options to fit your lifestyle. The company offers three types of systems:
In-Home with a pendant or wrist button and a receiver
Mobile GPS Help Button with GPS tracking
In-Car Medical Alert designed to plug into a 12-volt jack and monitor for crashes in addition to medical emergencies
Automatic fall detection is also available for an additional fee. This service sends an immediate signal to emergency personnel if a high-impact fall occurs.
With its waterproof call buttons and 1,000-foot range, the In-Home system is suitable for seniors and those with disabilities who spend most of their time at home. The base works with landlines, VoIP and cable connections, and setup is fast and easy. Quick response times ensure you're connected to a trained operator and the right people are contacted as swiftly as possible when calls are made. A reset feature on the emergency buttons allows accidental calls to be canceled within 15 seconds of being made to avoid panic or confusion.
3. MobileHelp: the Best Quality Alarm
High-quality equipment and a variety of monitoring choices make MobileHelp a versatile solution for emergency medical monitoring at home or on the go. Both of MobileHelp's systems operate over cellular connections, so they're good choices for seniors and disabled individuals living in urban areas or those who enjoy active lifestyles.
The "Classic" in-home system offers coverage with a standard pendant button or wristband and a base station, and signals are sent over a cellular connection. "Solo" provides mobile GPS monitoring, and "Smart" integrates MobileHelp's services with a Samsung smart watch to create a wearable system with additional features, including activity tracking. The "Duo" bundle combines both the Classic and Solo systems into one package for $41.95 per month, a significant savings over purchasing both systems separately.
When called, MobileHelp's operators connect with the emergency contacts most appropriate for the situation. Help is available in all 50 U.S. states, and with no need for a landline, coverage can go with you or your loved ones as you travel. Before signing up for a monthly, semi-annual or annual package, talk with your insurance provider about potential Medicare coverage.
4. LifeStation: the Best Value for Price
Praised by reviewers for being reliable, affordable and easy to set up, LifeStation includes a wristband or pendant call button and a base station designed to connect to a landline. Two other models are also available:
LifeStation Plus for use with cellular connections
LifeStation Mobile with GPS for active users
The mobile model requires no base station and helps LifeStation's operators locate you or a loved one in the event of an emergency. Call buttons include fall detection to automatically send notification to LifeStation should a fall occur. Setting up an action plan with the company offers peace of mind if you're ever unable to speak when you push your button for help.
Waterproof buttons provide a 1,000-foot range for in-home systems, and the mobile hardware's battery is good for up to five days between charges. LifeStation conducts weekly silent tests of all systems to ensure reliability. Individuals with a medical need for a LifeStation system⁴ may be able to obtain Medicare coverage for the $25.95 per month charge for an annual plan.
Conclusion
Whether or not Medicare insurance will pay for the equipment cost and monthly fees associated with a medical alert system, it's well worth the investment. Having a reliable connection to emergency services for yourself or a family member can prevent serious complications from a fall or other medical event.
To find a medical alert system you can trust with the features you need for safety and peace of mind, research the available systems, and compare prices to find the best value. Talk with your insurance company to find out how much of the cost can be covered so you can get the most comprehensive and reliable system available to protect yourself or your relatives.
Like anything, it's always a good idea to be aware of the latest research. We recommend comparing at least 3 or 4 options before making a final decision. Doing a search online is typically the quickest, most thorough way to discover all the pros and cons you need to keep in mind.