Losing weight is an incredibly common goal. According to Time, 49 percent of all Americans say they're trying to lose weight. But even if you aren't alone, the process of losing weight is not an easy task.
From diet to exercise, losing weight takes time – and it can be tough to stay on track. Fortunately, new weight loss apps available on smartphones and other smart devices are here to help keep you working towards your goals.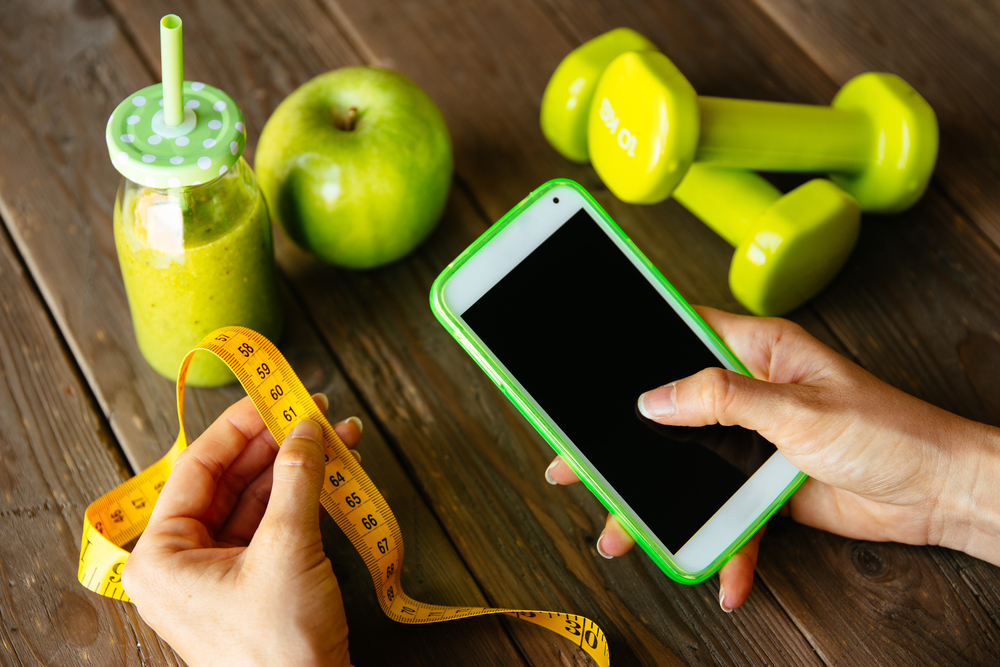 Just how effective are weight loss apps? Whether you're relying on an app to exercise or eat healthy, they can have a seriously helpful impact. A recent research study published in the Journal of Medical Internet Research discovered that individuals who use fitness apps are more active than those who don't and tend to have lower BMIs.
While there are plenty of apps to choose from, not all weight loss or fitness apps are equal. You need to find an app that works for you, and one that's effective. Here are the 10 best apps available to help you lose weight and achieve your health or fitness goals.
1. MyFitnessPal
Cost: Free
Compatibility: Apple App Store, Google Play
Best For: Counting calories and sticking with a healthy diet.
MyFitnessPal is one of the top weight loss apps available on smart devices, and it's easy to see why. Designed to help users lose weight by tracking their meals, MyFitnessPal helps you track the calories you consume and gives you a full picture of your dietary and health habits as you log your meals and snacks.
When you sign up with MyFitnessPal, you'll set a weight goal and input your current weight. The app will then calculate your daily calorie needs to meet your goal weight. Each day, you'll need to log everything you eat. Fortunately, with a massive nutrition database, it's easy to enter your foods and serving size. You can even scan the barcodes of food products to figure out your calories and nutritional information.
With every entry you make, MyFitnessPal will calculate the calories you've consumed and break down your nutritional habits. If you're eating too much sugar or sodium, the app will let you know. Not meeting your hydration or protein needs? The app will notify you.
2. Lose It!
Cost: Basic membership, free. Premium membership, $3.33 per month.
Compatibility: Apple App Store, Google Play
Best For: Calorie counting and tracking weight loss.
If you want to lose weight, Lose It! is made for you. This app is devoted to counting calories and tracking weight, making it a fantastic companion for anyone who's trying to shed a few pounds and watch what they're eating.
After entering your age, weight, and goals, Lose It! will determine how many calories you should consume each day, along with a personalized weight loss plan that will help you choose the best foods to fuel your weight loss and your body. And logging your food is easy with Lose It! – the database of foods and calorie information is massive.
Don't want to log manually? Lose It! has a really unique feature called Snap It, which lets you take a photo of your meal. The app will determine your portion size and log the meal's calories automatically.
A basic membership includes the app's most helpful features like calorie and exercise tracking, community access, and syncing capability with both Apple Health and Google Fit. A premium membership does include additional features, like activity tracker support, syncing capability with fitness apps, nutrition insight reports, data analysis, and even meal planning.
3. Weight Watchers (WW)
Cost: $3.84 per week, with additional purchases and fees available in-app.
Compatibility: Apple App Store, Google Play
Best For: Creating better eating habits and tracking dietary choices.
Recently rebranded as WW, Weight Watchers offers a handy app that puts the company's most important dieting principles in your hand and makes it easier to make healthy choices. Like the WW program, the app helps users identify the best foods for their weight loss goals and encourages tracking weight over time.
In the Weight Watchers app, you'll set a personal weight loss goal. The app will then set a "point range" for you, which is a range of WW points you're meant to stay within each day. You're able to then choose any foods you'd like to eat – but you'll need to track the points value of every food in the app. Each food item will be assigned a point value, which encourages you to make the healthiest choices possible for your goals.
With thousands of foods from popular restaurants, it's easy to find exactly what you're looking for in the Weight Watchers app. You can easily find the point values for your favorite foods, and you'll be encouraged to opt for low point foods as you work on your weight loss. A barcode scanner feature also makes it incredibly easy to log your meals and foods.
Although you have to be a Weight Watchers member to use the app, you can opt for the online-only membership to keep costs low. Once a member, you'll have access to all of the app's features as well as different reports and graphs to show your progress over time.
4. Nike Training Club
Cost: Free
Compatibility: Apple App Store, Google Play
Best For: Workouts available on demand.
As much as healthy eating is important for weight loss, exercise is also a crucial component of the process. And thanks to the Nike Training Club app, you can have a whole host of on-demand exercises, workout videos, and experienced trainers in the palm of your hand so you can get your fitness on absolutely anywhere.
With the Nike Training Club app, you can accomplish just about any exercise goal. You can create a customized workout plan specially designed to help you build muscle, slim down, or get fit. Or you can work out as often as you'd like on your own, choosing any of the workouts available on-demand to tackle in your home or at your local gym.
In the app, you can take beginners' workouts, try more advanced classes, or opt for one of the app's recommended workouts for your fitness level. If you'd like to set up a training plan, you can choose how often you'd like to work out, what exercises and activities you prefer, and pick whether you're interested in classes with gym equipment, weights, or body weight only.
Of course, you can also opt to work out entirely on your own, picking and choosing what you're in the mood for when you're ready to exercise. From workouts designed for runners to classes for defined muscle groups, the Nike Training Club app truly has it all.
5. Noom
Cost: Basic membership, free. Premium membership, $59 per month.
Compatibility: Apple App Store, Google Play
Best For: A personalized approach to weight loss, with encouragement and motivation.
A relative newcomer to the weight loss app space, Noom offers a more personalized approach to weight loss than its competitors. Sure, you'll watch what you eat, but you'll also get the chance to speak to real professionals along the way and have a personalized plan based on your goals.
Available in a free basic membership and a paid premium membership, this app has you enter your weight and your goal in order to set up a dieting plan that's based on calorie counting and tracking. You'll need to record all of your meals and snacks each day, and the app encourages you to get moving as well – you can even sync your Google Fit or Fitbit for easier goal tracking.
Upgrade to a paid membership, and you'll get a more personalized approach from Noom. You'll be paired with a health coach who checks in with you regularly, exchanging encouraging messages and helping you chat through any difficulties on your weight loss journey. You'll also be placed in a support group where you can discuss tips, frustrations, or your new accomplishments. Your coach and support group will help guide you to your goals, no matter what they may be.
6. FatSecret
Cost: Free
Compatibility: Apple App Store, Google Play
Best For: Those in need of a support system or weight loss community.
Fat Secret is designed to pair users with a support system of online users who can offer advice, help you celebrate your wins, and push you through plateaus.
Fat Secret includes some of the very best features of other weight loss apps. You'll log your food intake and count calories to make sure you're sticking within your recommended limits. You'll also monitor and log your weight and make healthier choices thanks to a database of nutritional information for restaurants, supermarket foods, and popular brands. Over time, Fat Secret will also show you your monthly calorie averages and offers reports to help you track your progress.
But in addition to those basic weight loss features, you'll have access to the entire Fat Secret community right in the app. The community chat feature allows you to talk with other app users, interacting with them about your goals, your challenges, and your triumphs. You can also join specialized groups to build a more close-knit community of supporters.
7. Fooducate
Cost: Free, with in-app purchases
Compatibility: Apple App Store, Google Play
Best For: Learning how to choose healthy foods and understand nutrition.
Half the battle of losing weight is learning how to change your eating and nutrition habits – but with Fooducate, you'll be able to learn how to fuel your body better right from your smartphone. Fooducate is an app that rates your food choices so you can stop opting for unhealthy foods and choose better options.
Fooducate is both a nutrition scanner and a logging app. You'll enter your meals in the app either by scanning the barcode of different foods or manually entering them. Once entered, your food choices will be rated by the app on a letter grade scale. Choose something healthy, like green vegetables or fresh fruit? You'll likely get an A+ grade. Opt for sodium-filled chips or foods heavy in saturated fats? You'll see a failing grade of D or F.
With each food grade, Fooducate also breaks down detailed nutritional information for you, showing you added sugar, trans fats, high fructose corn syrup, and more. But Fooducate doesn't only show you the bad – the app also recommends healthier options and alternatives so you can make a better, informed choice.
8. HealthyOut
Cost: Free
Compatibility: Apple App Store
Best For: Finding healthy alternatives when dining at restaurants.
A busy life can leave you wanting to order in or pick up food, but it's hard to make healthy choices at restaurants. And that's why you need HealthyOut on your smartphone.
HealthyOut is designed just for this dilemma. You can't avoid eating out, but you can find healthy options at any restaurant – and HealthyOut provides you with a list of the healthiest options available at most restaurants. All you need to do is open the app to see a list of healthy dishes available at the restaurants in your area. You can even filter HealthyOut's list of recommendations based on your specific diet. If you're trying to stick to a paleo, vegetarian, or heart-conscious diet, you can filter the available options by diet.
Right now, there are more than 500 cities loaded in HealthyOut, though not every restaurant in your area may be available. Make sure you check to make sure the app will work in your city.
9. Cron-O-Meter
Cost: $2.99, with optional in-app purchases
Compatibility: Apple App Store, Google Play
Best For: Tracking nutrition, fitness, and overall health data with a focus on nutrients and body fat.
Like many other weight loss apps on this list, Cron-O-Meter is a fantastic companion for anyone who's looking to track and log their meals and snacks. But, in addition to those basic features, Cron-O-Meter includes the ability to track your nutrition, your fitness, and your health over time.
Along with its extensive and comprehensive calorie counting feature, the Cron-O-Meter app has nutritional information stored for more than 50,000 different foods. You can track more than 60 different nutrients in the app – so while you're watching how much you eat you can also ensure you're getting the best nutritional value.
In addition to tracking your dietary needs, this app also has a cool feature called Snapshot. The Cron-O-Meter Snapshot lets users upload photos at different points along the weight loss journey. You can watch your physical progress happen right in the app, comparing how much you're losing. And seeing those results can be even more inspiring than simply counting calories.
10. Aaptiv
Cost: $14.99 per month for a monthly membership. $99.99 for a one-year membership.
Compatibility: Apple App Store, Google Play
Best For: Following along with trainers during workouts and finding a fitness routine.
You don't need a gym or a gym membership to get fit – you can accomplish that right at home with Aaptiv downloaded on your smartphone or tablet. This innovative app offers on-demand workout classes, giving you access to exercises of all kinds so you can sweat it out wherever you're comfortable.
For a monthly fee, Aaptiv lets you take an unlimited number of on-demand classes led by fitness gurus, personal trainers, and other exercises experts. Just pick which workout you'd like to do, from kickboxing to running to strength building, and you'll be guided through the entire session by a trainer or class leader. It's just like working out in a fitness studio, but without having to leave home.
Another perk of using Aaptiv is you can squeeze in workouts of any length of time. From 10-minute strength training to half-hour advanced kickboxing, it's all available in this versatile app.