Living with psoriasis means you're frequently facing health challenges. A lifelong condition that can worsen during flares, psoriasis leaves its sufferers struggling with itchy, scaly skin that's uncomfortable and painful. And sometimes, there's little you can do to help these flares or symptoms.
However, what you eat might have an impact on your psoriasis. Choosing the right foods – or the wrong foods – could affect your flares, your symptoms, or even your overall lifestyle.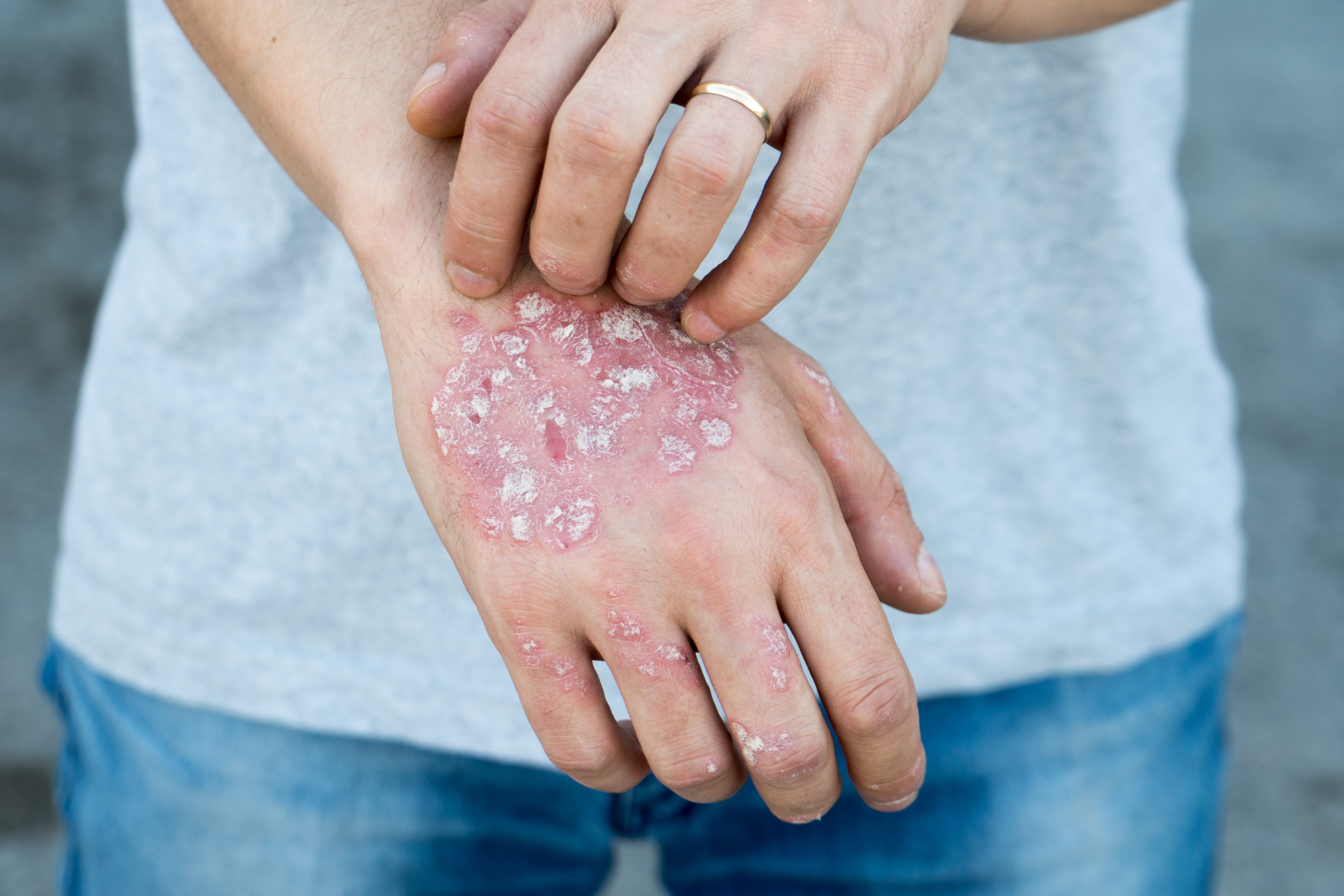 Although Medical News Today¹ reports there isn't any conclusive evidence that proves that changing your diet can help your psoriasis, eating certain foods may be able to improve some symptoms.
Try incorporating the following foods into your diet, and you may ultimately be able to better manage your psoriasis and its symptoms.
1. Fish and Other Seafood
Fish is one of the healthiest proteins available. And a diet that's high in fish or other types of seafood can do wonders for your overall health – especially if you suffer from psoriasis.
According to Health.com², the natural oils found in fish and seafood can reduce inflammation, a key player in psoriasis flares. Additionally, the omega-3 fatty acids present in fish like salmon, mackerel, and albacore can keep your heart healthy and reduce complications or risks connected to serious heart conditions.
2. Inflammation-Fighting Vegetables
Veggies are already a great addition to anyone's diet. But they're especially important and beneficial for psoriasis sufferers. Certain vegetables in particular can fight inflammation within the body, which may help prevent flares and the symptoms that accompany them.
As Health.com³ explains, vegetables like carrots, different types of squash, sweet potatoes, kale, and spinach can contain vitamins and minerals that fight inflammation. This can ultimately help those with psoriasis, as inflammation is what causes flares, pain, and discomfort in this condition.
3. Grains
Grains might not seem like a healthy superfood, but they can be beneficial – and perfectly healthy – for anyone. Psoriasis sufferers may find themselves seeing better management of their symptoms or health when adding grains into their diets. And it's all thanks to more anti-inflammation properties.
According to Health.com⁴, grains of certain varieties can incredible antioxidants that reduce or prevent inflammation. Additionally, grains are also high in fiber, which can help inflammation levels within the body. You'll want to seek out whole grain foods, such as whole-grain bread, cereal, or pasta, to get the biggest benefits from good-for-you grains.
4. Blueberries
Blueberries are considered both a superfood and a super fruit. These tiny berries pack an incredible amount of antioxidants, and they're beneficial for absolutely everyone's diet. Blueberries are filled with vitamin C, manganese, and fiber – and they're low in fat.
All of these nutritious benefits also happen to be anti-inflammatory, which is great for anyone living with psoriasis. Fruits in general can be a great component of your diet. But, when you choose blueberries, you'll give yourself a little more of a benefit, especially if you're hoping to fight off inflammation.
Changing Your Diet May Help Alleviate Psoriasis Symptoms
A healthy diet may be able to have a positive impact on your overall health and wellness. And while the jury is still out on whether there's a clear connection between the food you eat and your psoriasis symptoms, a healthy diet can be beneficial in many ways.
Incorporate the foods mentioned here into your diet to see if they might be able to help you and your health. What you eat and drink may have a positive impact.
And there are also a few items you'll want to avoid if you have psoriasis. Again, while there's no clear impact or effect between food and psoriasis symptoms and flares, you may find that eliminating certain foods or drinks can help you feel better.
WebMD⁵ notes that the following can be foods to avoid for psoriasis sufferers:
Alcohol
Gluten
Tomatoes
Fried foods
Fatty meats, like red meat
These foods may encourage or affect inflammation within the body, leaving those with psoriasis feeling less than their best. Try to limit the frequency with which you eat them, and see if it has any kind of effect on your health and flares.
And you can always look for other ways to positively impact your health through your diet. You can search for the latest news on the potential connection between psoriasis and food, or seek out information about foods that may be able to help you feel your best. Staying informed is always the best way to take charge of your health and manage your psoriasis.