Hardly anyone looks forward to a dental appointment, but oral hygiene has a profound impact on overall health. Neglect can result in irreversible, lifelong problems.
Unfortunately, there's another downside to the dentist: every procedure, from a simple check up to a cavity repair, is incredibly costly. Dental insurance can help you save significantly, but only if you know how to choose the right plan.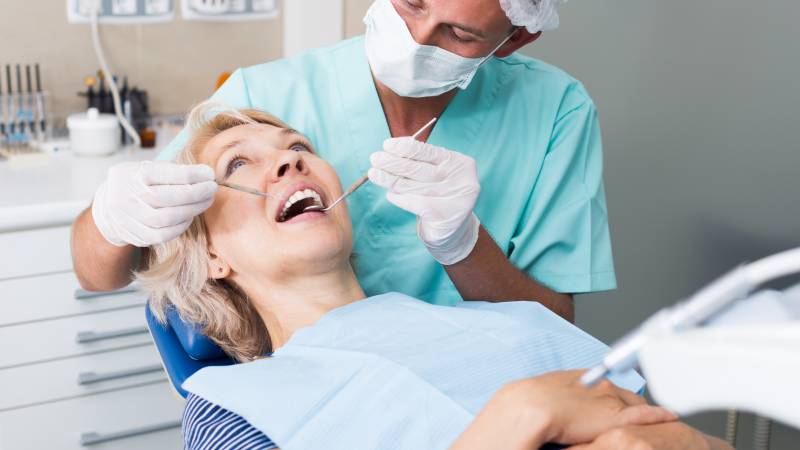 When it comes to dental insurance, many people simply don't know what to choose. Plans can be expensive, confusing, and come with varying levels of coverage. However, people who fail to get adequate coverage because of rising dental insurance costs just aren't doing the math. In 2016, depending on the type of policy and benefits, dental insurance premiums ranged from as low $14 to $30 per month according to NADP.org.
Compared to the cost of a dental emergency, that's loose change. If you're been searching for an affordable dental insurance plan, you just need to follow these steps:
1. Look into Group Coverage
In a group plan, dental insurance is typically offered as one part of an overall health insurance plan. It's a single policy issued to a group. The most common type of group coverage is an employer-sponsored program, but there are other kinds of groups in which members share a common thread. Unions, trade associations, and alumni associations are some examples.
There are a number of advantages to group coverage, including:
Prearranged benefits. You won't have to muddle through confusing insurance documents or comparison shop. The choices have been pared down for you, so you just need to check a box.
Flexibility. The preferred provider organization product is the most common for group plans. PPOs give you the freedom to choose any licensed dentist.
Lower cost. Since the insurer's risk is spread out over many people rather than one individual or family, rates are usually much lower for groups than individuals. Premiums are calculated based on very general information about group members such as gender and average age. Physical exams and lengthy health questionnaires are seldom required.
Guaranteed coverage. Even if you have a serious dental problem, you'll be covered for at least the duration of your employment or for as long as your employer offers benefits. Dental care will also be accessible for a period of time if you lose your job or change companies.
Coverage for eligible dependents. Spouses and children are covered under group policies. In some cases, unmarried domestic partners are also eligible for benefits. Under the Affordable Care Act, coverage is extended to adult dependents through age 26.
2. Check into Individual Policies
If you don't want to be limited to the choices of a group plan, you can shop around for your very own individual dental insurance policy. Designed to cover either one person or one family, individual policies let you choose the company, the plan, and the coverage you want – and you can, depending on what company you select, customize your dental insurance to your needs.
In 2017, Bankrate reports that a typical individual policy cost approximately $350 a year. Across the U.S., individual insurance policies tend to be more expensive than employer or group coverage.
One of the biggest benefits of individual dental insurance policies are portable, so you can't lose your coverage if you lose your job. It isn't tied to your employment or your "group." As in group insurance plans, PPO programs are the most common and affordable option for individuals. Another option is a health maintenance organization plan, or HMO. HMOs have a limited number of dentists to choose from, and you must get approval for any dental services beyond a checkup or annual x-rays.
3. Examine the List of Dentists in Your Network
Before you settle on a dental insurance provider or plan, you need to make sure your dentist – or a dentist who's convenient for you – is covered by that insurance choice. Otherwise, your plan or policy may make you pay out of pocket to see your preferred provider.
If you're considering a group plan offered by your employer, your employer or insurance company will provide an extensive list of dentists that are in-network. Choosing a participating dentist in the company's network will save you money. If an individual plan is your insurance choice, make sure to ask about a list of preferred or in-network dentists before signing on the dotted line.
When you call to make an appointment with your new insurance plan, be sure to verify that your dentist is still in-network. Just because a dentist accepts your insurance doesn't necessarily mean they're in-network, and many policyholders find this out the hard way.
4. Know What the Policy Covers
Take your time reading the fine print on a group or individual plan. Evaluate your current needs and potential needs down the road.
Most policies cover seven basic areas of care, according to NADP.org:
Preventative measures such as routine checkups and cleaning

Restorative care like fillings and crowns

Root canals and other endodontics

Minor oral surgery

Orthodontics if you purchase a rider

Periodontics such as scaling and infection management

Prosthodontics like dentures and bridges
Most plans cover 100 percent of preventive care. Copays for additional care are either a fixed dollar amount or a percentage of the cost. Maximum annual benefits and deductibles vary, and it's important to know what you'll be responsible for financially before choosing a plan.
Summing It Up
The importance of coverage can't be overstated, and the right decision about dental insurance is always the most informed one. Before choosing any dental insurance coverage, make sure it's a policy that meets your needs, suits your health, and doesn't cost you too much money. You need to find a balance between protection, prevention, and affordability when it comes to insurance.
Like anything, it's always a good idea to be aware of the latest research. We recommend comparing at least 3 or 4 options before making a final decision. Doing a search online is typically the quickest, most thorough way to discover all the pros and cons you need to keep in mind.