Dental insurance is expensive, and it's getting harder for the average person to keep their dental insurance. According to the National Association of Dental Plans¹, more than 74 million Americans don't have dental insurance, meaning millions are paying for every dentist visit out of their own pockets.
And for those age 65 or older, your costs could be even higher. Medicare traditionally doesn't cover dental work or services, leaving you without insurance when you're most in need.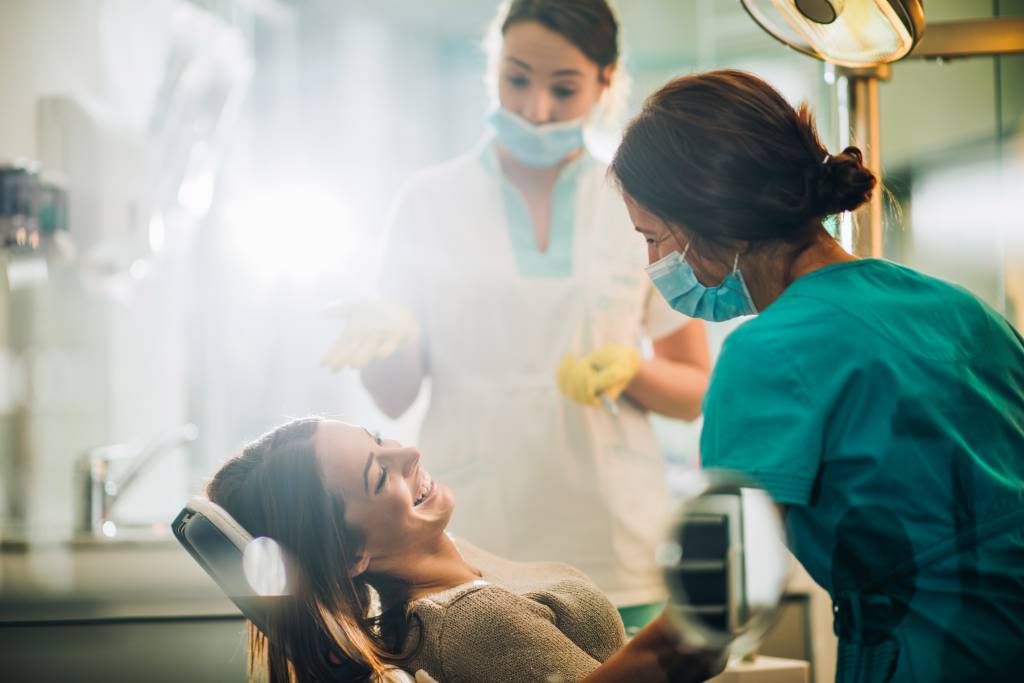 You shouldn't have to pay the high costs of dental work – and you need to know your options. Instead of paying for dental insurance, consider the alternative: dental discount plans. A dental discount plan can cover services not covered by dental insurance or Medicare, helping you save significantly.
What is a Dental Discount Plan?
A dental discount plan is an affordable alternative to a traditional dental insurance plan. These plans make it possible for families, individuals, and seniors to receive the oral healthcare they need at a cost they can afford. Whether you need to replace a traditional dental insurance plan or get supplemental coverage, a dental discount plan is the best choice.
A dental discount plan is a membership plan, sometimes called a referral plan. These plans work similar to a membership at Costco or Sam's Club: you become a member of the discount plan and get to pay lower prices for your dental services. With a dental discount plan, you do have to pay the entire cost of any dental services you receive. However, the costs you pay are lower because they're special rates negotiated between the referring company (your discount plan provider) and your dentist. Typically, the Balance² reports rates are discounted between 25 and 50 percent.
One reason dental discount plans are becoming so popular is people are fed up with the long waiting periods, limited reimbursement, and annual caps that come with dental insurance. Most dental discount plans have no waiting periods or annual caps – and some plans even cover cosmetic dental work.
7 Reasons a Discount Plan is Better Than a Traditional Insurance Plan
Still wondering if a dental discount plan is a smart choice? Here are a few reasons to give up on traditional insurance and opt for bigger savings:
1. Low Monthly Fees
The monthly fee for a dental discount plan is affordable, and it's less the monthly fee for a dental insurance plan. While dental insurance can cost as much as $30 per month for an individual, Credit Donkey³ reports, a dental discount plan costs between $100 and $200 for the entire year according to Policy Genius⁴. That's just $16 per month with a premium dental discount plan – leaving you paying almost 50 percent less.
2. No Deductibles
With traditional dental insurance, a patient must meet an annual deductible before the insurance begins to pay. Dental discount plans have no deductible. You simply pay the discounted rate negotiated by the plan administrators.
3. No Annual Limits
Many dental plans limit the number of visits and procedures you're allowed to have in a year. Dental discount plans don't have these limits. You can visit the dentist as many times as needed and receive as many procedures as are necessary to ensure your oral healthcare is protected.
4. No Annual Caps
In addition to limiting the number of visits or procedures, many dental insurance plans also put a cap on the amount of money they'll pay out each year. Patients are responsible for any costs that exceed that cap. With a dental discount plan, there are no caps. All dental work is covered at the discounted rate – and the discount never disappears.
5. Pay on a Fixed Fee Schedule
With a dental discount plan, you pay for any services you need on a fixed fee schedule. A fixed fee schedule is essentially a list of set fees you agree to pay once your dental work is done. This way, you'll always know if the amount you're being billed is the correct amount, and you won't be surprised by unexpected or exorbitant costs.
6. No Waiting Periods
Traditional dental insurance plans have a waiting period before they will begin to pay. If a patient requires dental work during that time, they are on their own—their insurance company will not reimburse them for any of the costs. However, dental discount plans have no waiting period. You could sign up for a plan today and go to the dentist tomorrow.
7. No Underwriting
Dental insurance plans are subject to an underwriting review which can affect your coverage. As the result of an underwriting review, a plan can change – it may no longer cover specific procedures that you thought were covered. With a dental discount plan, there is no underwriting review. Therefore, you'll always know what your plan covers and at what cost.
Using a Dental Discount Plan as a Supplement
Even if you have dental insurance, you may want to consider adding a dental discount plan as supplemental insurance. Dental insurance only covers so much, and typically expensive procedures beyond semi-annual checkups or cavity fillings aren't fully covered.
If you carry both dental insurance and a dental discount plan, you'll have dual coverage: you can depend on your dental insurance to pay the majority of your dental costs, but you can also use your dental discount plan to fill in the gaps and cut costs. This approach can help you eliminate deductibles and annual caps, and you would have no limit on the number of visits or procedures you could have performed annually.
The most common way in which a dental discount plan can benefit you is reducing your costs for cosmetic procedures. According to DearDoctor.com5, most dental insurance plans don't cover any of the cost of cosmetic procedures. This means that, if you need dental implants, veneers, dental bonding, or any other expensive cosmetic procedure, you'll have to pay the entire price yourself. Even getting a crown after a root canal could be denied by traditional dental insurance plans. And that could result in thousands of dollars in expensive bills. Crest6 reports that dental implants can cost as much as $3,000 — yet with a dental discount plan, you'll save a significant percentage of that amount.
Additionally, a dental discount plan ensures you're always paying the very lowest price. If an underwriting review limits your dental insurance coverage or significantly changes it, you could cover the gap with your dental discount plan and reduce your out-of-pocket costs.
Choosing the Best Dental Discount Plan
Don't let dental insurance cost you financially or health-wise. Whether you're without dental insurance or in need of something supplemental, a dental discount plan can be the answer to saving money and keeping your pearly whites in perfect health.
Although dental discount plans are widely available, it's important to choose a plan that suits your needs. If you're considering a dental discount plan, you owe it to yourself to do your own research to determine which plan is best based on your budget, location, preferred dentist, and specific treatments needed. Make sure to take a close look at the cost of the plan along with the fixed fee schedule that will be applied. You'll also want to know which dentists are included your plan and all specific dental coverage.
Like anything, it's always a good idea to be aware of the latest research. We recommend comparing at least 3 or 4 options before making a final decision. Doing a search online is typically the quickest, most thorough way to discover all the pros and cons you need to keep in mind.